Cubs promote 'dominating' Bryant to Triple-A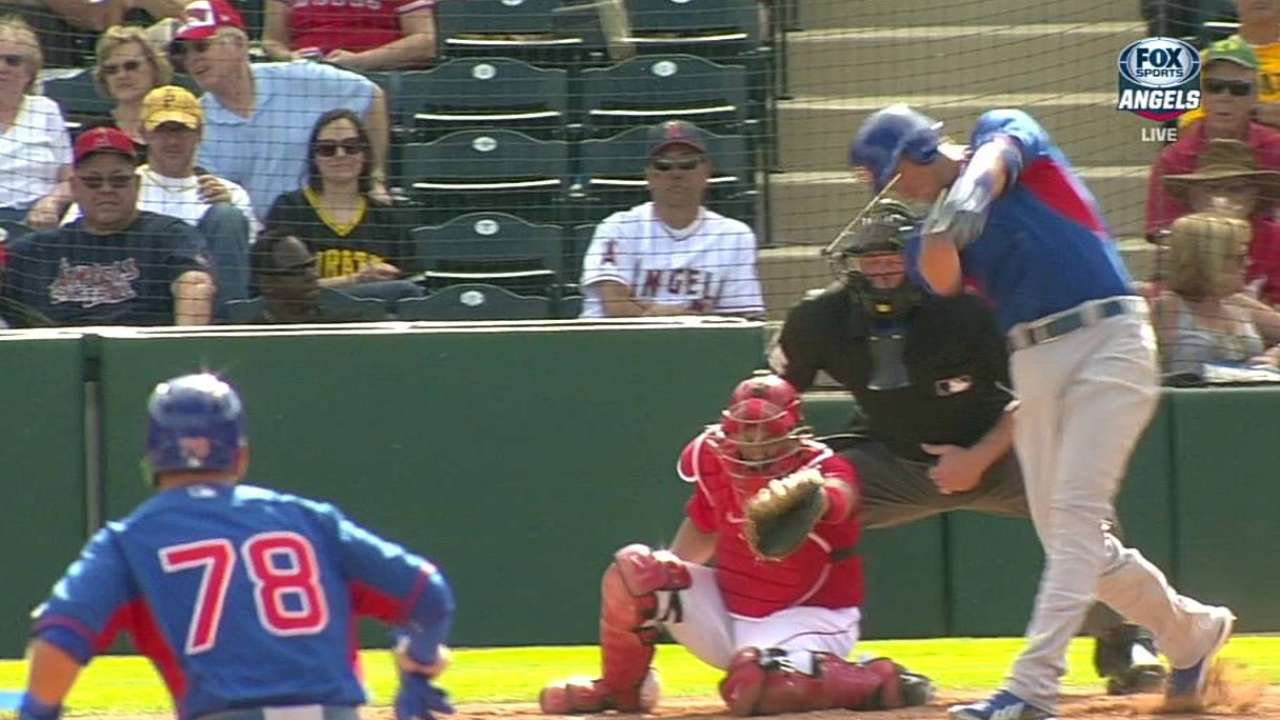 MIAMI -- Kris Bryant moved one step closer to the big leagues on Wednesday.
The Cubs' second overall pick in last June's First-Year Player Draft, Bryant was promoted from Double-A Tennessee and will join Triple-A Iowa on Thursday in Des Moines. Bryant, who won the Home Run Derby at the Southern League All-Star Game on Monday, was leading the league in the Triple Crown categories with a .355 batting average, 22 home runs and 58 RBIs in 68 games with Tennessee.
During a radio interview in Chicago on Tuesday, Cubs president of baseball operations Theo Epstein was asked about Bryant's progress.
"Is he dominating Double-A right now? Of course he is," Epstein said. "Does that mean his development is complete? No."
If you're looking for weaknesses, there aren't many. The third baseman has struck out 77 times in 248 at-bats, and has made 14 errors. But he's on the fast track.
"To come out after winning all of that last year and having a lot of hype and all the pressure of being the second overall pick, he's done a great job, and it's a promotion well deserved," Chicago's Anthony Rizzo said of Bryant, who won the Golden Spikes Award as the top college player of the year in 2013.
Bryant didn't dazzle the Cubs in Spring Training -- he was 2-for-18, although both hits were home runs -- but he made up for that at Tennessee, and he definitely left a good first impression on Chicago manager Rick Renteria.
"He's a pretty mature young man," Renteria said. "He's very well spoken, doesn't seem to be phased by a whole lot. I think he's focused on his game. It does seem like he's a well-balanced individual. I think those things play well for him. Hopefully, he continues to have the success he's been having and moves forward."
Bryant, 22, also had 20 doubles, a .458 on-base percentage and .702 slugging percentage. He was named the Cubs' Minor League Player of the Month in May when he batted .407 with seven doubles, 12 homers, 34 RBIs and 17 walks. He had a pair of four-hit games, and a six RBI game as well.
The Cubs players get updates on Bryant and other top prospects, such as Javier Baez, on the daily Minor League reports.
"We're aware," pitcher Jake Arrieta said of the potential Cubs of the future. "We saw those guys in spring and we keep track of them. We're well aware of the things Bryant has been doing in Double-A. I'm sure he'll continue to swing the bat well. [Bryant and Baez] are two plus-plus bats with the ability to come up here and have an impact right away. Whenever the time is right, we look forward to seeing them."
What can Bryant expect?
"I think he's going to really dominate Triple-A more than Double-A," Rizzo said. "I thought Double-A was the hardest level for myself personally, and he's way more polished than I was in the Minor Leagues. He'll see more advanced pitching now. With the bases loaded, guys would rather walk him and give up one run than four. He'll put the finishing touches on his approach and hopefully takes off."
Rizzo and Starlin Castro both signed long-term deals with the Cubs and are considered the cornerstones. The future includes Bryant, Baez, Albert Almora, and this year's first-round pick, Kyle Schwarber, who was promoted from short-season Boise to Class A Kane County.
"There's a lot of work to do," Rizzo said. "You can't put all your eggs in one basket on two guys [Bryant and Baez]. It's just about whoever is here being a good team and getting along well."
Still, Bryant impressed his future teammates.
"That kind of guy, that kind of prospect is really good, and as soon as we need him here, we have to bring him," Castro said.
When?
"He's coming here soon," Castro said.
Carrie Muskat is a reporter for MLB.com. She writes a blog, Muskat Ramblings, and you can follow her on Twitter @CarrieMuskat. This story was not subject to the approval of Major League Baseball or its clubs.