Soler, Baez, Bryant put on show with back-to-back-to-back HRs
Cubs phenoms give fans yet another reason to get excited about season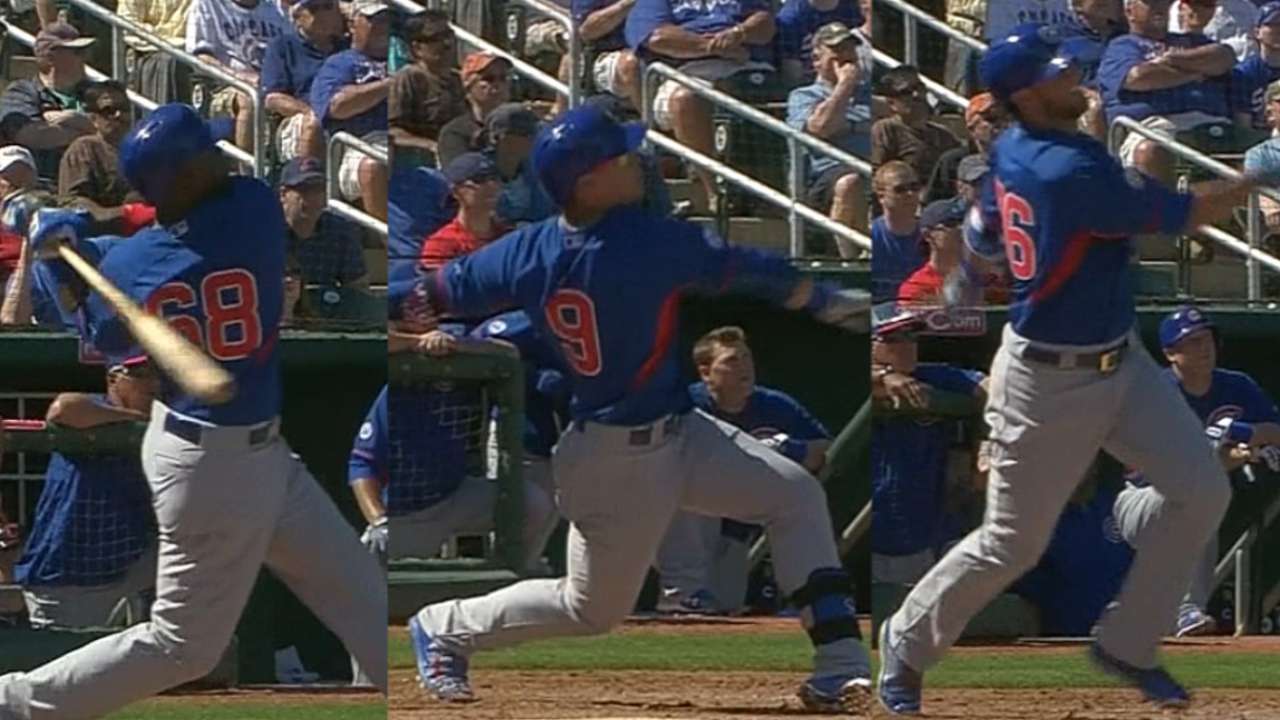 GOODYEAR, Ariz. -- Jorge Soler, Javier Baez and Kris Bryant put on a home run derby in the fourth inning Tuesday that Cubs fans are hoping to see a lot in the regular season.
Soler led off the power show against the Indians' Trevor Bauer with a mammoth shot to left that landed on the concourse behind the grassy berm. Two pitches later, Baez followed with his first home run and the ball landed in the same area as Soler's.
Bryant, who led the Minor Leagues with 43 homers last season and is the Cubs' top prospect, then connected on a monster opposite-field shot to right field off a 1-1 pitch from Bauer to pull the Cubs within 4-3.
"You've got to let the hitters have some fun in Spring Training, too, right?" Bauer said.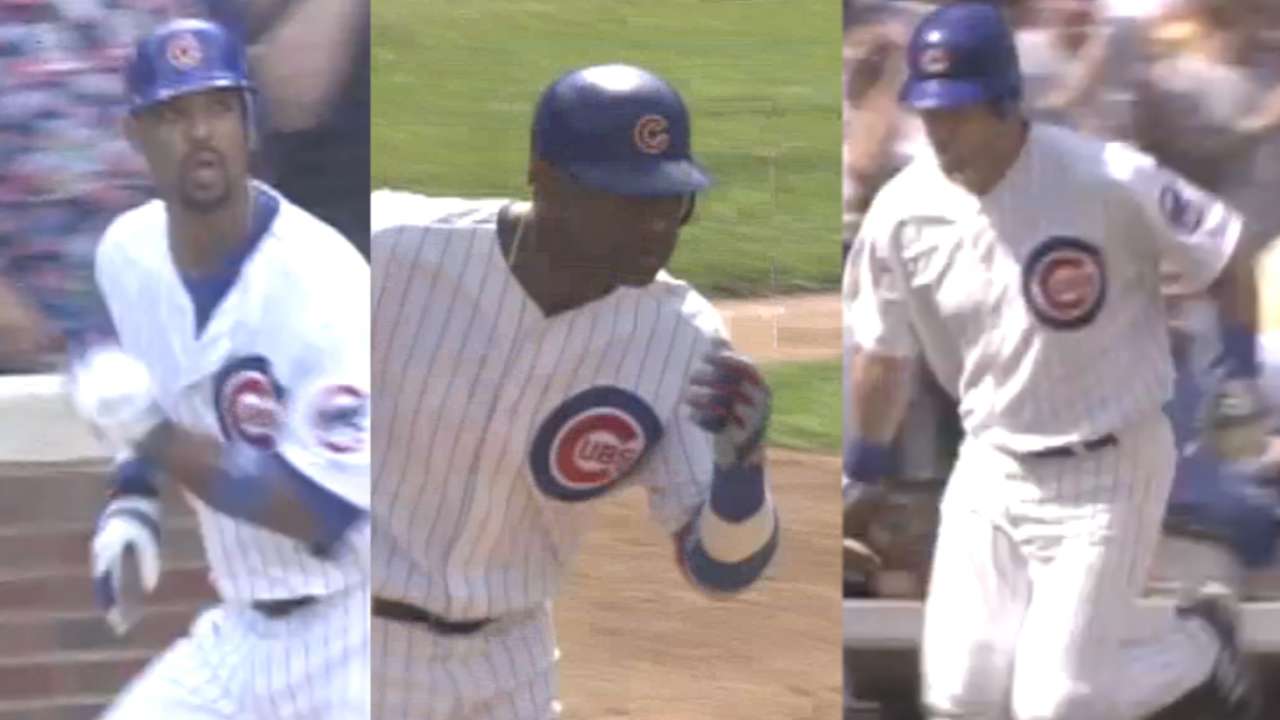 The last time the Cubs hit three consecutive home runs in a regular-season game was on Sept. 15, 2004, when Derek Lee, Sammy Sosa and Michael Barrett all went deep at Wrigley against the Pirates.
The homers were the first for Soler and Baez, while Bryant hit his second this spring. Baez's blast was his first hit this spring, ending an 0-for-9 start. It was an improvement after Sunday when the infielder said he felt "lost" after striking out three times.
"I feel great today, by the way," Baez said, smiling.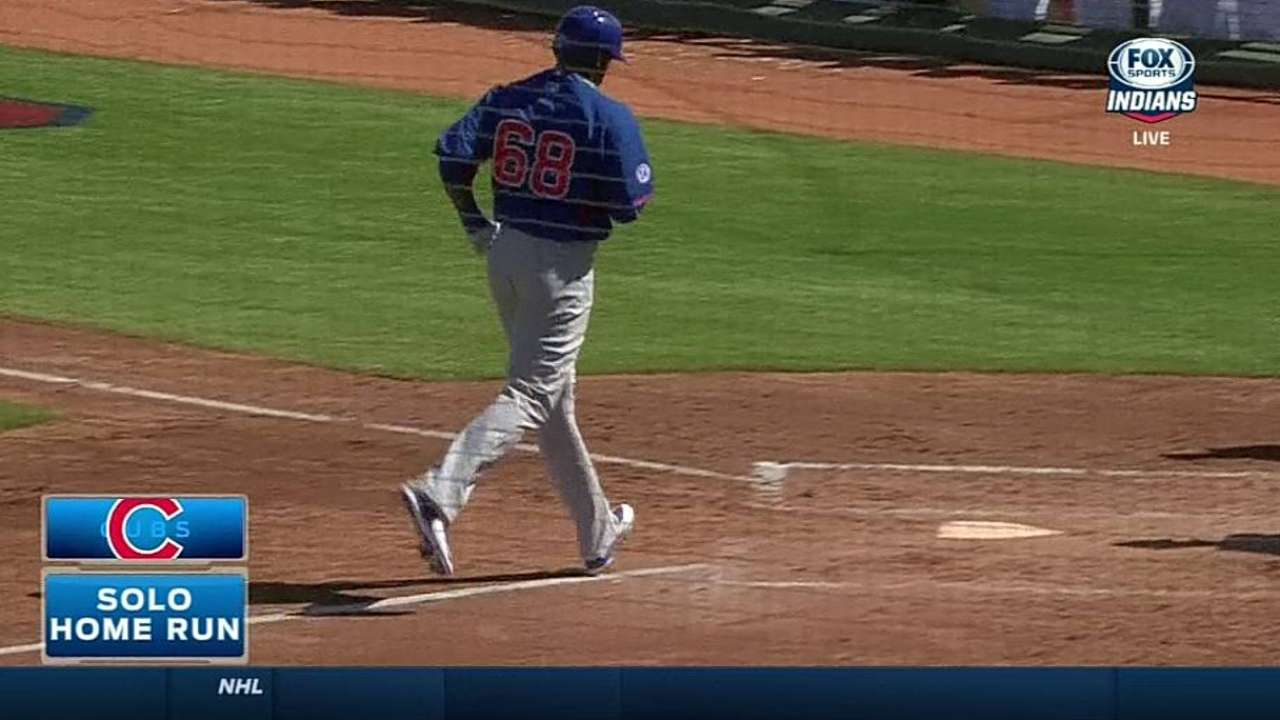 After Bryant's homer, Baez said the Cubs were able to smile in the dugout.
"I was just laughing, 'Like, no way this is happening,'" Baez said.
"I don't know any other way to say it than just 'Wow,' especially those three guys," Cubs starter Travis Wood said. "That's what they're here to do and they've made a name for themselves doing it coming up. To see it start happening is amazing."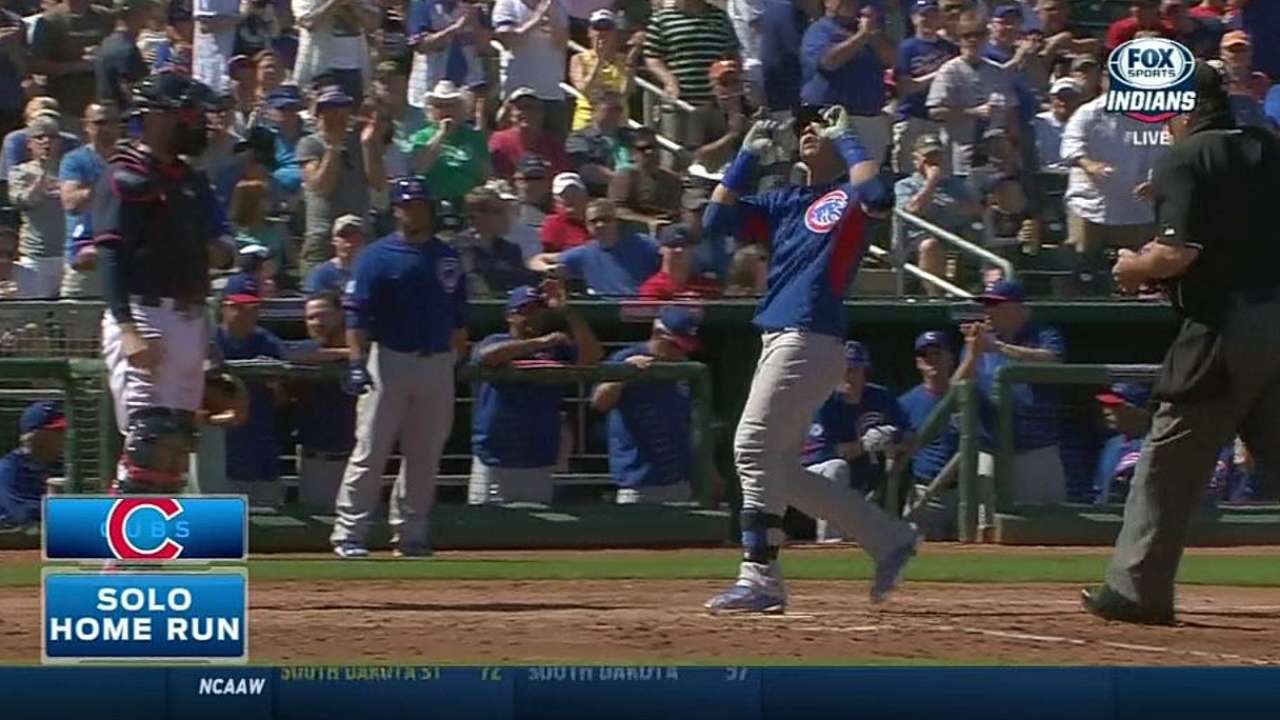 Bryant wasn't trying to copy Soler and Baez after watching the first two homers.
"[I wanted to] get a good pitch to hit and hit it, and I did," Bryant said. "That's all I can really do in that situation. It was kind of cool seeing their homers and mine kind of just scraped over the wall, but it gets the job done."
Bryant's homer was no cheap shot as it sailed to right.
"I got a good pitch, middle away," he said. "I thought [Bauer] was going to throw me some sliders -- he was throwing a lot of them. I saw Javy hit one off the slider, so I didn't know if he had enough confidence in it to go with it again. He stuck with the fastball and I got a good one to hit."
Bauer said Soler's homer came off a two-seamer that was sinking in, while Baez connected on a cutter and Bryant hit a four-seam fastball.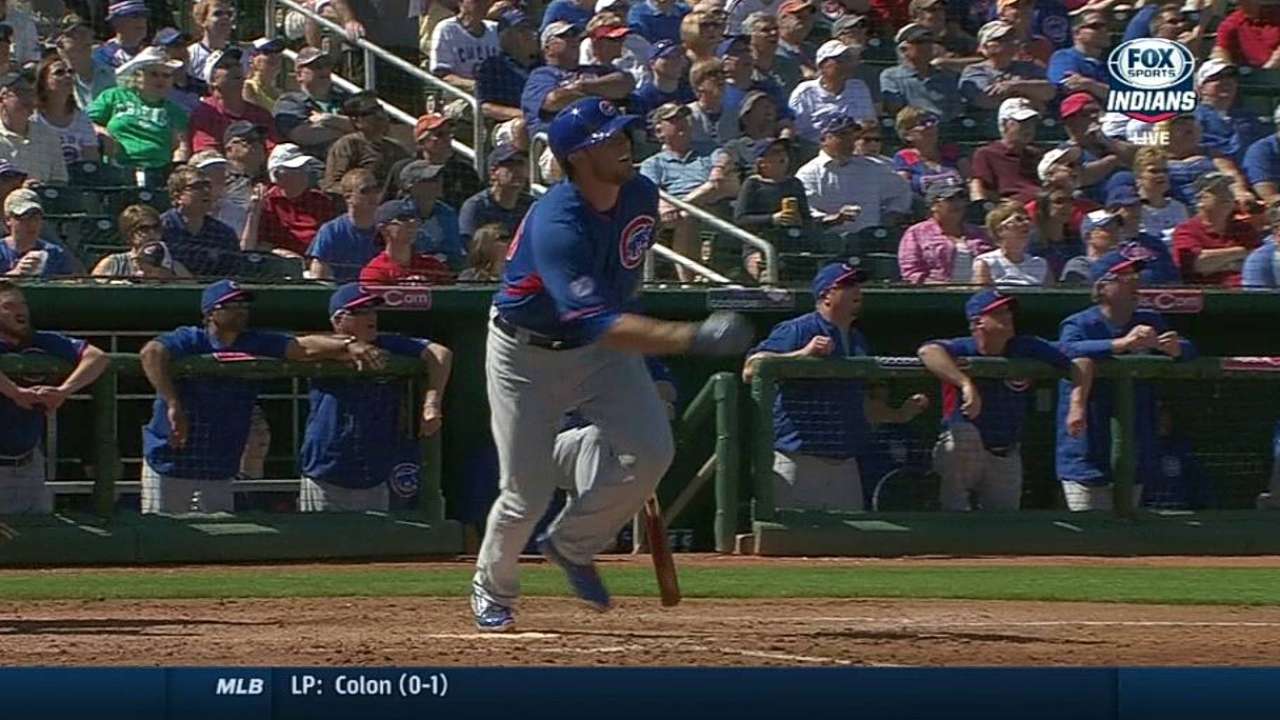 "I actually thought the fourth inning was probably my best inning as far as what I'm working on," Bauer said. "I started to zero in on the strike zone and got ahead of a lot of guys, so it was good."
The three blasts were good for the young Cubs, too.
"I don't think we hit back-to-back-to-back home runs at [Triple-A] Iowa," Bryant said. "Hopefully, we can do that when it really counts and help the Cubs win some games."
Bryant also gave Soler and Baez points because their homers traveled so far.
"They had the distance," Bryant said. "I can't hang with them in terms of distance, but I'll go right-center. It was cool to watch them two hit some homers and me get in the action. It was fun."
There was some good-natured razzing as Welington Castillo followed Bryant with a single in the fourth. He made up for it with a home run in the sixth.
"He might have been a little bit late, but we got the fourth one," Wood said.
Carrie Muskat is a reporter for MLB.com. She writes a blog, Muskat Ramblings, and you can follow her on Twitter @CarrieMuskat. This story was not subject to the approval of Major League Baseball or its clubs.