Bryant passes all tests in first start in left
Top prospect shows off arm, nabbing runner at second base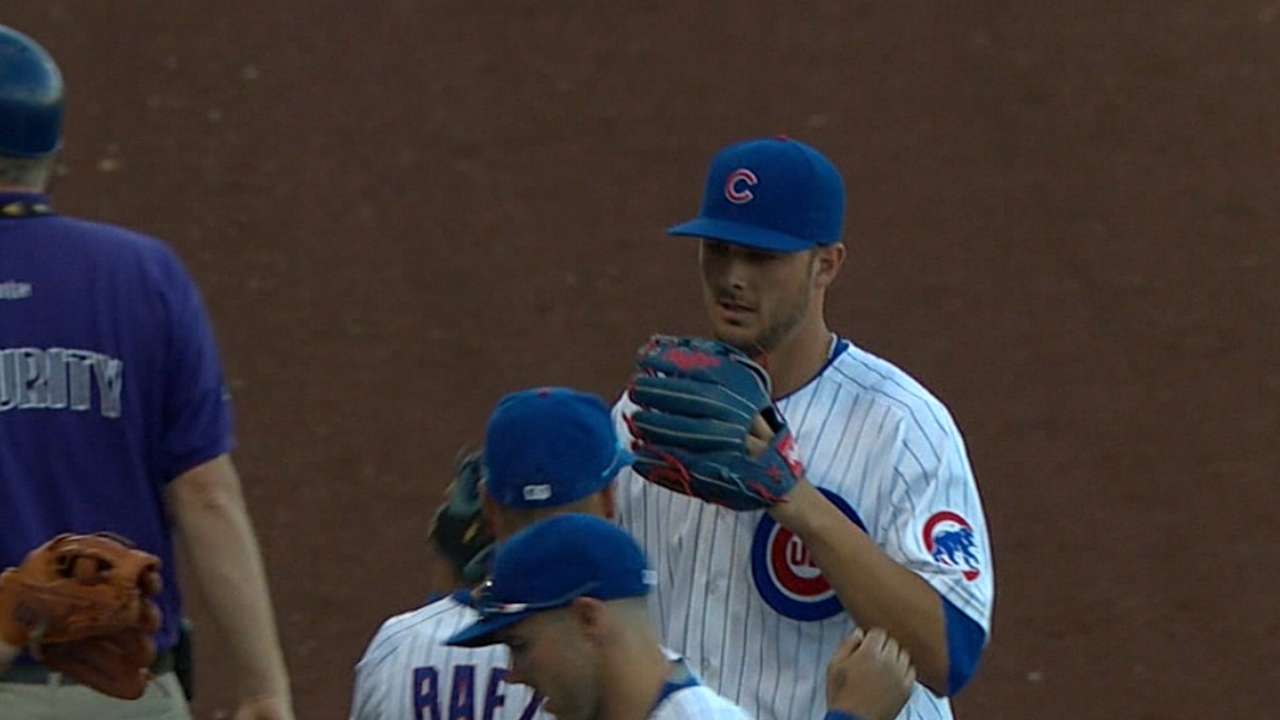 MESA, Ariz. -- Kris Bryant passed all the tests Thursday his first game in left field for the Cubs, but the move didn't help his hitting.
Bryant has played third base since he was drafted second overall in 2013 by the Cubs, and manager Joe Maddon wanted him to consider playing the outfield. Being versatile can sometimes give a player a better chance on a big league squad. Bryant enthusiastically agreed. The only concern was with his arm because Bryant had missed time at third base with fatigue in his right shoulder.
"I asked him to not try to do too much with his arm and just get to the ball quickly, get in it quickly," Maddon said Thursday of the Cubs top prospect. "He's all jacked up about it."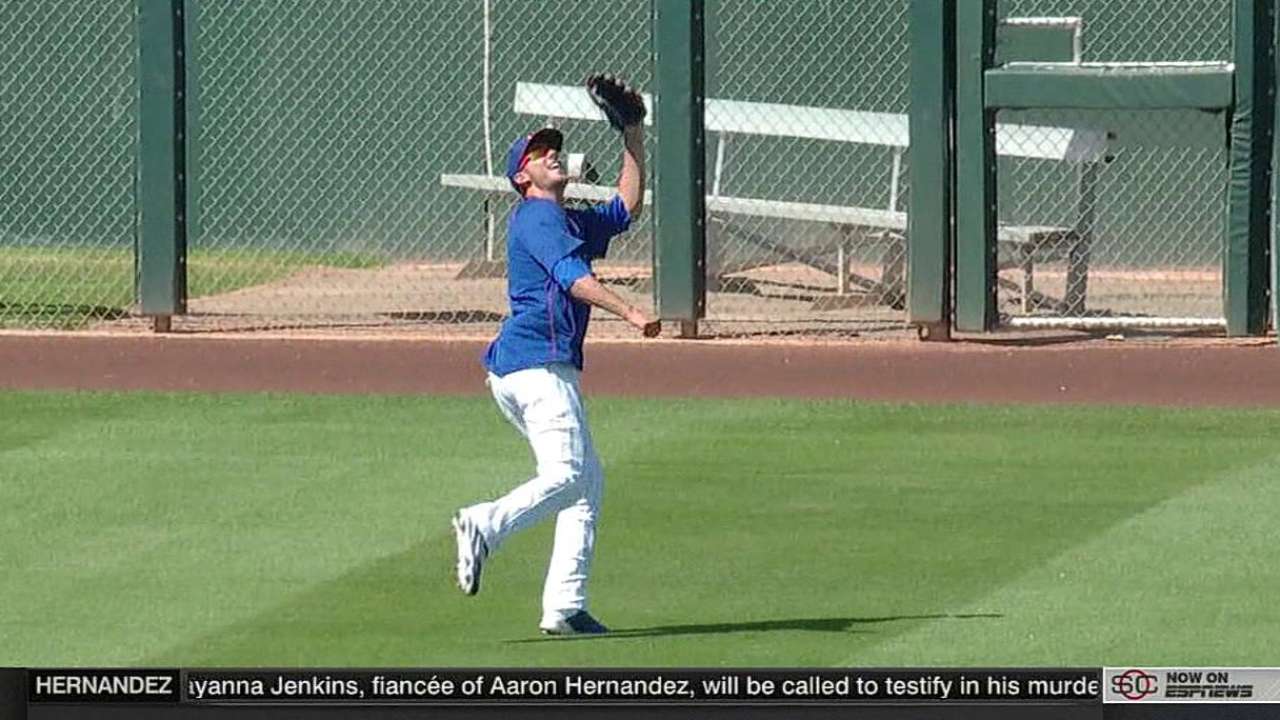 Bryant is tall for a third baseman at 6-foot-5, but Maddon doesn't think that will hinder him. The Cubs manager listed 6-foot-4 Cal Ripken Jr., 6-foot-3 Alex Rodriguez and 6-foot-5 Troy Glaus. Maddon's looking at more than Bryant's reach.
"The thing would be, how do his feet work? Can he repeat his arm stroke? Is he accurate? Does he have enough arm?" Maddon said. "That would be more of a concern as opposed to how tall he is."
The move to the outfield is not a signal that Bryant is no longer considered a third baseman, but rather a possible third baseman/outfielder.
"I just want to see it and make up my own mind," Maddon said. "He's very confident he'll be fine. When you talk to a player and they like the idea of playing other places, it makes it more comfortable for me as a manager."
Bryant had zero chances in the first four innings, but did show his baseball acumen when he backed up third base in the third after the Angels' C.J. Cron had tripled to right.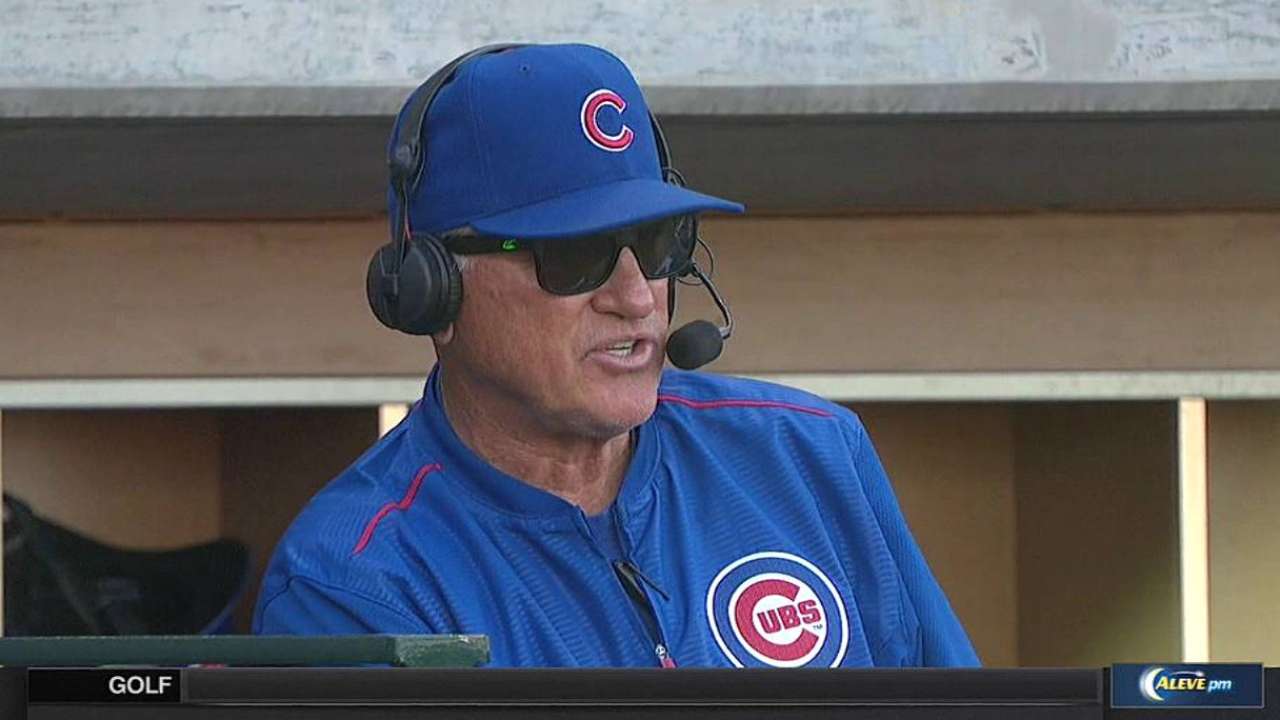 Bryant had to scoop up two singles in the Angels' fifth, and then run to get Erick Aybar's double that landed in the left-field corner. Shortstop Addison Russell came out to shallow left to receive the throw.
The play of the game for Bryant came in the sixth. The Angels had a runner at second and one out when Collin Cowgill flew out to Bryant, who fired a throw to Javier Baez at second in time for an inning-ending double play.
Bryant leads the Majors this spring with nine home runs, but went 0-for-4, and was called out on strikes three times.
Carrie Muskat is a reporter for MLB.com. She writes a blog, Muskat Ramblings, and you can follow her on Twitter @CarrieMuskat. This story was not subject to the approval of Major League Baseball or its clubs.