Arrieta confident more no-no's in his future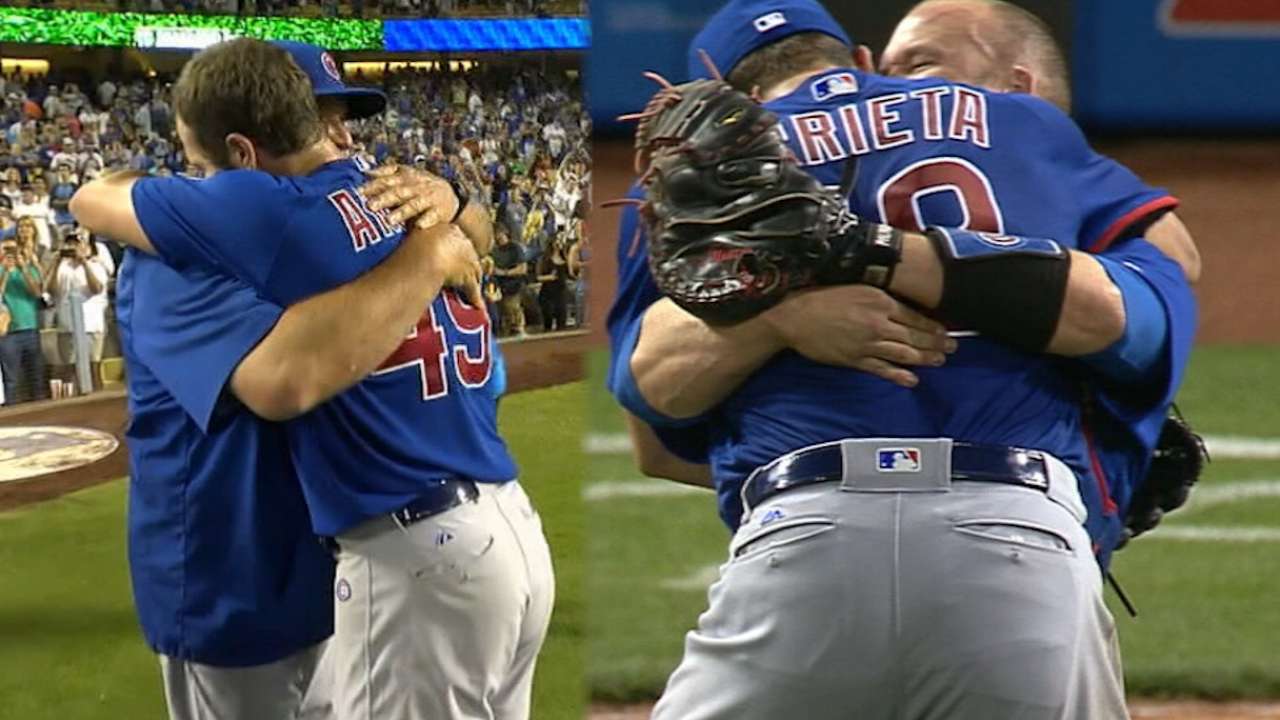 CINCINNATI -- One day after making history by throwing his second career no-hitter, Jake Arrieta did his normal post-start routine on Friday. It's business as usual, even if the right-hander has been so unique.
Since June 21, Arrieta is 20-1 with an 0.86 ERA (17 earned runs over 178 innings pitched) with 33 walks and 173 strikeouts in 24 regular-season starts. Since Aug. 1, he's 15-0 with a 0.53 ERA (seven earned runs and 119 1/3 innings pitched) in 16 starts.
Manager Joe Maddon has had a tough time keeping up with all of the Arrieta facts and figures. One thing Maddon did discover Friday was that Hall of Famer Bob Gibson, who was the manager's favorite player growing up, never had numbers like Arrieta's.
Jake Arrieta's second no-hitter
•
Pair-rieta: Jake's 2nd no-no a drubbing
•
Did you know? Facts from Arrieta's 2nd no-no
•
There's no-no doubting Arrieta's greatness
•
Rogers: Arrieta simply the best
•
Ross 'on cloud nine' after Arrieta's no-hitter
•
Arrieta 3rd Cub with multiple no-nos
•
Help yourself: Arrieta tallies two hits in no-no
•
No no-no is complete without defensive gems
•
Reds get no-hit at home for 1st time since '71
•
All-time no-hitters by club
•
Full game coverage
•
Flashback: Arrieta no-hits LA in August 2015
Sights & sounds
Arrieta's second career no-no
All 27 outs
Arrieta finishes no-hitter
#THIS: Arrieta no-hits Reds
Must C: Arrieta's 2nd no-no
Arrieta discusses no-no
Maddon on Arrieta
Ross on catching Arrieta
Game gallery
"That's all the historical perspective I needed," Maddon said. "That puts him in the most elite class.
"He does it in the most confident, humble way I've ever seen. He's kind of matter of fact, 'Yeah, I can do this, I believe it. I'm not here to brag at it, I know I can do this.' And he does it. It's kind of like a really good NFL quarterback. He's got a lot of that in him."
Arrieta doesn't expect this to be his last no-hitter, either.
"I think I'll be in these positions again, but you have to realize it takes one broken bat or a guy putting a really good swing on a ball and hitting a gapper, so it's tough," Arrieta said. "So many things have to go right. I think I'll have my opportunity again."
Pitching coach Chris Bosio remembers his scouting report on Arrieta when he saw the right-hander in the Minor Leagues with the Orioles. In one outing, Arrieta struck out eight batters over three innings, and Bosio wrote that the pitcher was "extremely poised and athletic."
But it has taken some time for Arrieta to become the pitcher he is, and Bosio credited him for maturing, being more diligent, getting a better feel for his pitches and developing more awareness of the league.
"That's the thing that's special about Jake and our other starters as well is that they have flexibility and are not a one-trick pony," Bosio said. "You can't sit on one pitch. [Catcher David Ross] and Jake did a great job of following the scouting report, but also taking advantage of some counts that he might be aggressive on."
Arrieta has heard Johnny Vander Meer's name mentioned lately. He's the only pitcher to throw no-hitters in consecutive starts.
"I wouldn't expect that," Arrieta said. "I try to be good, but that's a little much."
Carrie Muskat has covered the Cubs since 1987, and for MLB.com since 2001. She writes a blog, Muskat Ramblings. You can follow her on Twitter @CarrieMuskat and listen to her podcast. This story was not subject to the approval of Major League Baseball or its clubs.