Montgomery impresses in first Cubs start
Filling in for Lackey, lefty tosses 4 1/3 innings of 1-hit ball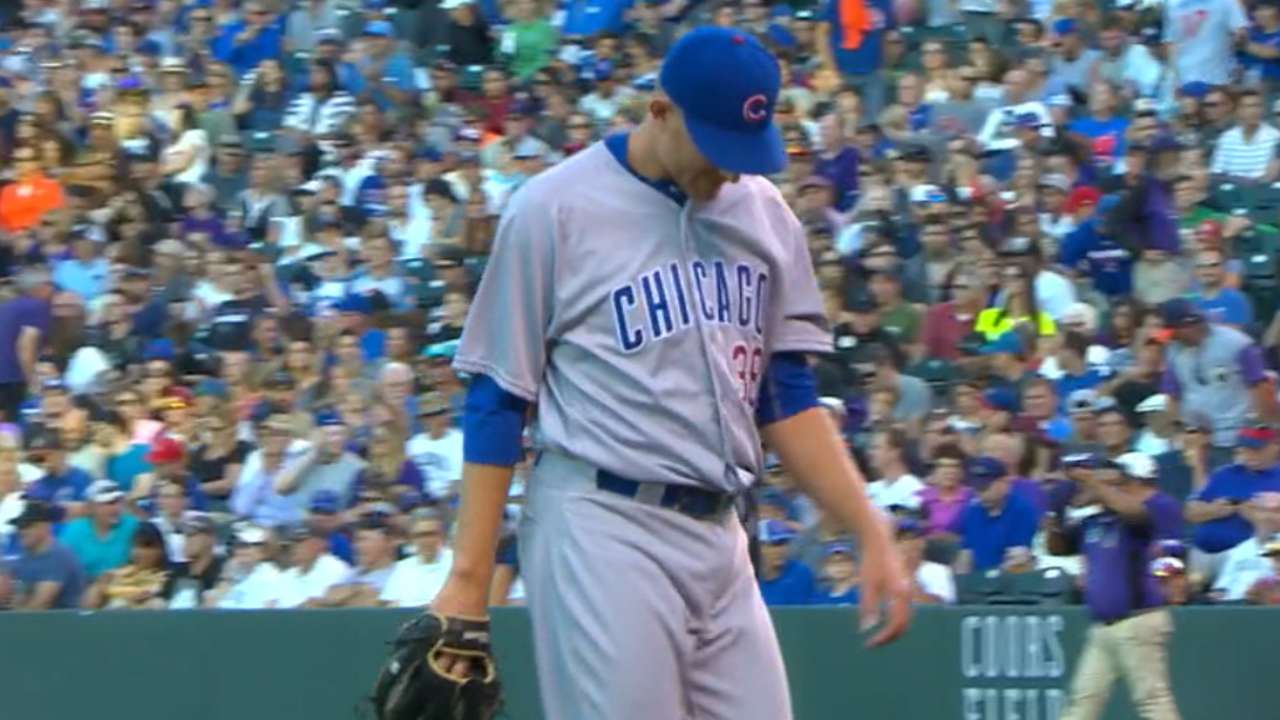 DENVER -- Filling in for the injured John Lackey, left-hander Mike Montgomery showed he can hold his own in the Cubs' rotation.
Starting his third game this season but first for Chicago, Montgomery tossed 4 1/3 innings of one-run ball in the Cubs' 9-2 win over the Rockies on Saturday night. He held a no-hit bid until Nick Hundley's home run ended his night.
Montgomery had mixed results as a starter in Seattle last season with a 4.60 ERA over 16 starts. The Mariners converted him to a reliever successfully, and the Cubs acquired him in July. Between the two teams he has a 2.41 ERA.
Montgomery had not thrown more than 42 pitches in any of his seven appearances with the Cubs, so manager Joe Maddon lifted him after 60 pitches Saturday.
"It was almost like Spring Training for him tonight," Maddon said. "Just stretching him out to the point that you're comfortable with the guy progressing. I thought he was outstanding. Would I have loved to have left him out there? Of course. But in the larger picture, we're thinking he can be very helpful for us."
Montgomery picked up five strikeouts, his second-most in a game this season. Four of them came on his four-seam fastball, and he struck out Cristhian Adames on a curveball just out of the zone.
"He has great command of his off-speed pitches, and the fastball has been located really well," Maddon said. "A very good curveball, and a nice changeup off that, and with that a two-seam fastball that runs and gets the ball on the ground, and a four-seam fastball that he can strike you out with. He's got really good command of everything right now, but the thing that's impressive is the ability to throw a breaking ball for a strike."
Montgomery credits his time in the bullpen for his improvement. He had not made a relief appearance in the Majors before the season and started 161 of his 166 games in the Minors.
"I think it's helped a lot," Montgomery said. "Not just confidence, but learning how to pitch. Coming out of the bullpen, you get a different perspective. Being a starter my whole career, you don't realize the sense of urgency that you've really got to have."
Maddon said Montgomery will start in Los Angeles the next time through the rotation, but the rest of the season is up in the air. Miguel Montero, who caught Montgomery on Saturday, was confident the lefty can be an effective starter going forward.
"He's got the weapons," Montero said. "He's got three good pitches, so to me, I wouldn't doubt that he could start. Obviously you have to build it up a little bit. I don't know the last time he started, but I don't see why not. He's got pretty good stuff. It wouldn't hurt to try."
Ben Weinrib is a reporter for MLB.com based in Denver. This story was not subject to the approval of Major League Baseball or its clubs.