Russell 'at the top of his game' with 2-HR showing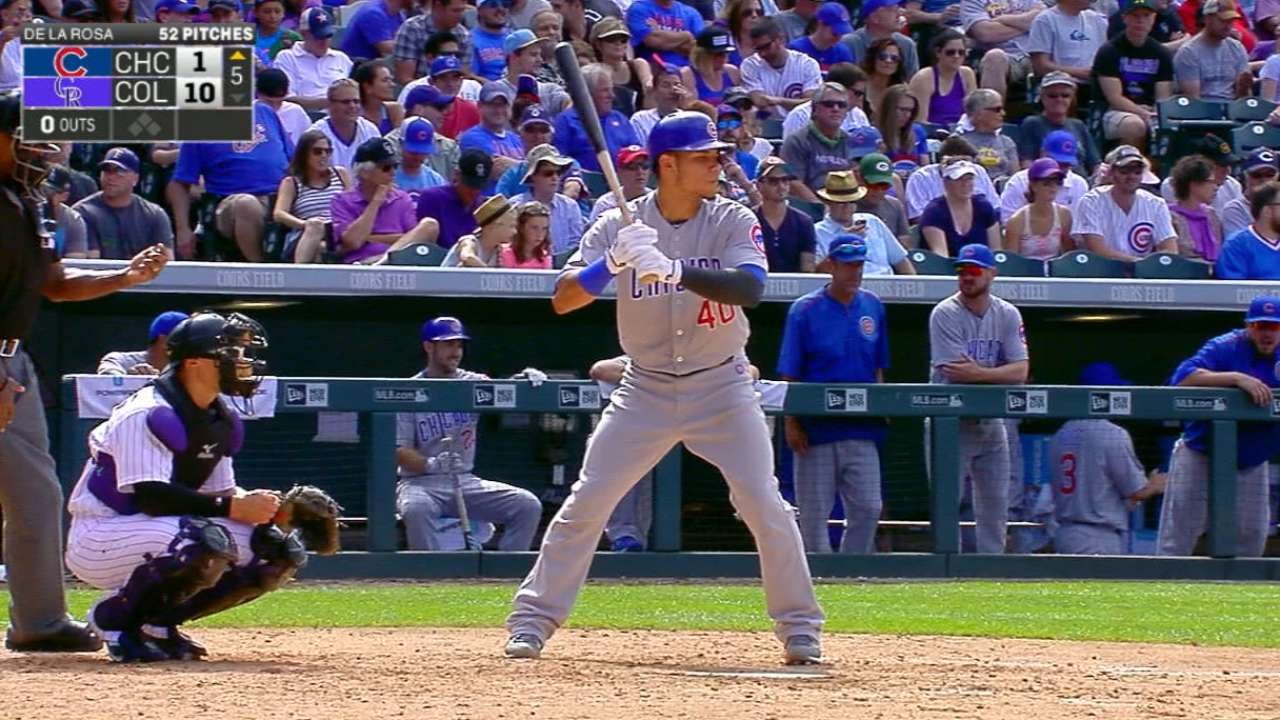 DENVER -- Rockies rookie shortstop Trevor Story has grabbed plenty of headlines this season for his home run barrage, but 22-year-old Cubs shortstop Addison Russell got in on the fun at Coors Field.
Russell went 2-for-3 with two home runs in Sunday's 11-4 loss to the Rockies and brought his total to three homers in the series.
His 17 home runs on the season are four more than he hit last year as a rookie, in 54 fewer plate appearances. He also has 78 RBIs after surpassing his rookie total (54) on July 20.
"If Addison played here right now, he'd probably have at least 25 homers, quite frankly, and be approaching 100 RBIs," Cubs manager Joe Maddon said. "From what I've seen all summer in Wrigley Field, there's such an amazing advantage offensively here. What you saw today, he's done that a lot with the wind bringing the ball back in. In his brief Major League career, he's playing at the top of his game right now."
Story is out for the rest of the season with a torn UCL in his left thumb, but he leads all shortstops with 27 home runs. He led all position players when he sustained the injury on July 30. But Russell is fourth among National League shortstops with his 17 home runs.
Russell has a shot to reach 25 homers and 100 RBIs. No shortstop has done that since former Rockies player Troy Tulowitzki hit 30 home runs and notched 105 RBIs in 2011.
"He's got an opportunity, but that was not an anomaly," Maddon said. "He's got that kind of power."
Russell was removed before he had an opportunity to pick up a third home run. Maddon wanted to allow Ben Zobrist to play shortstop for the first time since 2014, when Maddon was managing the Rays.
Ben Weinrib is a reporter for MLB.com based in Denver. This story was not subject to the approval of Major League Baseball or its clubs.