Bryant inspired by 'great teammate' Heyward
Cubs' pair key in comeback win over Dodgers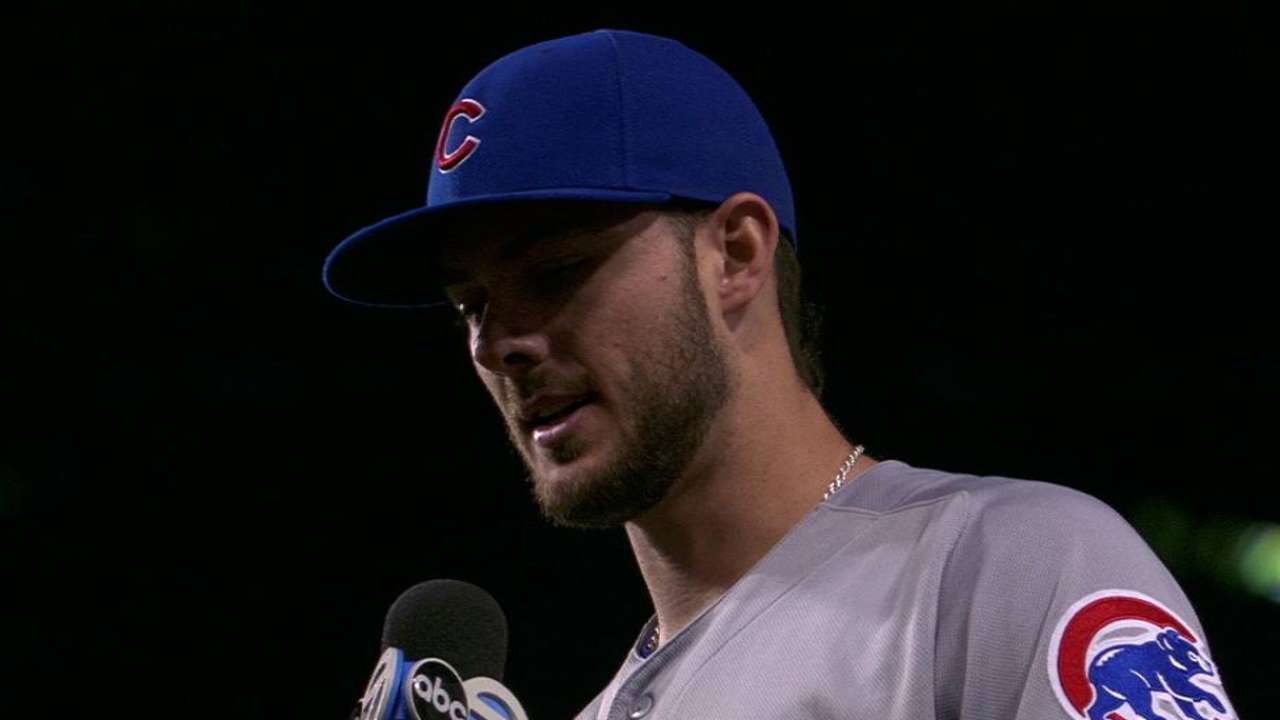 LOS ANGELES -- If it weren't for Kris Bryant's first homer, Jason Heyward's extra effort in the ninth wouldn't have meant as much. And if it weren't for Heyward's extra effort, Bryant wouldn't have gotten a chance to hit a second home run that lifted Cubs in the the series opener Friday night against the Dodgers.
Bryant belted two home runs, including a solo shot in the eighth and a two-run, tiebreaking blast in the 10th to power the Cubs to a 6-4 victory over the Dodgers. It was Bryant's fourth multi-homer game this season, and he took over the National League lead with 35, passing the Rockies' Nolan Arenado (34).
"He doesn't quit," Heyward said of Bryant. "He doesn't want to stop, and that's special in the makeup of somebody young, and special in the makeup in a player in general. ... You can talk about why he's hitting the ball well, and he has a good approach. It's that simple. He works his tail off every day to try and go out there and help us win. When you have that gift and that work ethic, a lot of good things can happen if you stay positive."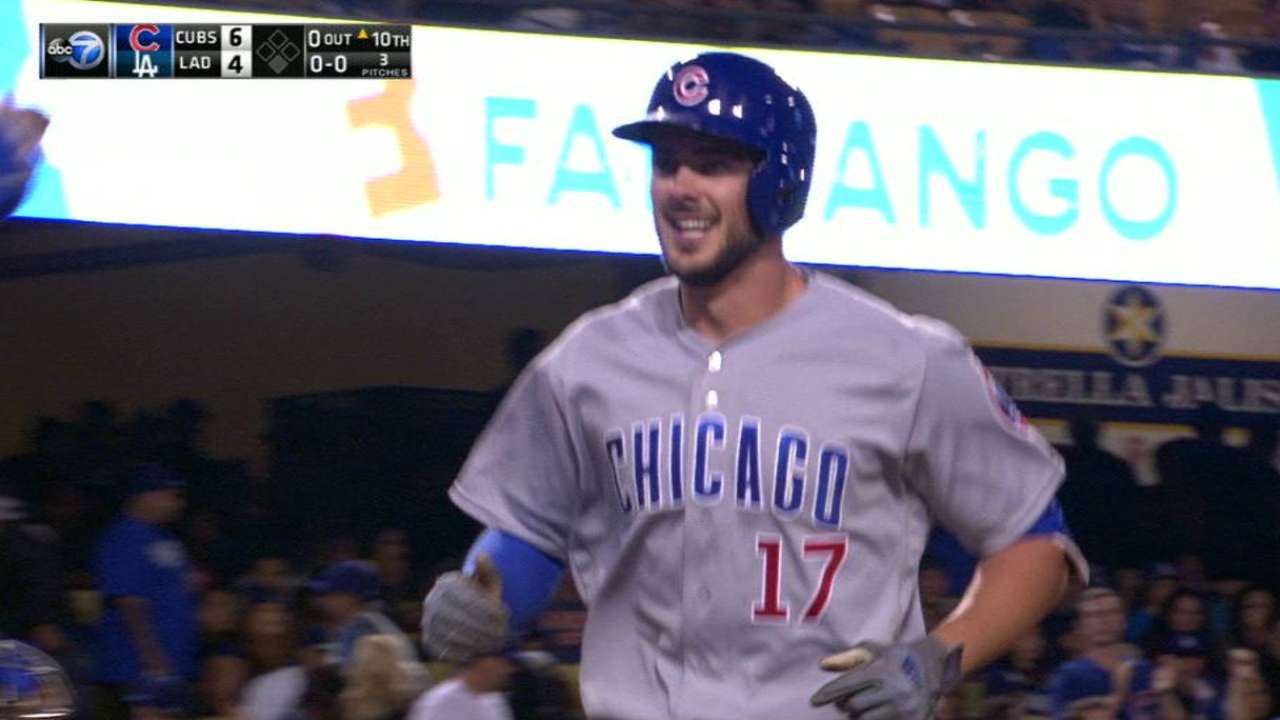 It would be easy for Heyward to be negative considering the way his first season with the Cubs has gone. The right fielder provided a spark in the ninth, leading off against Kenley Jansen with a double, then moving up when Jorge Soler struck out before scoring on a wild pitch.
"That's huge," Cubs manager Joe Maddon said of Heyward's effort. "That gets the whole thing started. That's him -- he's a winner. The guy's a winner, he plays to win."
And Heyward, who is just 26, inspires Bryant.
"We all know what he can do at the plate," Bryant said. "Everybody knows what he can do in the field. He's a huge asset to this team. If it wasn't for him getting it started there, we wouldn't have won the game.
"It inspires me. It makes me want to be like him -- always keeping your head up, always being a great teammate. I can't say enough about him."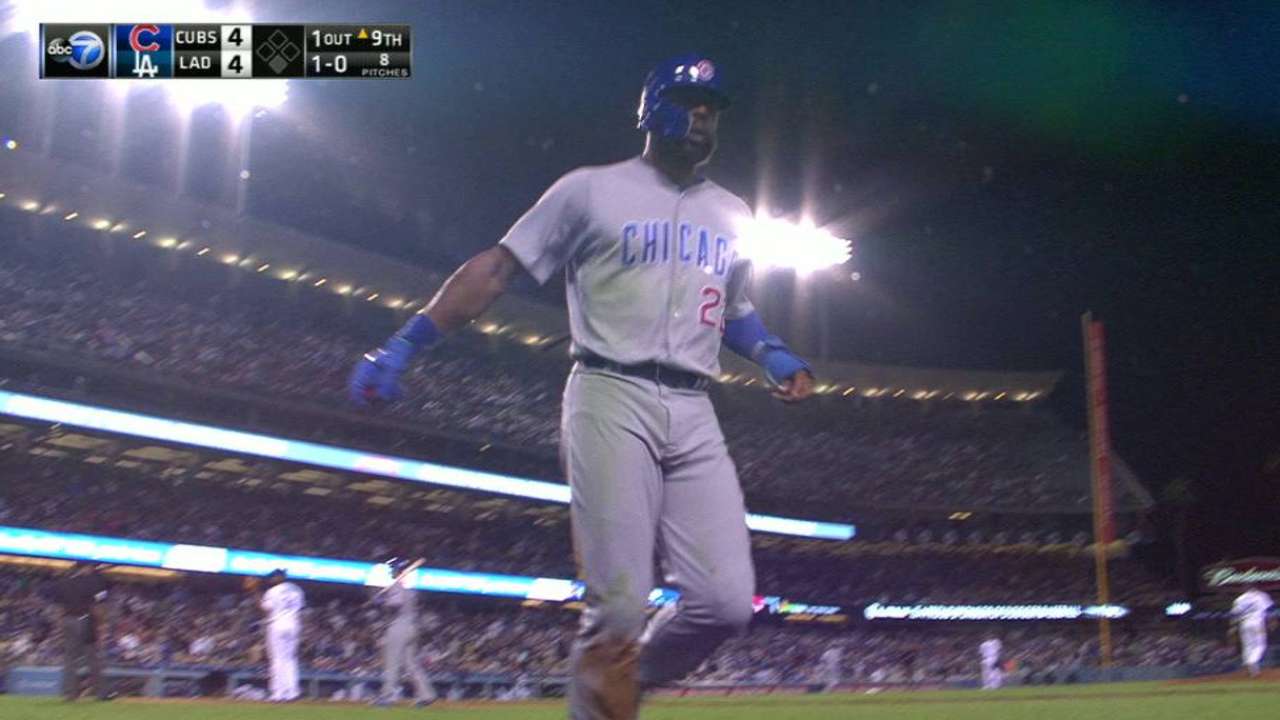 With the win, the Cubs have won 20 of their last 24 games, and it's because of a collective effort.
"We have many guys who are having good years," Maddon said. "[Bryant], the biggest difference is his swing has gotten shorter. It's more contact oriented and he's not chasing as much. He's able to put the ball in play with two strikes. For me, that's the biggest difference between this year and last year."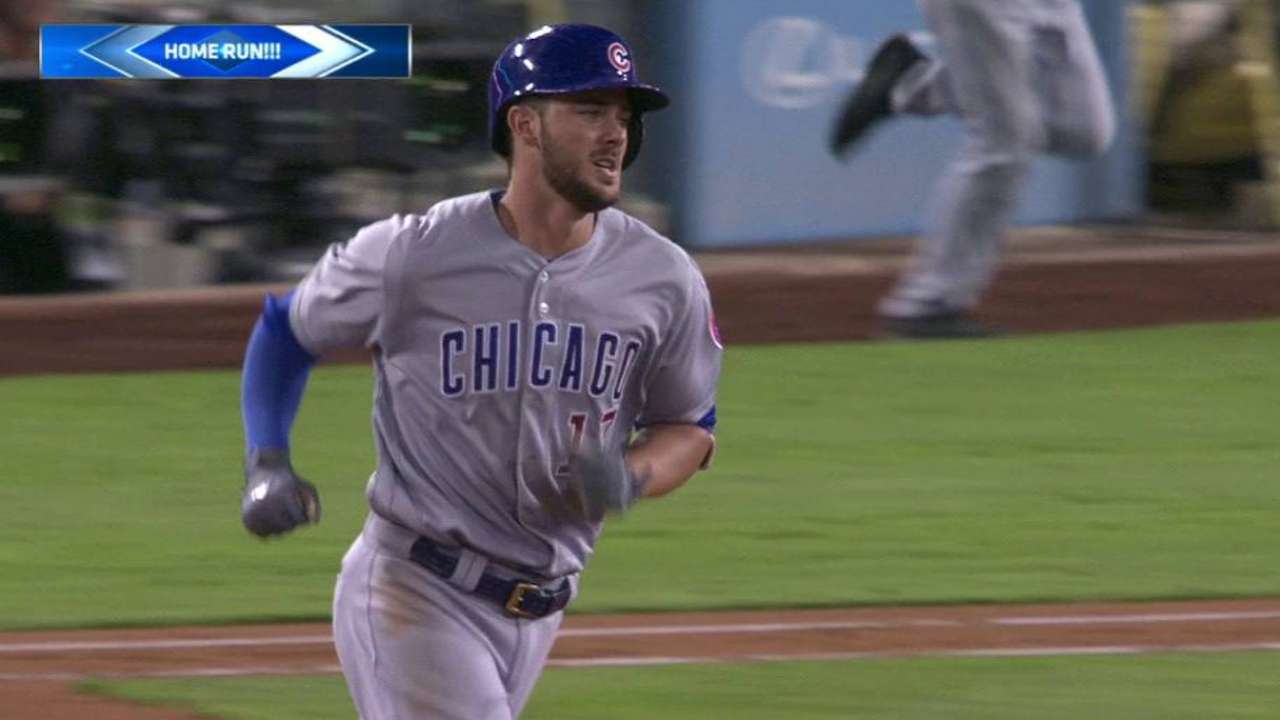 It also helps that Bryant feels so much more comfortable in his sophomore season in the big leagues. Last year, he hit five home runs on the road; this season, he has 20.
"It's just a matter of time," Maddon said. "It's a comfort thing. You go to some place new and you're uncomfortable."
Could Bryant follow up his NL Rookie of the Year season by winning Most Valuable Player this year? The Cubs fans at Dodger Stadium think so, chanting "M-V-P" after the second home run. Some of Bryant's teammates were saying that, too, in the clubhouse.
"It's pretty cool," Bryant said. "Growing up, you hear that on TV and to hear it now, it's humbling and keeps me going, and keeps me determined to do more."
Carrie Muskat has covered the Cubs since 1987, and for MLB.com since 2001. She writes a blog, Muskat Ramblings. You can follow her on Twitter @CarrieMuskat and listen to her podcast. This story was not subject to the approval of Major League Baseball or its clubs.