Hammel not auditioning for postseason roster
15-game winner isn't guaranteed a spot, but Cubs haven't made any decisions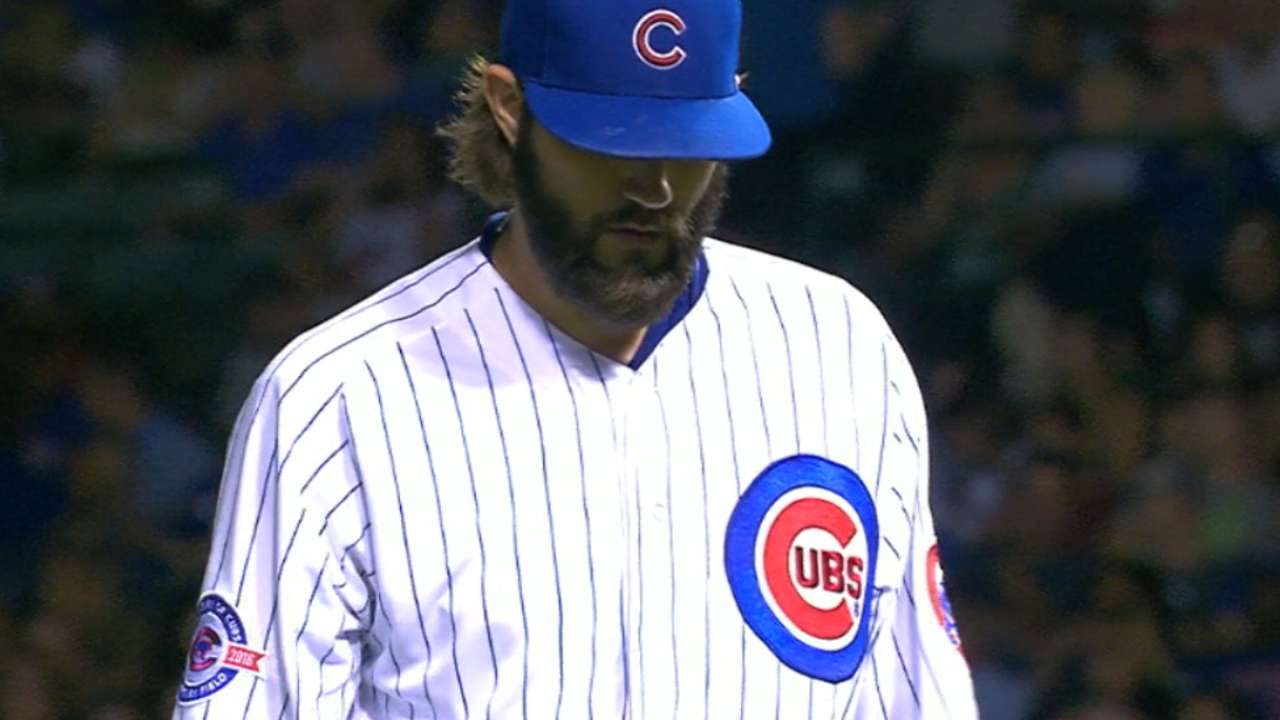 CHICAGO -- Manager Joe Maddon doesn't want Jason Hammel thinking each remaining start is an audition for a spot on the Cubs' postseason roster.
Still, the right-hander picked a good time to turn things around Monday night at Wrigley Field, earning his 15th win in a 5-2 victory to open a series against the Reds.
After struggling in his five previous starts, Hammel (15-9) held the Reds to two runs on four hits through seven innings, becoming Chicago's fourth starter with at least 15 wins this season. It's the first time that's been done by a Cubs pitching staff since 1935.
"He kept getting better," Maddon said. "He had a good breaking ball, had a good slider [and a] good curveball. He had all that going on. We just couldn't get him any runs. I just thought he kept getting better and I liked it."
The Cubs will officially begin postseason-planning meetings Tuesday, but Hammel said that's not on his mind.
"The way I look at it is, there's really no wrong choice," he said. "We've got 25 guys that are going to put up some wins for us, whether it's hitting, pitching [or] defense. We've got a good collective group here. Their decisions are going to be really hard, so we're just going to continue to do what we do, individually do our work and show up and play, and they'll put the best team out there, whenever it is."
Hammel was 1-4 with an 8.61 ERA in his previous five outings, but three really poor starts this season hit his stat line hard. He allowed 10 runs against the Mets on July 1 at Citi Field, another 10 runs (six earned) against the Rockies on Aug. 21 at Coors Field and nine runs (eight earned) against the Brewers on Sept. 6 at Miller Park.
"[My] individual numbers would be a lot better minus those runs, but overall, it's the whole body of work and continuing to trust the process and the things that I've been working on," Hammel said. "Everybody's going to have a bad one, and unfortunately for me, they were really bad. But we continue to move on. Obviously, tonight was a step in the right direction. I felt good about it."
The Cubs won't need a fifth starter in the postseason, so Hammel's best chance to make the playoff roster is out of the bullpen. Maddon, however, doesn't want him thinking that way.
"Just go out there and pitch," Maddon said. "We have not completed anything yet, so go play, go pitch. Like I said, our meetings will start this week regarding how we're going to plan it out. From my perspective ... it's not an audition."
Regardless, Hammel provided a reminder of his ability, keeping the Reds guessing most of his start. Outside of a solo home run by Brandon Phillips, a triple by Hernan Iribarren and Joey Votto's bloop RBI single, Hammel was in control.
"The whole world revolves around confidence," said Maddon, who let Hammel pitch the seventh after getting into some trouble in the sixth. "He definitely feels better about himself. He made some good pitches when he had to. He's definitely got to walk out of here feeling a lot better about himself."
One thing Hammel probably wasn't thinking about was the postseason.
"For me, I'm not trying out," he said. "I'm just doing what I do and you check your ego at the door. Whoever gets taken, gets taken, and you cheer on from there."
Brian Hedger is a contributor to MLB.com based in Chicago. This story was not subject to the approval of Major League Baseball or its clubs.