Montero joins mass at Wrigley to give thanks
CHICAGO -- For the last four years, Father Burke Masters has held mass at Wrigley Field before Sunday home games, inviting beer vendors, ushers and anyone who works at the ballpark. Before Sunday night's 1-0 loss to the Dodgers, Cubs catcher Miguel Montero joined the group in Section 209 along the left-field line.
"I think it's a great way to connect faith and sports," Masters said of the 30-minute service. "It was nice having one of the players here today to liven it up. Miguel was celebrating that big hit last night. He came back to give thanks. It's a great gift."
Montero delivered a pinch-hit grand slam to lift the Cubs to an 8-4 victory over the Dodgers in Game 1 of the National League Championship Series. Masters had sent Montero a text message on Saturday night to let him know about Sunday's service.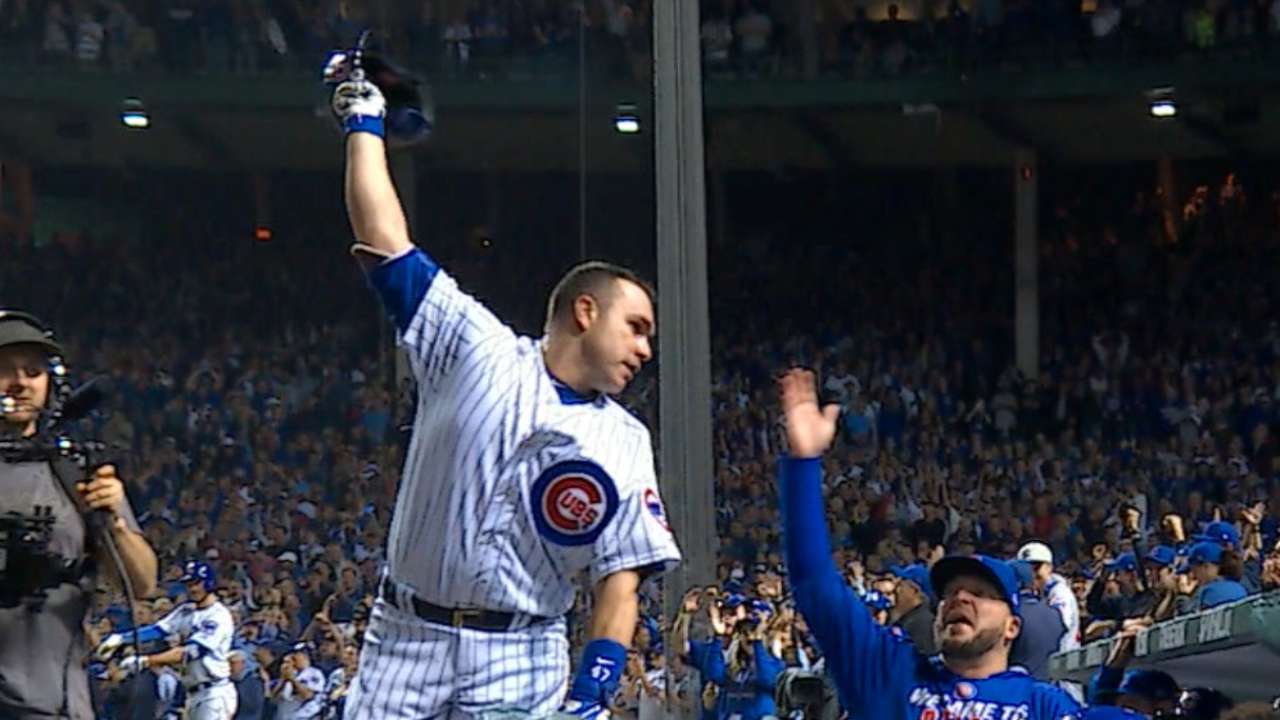 • NLCS Game 3: Tuesday at 8 p.m. ET/7 CT on FS1
"I do enjoy going to mass, especially when he does the mass," Montero said. "As a human, you feel a lot of release after mass. It's such a good feeling -- such a peaceful feeling. That's why I like to do it.
"Today was very special because I got to spend time with a lot of employees from the stadium, and it was awesome. I wasn't expecting that. I thought it was just the players. When I saw them, I got excited."
They were happy to have Montero join them.
"The readings today were on prayer and perseverance," Masters said. "I thought, what better connection is there -- Cubs fans have been waiting 108 years for this, and hopefully this is the year they can celebrate and finally put that behind them and celebrate in 2016."
Masters -- known to everyone as Father Burke -- has a baseball background, having played at Mississippi State and also in the White Sox Minor League system. He became a Catholic priest in 2002. This spring, Cubs manager Joe Maddon let Masters get in uniform and practice with the team.
"I thought I was giving up baseball when I became a priest, and now to be able to be here and celebrate mass in Wrigley is an incredible gift," Masters said. "[In Spring Training], I was out on the field and there were tears in my eyes. It was as if God was telling me, 'This was your dream' -- I wanted to be a pro ballplayer -- but He said, 'You're living my dream.' Now, I can do both. I can be a priest and be here in the Major Leagues at the same time. I'm humbled to my toes to be able to do this and give back what God has given me."
There are a lot of people who feel Wrigley Field is a shrine.
"This just sets the tone for the stadium," Masters said. "A lot of the people who come are ushers, or they sell beer and popcorn, and they can bring the grace they've received at mass and let it permeate the stadium here."
Carrie Muskat has covered the Cubs since 1987, and for MLB.com since 2001. She writes a blog, Muskat Ramblings. You can follow her on Twitter @CarrieMuskat and listen to her podcast. This story was not subject to the approval of Major League Baseball or its clubs.