Anderson eager to maintain health, regain form
New Cubs left-hander performing daily exercises to strengthen his back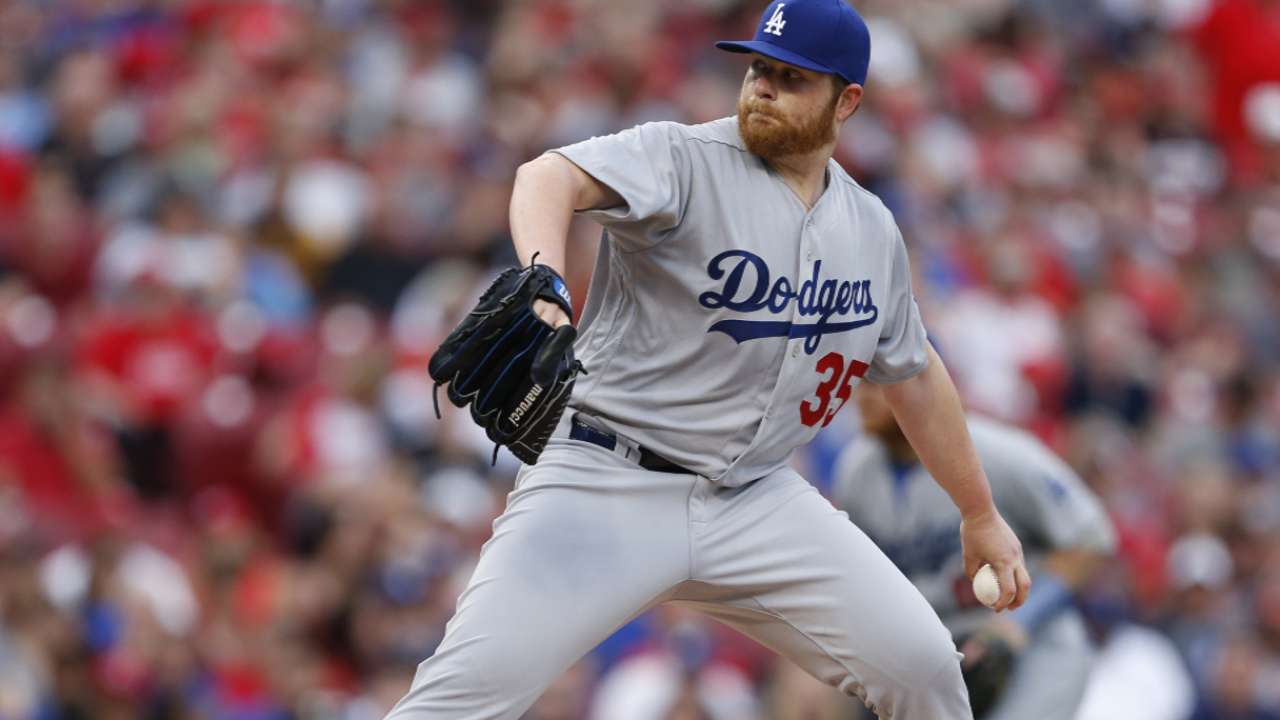 MESA, Ariz. -- After the first official workout for Cubs pitchers and catchers on Wednesday, Brett Anderson posted an update on his Twitter account, saying: "I made it through my first bullpen unscathed ... small victory."
"It's just me being my usual sarcastic self," Anderson said Thursday about his tweet.
I made it through my first bullpen unscathed...small victory.

— Brett Anderson (@BrettAnderson35) February 15, 2017
It wasn't just an attempt at humor. The left-hander is taking it one day at a time. Anderson underwent back surgery last March, and was limited to four games with the Dodgers in 2016. He signed a one-year contract with the Cubs in late January.
•Spring Training: Info | Schedule | Tickets | Gear
"[The tweet] was a little bit of both, based on the unfortunate history of injuries and stuff, and also, first day of Spring Training, get it over with, and happy that nothing fell apart and everything feels good going into today," Anderson said. "It's a little bit of both -- sarcasm and truth about my injury."
A year ago, Anderson's back was OK until the last couple of pitches during a live batting practice session. He was then shut down. He now has a series of "monotonous and tedious back exercises" that he must perform daily.
"It's a lot, but at this point, you can't do anything but do them," Anderson said. "A third operation means a fusion, which means I'll be seeing you guys at home. It's one of those things where you have to do it and suck it up and do it every day. Once you get through it, you go about your day. Hopefully the work beforehand translates into positive stuff on the field."
Anderson is projected as the Cubs' fifth starter, and expects to be ready Opening Day.
"Absolutely," he said. "I came back at the end of last year and obviously didn't make too many appearances, but I was able to make a handful of starts. As far as arm and back stuff, I was able to clear those hurdles and pitch and throw. I'm ready."
• Willson Contreras caught Jon Lester's bullpen session on Wednesday, and the sophomore catcher said it went well. With David Ross retiring, the Cubs need to find a new catcher for Lester, and like the idea of matching up the lefty with Contreras because of his ability to throw out potential basestealers.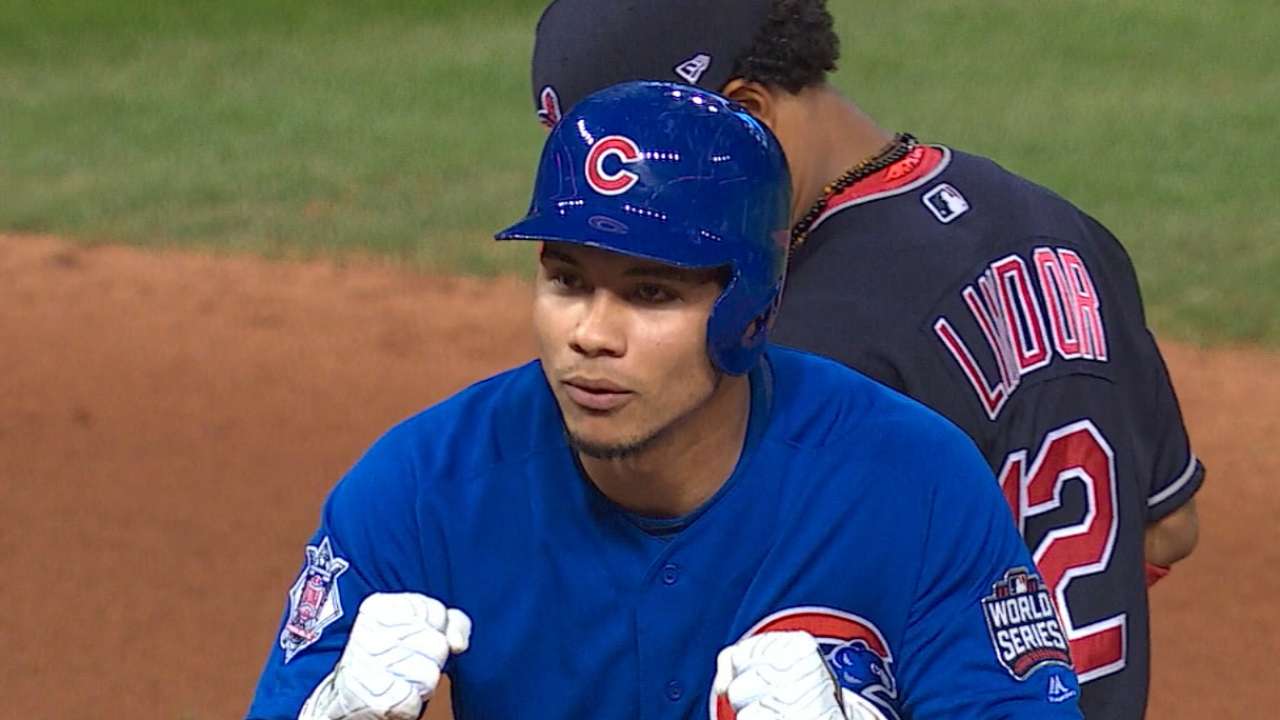 "Willson's pretty confident, and what he went through last year, his confidence will be increased because of that," Cubs manager Joe Maddon said. "I think the real challenge is him and Jon getting on the same page. It's not from any conflict, it's just understanding Jon and how he goes about his business."
• Ross is easing into his new role as a special assistant, and Maddon joked that the veteran catcher is learning what to do during their morning meetings and on the field. Last spring, the Cubs players presented Ross with a motorized scooter and a license plate that said, "Grandpa Rossy." Ross gave it to his grandmother.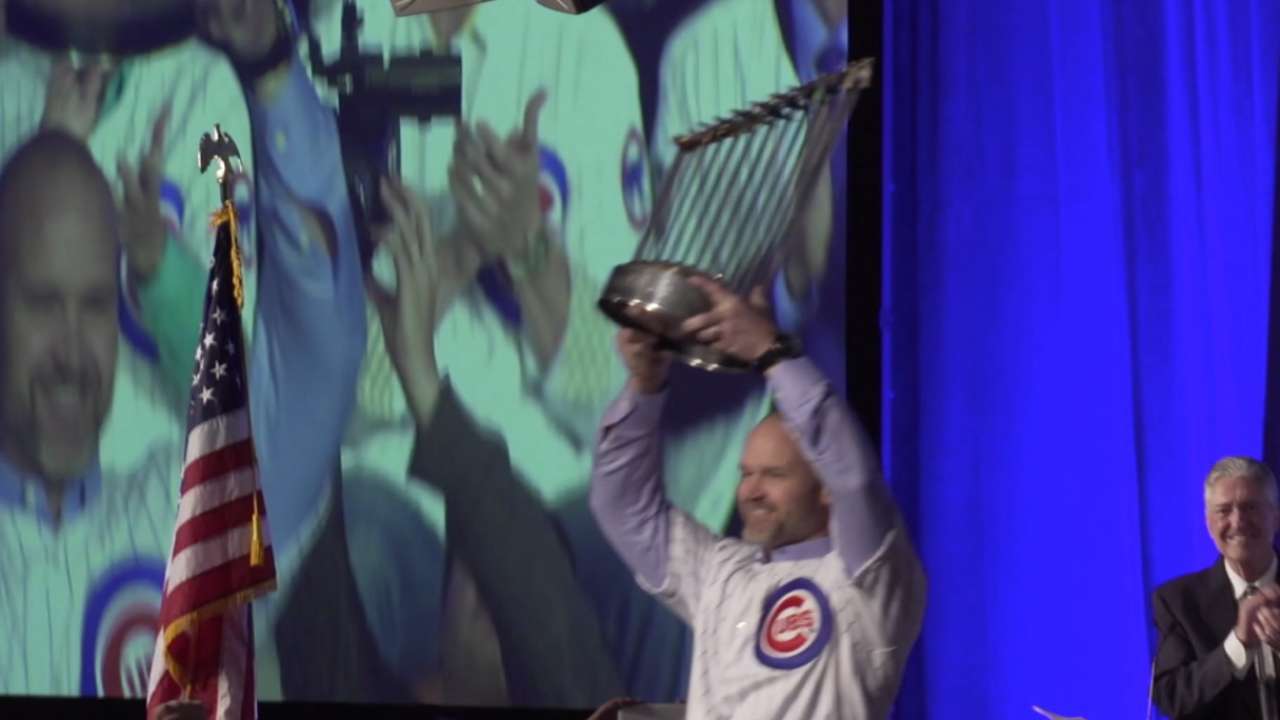 "I believe she's driving it all over the panhandle [in Florida]," Maddon said. "If you see a 'Grandpa Rossy' [scooter] driven by Grandma Rossy, you know it's his grandma."
• Kyle Schwarber continued to do outfield drills on a back field on Thursday instead of joining the catchers during bullpen sessions. Schwarber, who tore two ligaments in his left knee and missed last season, has been medically cleared to resume catching. He is expected to spend one to two days a week behind the plate this spring, and will focus the rest of the time on playing the outfield.
Carrie Muskat has covered the Cubs since 1987, and for MLB.com since 2001. She writes a blog, Muskat Ramblings. You can follow her on Twitter @CarrieMuskat and listen to her podcast. This story was not subject to the approval of Major League Baseball or its clubs.