Strop wants to help players travel safe in DR
In wake of Ventura tragedy, Cubs reliever will visit complexes to address potential dangers on roadways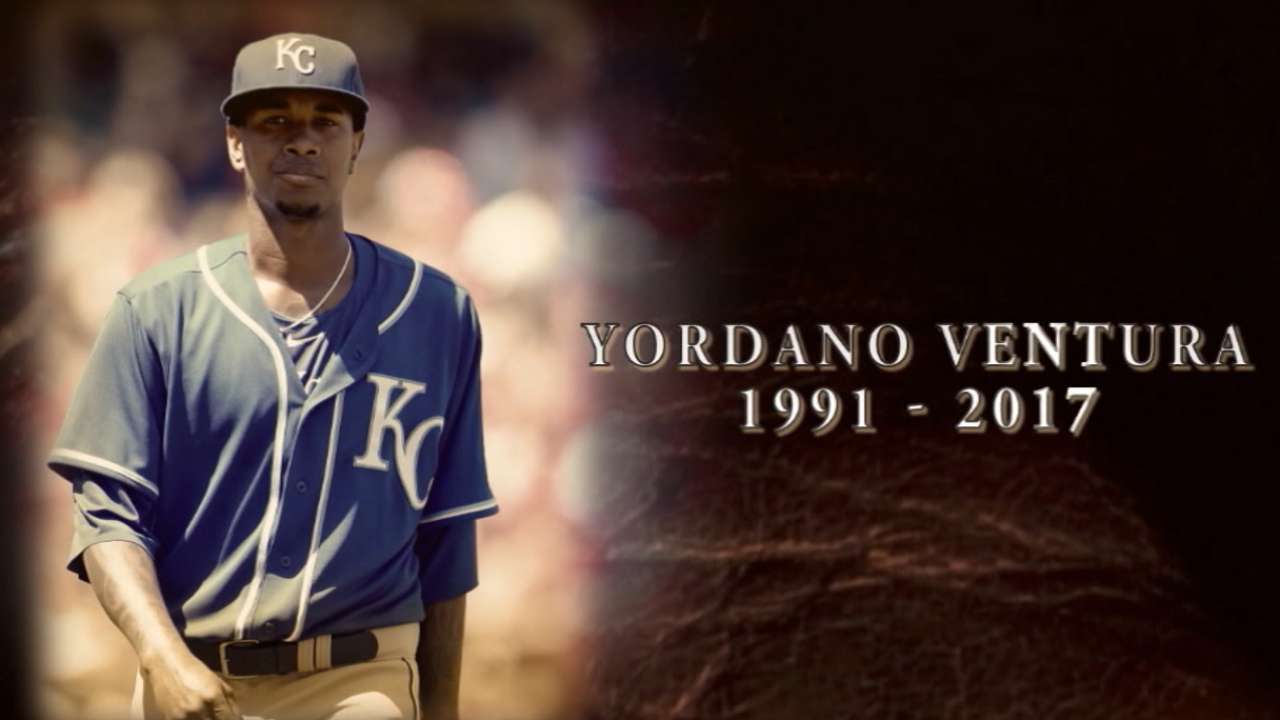 MESA, Ariz. -- Cubs reliever Pedro Strop was lucky. When he was involved in a car accident in the Dominican Republic in November 2014, he just needed a few stitches on his left arm. Yordano Ventura, tragically, was not as fortunate, and Strop wants to do what he can to avoid losing another young talent in his native country.
Ventura, a young star pitcher for the Royals, was killed in a car crash in the Dominican on Jan. 22. He was 25.
"Our minds don't accept that he's gone -- it's unbelievable," Strop said. "He was just a baby with a bright future."
In 2014, Strop's accident was the third in a one-month stretch involving a baseball player in the Dominican. Cardinals highly-touted prospect Oscar Taveras was killed in October that year, and Rangers prospect Ronald Guzman was uninjured in a crash earlier in November. In August 2014, former Cubs and current Yankees infielder Starlin Castro lost a relative and three friends in a fatal car accident there.
"I was really lucky," Strop said on Thursday. "This guy, he rammed the back of my car and he was really drunk. It was a Range Rover, and I was driving a Chevy Camaro convertible. If he would've hit me in the middle [of the car], he would've killed me."
Strop, 31, and pitcher Santiago Casilla, 36, both born in San Cristobal and neighbors, want to be proactive and go to the different team complexes in the Dominican Republic next offseason to talk to young players about making good decisions. To be clear, no alcohol was found at the scene of Ventura's accident and officials are still waiting for a toxicology report to determine if alcohol was a factor in that accident.
Complicating matters further is the fact that the roads in the Dominican are extremely dangerous. Many, especially in the mountainous area where Ventura wrecked, are narrow and poorly lit. Due to frequent heavy rainfalls, steep drop-offs are built next to these roads to mitigate flooding and potential hydroplaning. Most speed limits are 15 mph and even while going just 25 or 30 mph, one mistake can result in a tumble over the edge.
"We want to have meetings at the complexes to talk to the young guys and young kids and tell them to be aware and be careful in the situations we have in the [Dominican]," Strop said. "Whatever we can do to help the situation -- we don't want this to keep happening. It's tough."
This offseason, Strop and Casilla took it upon themselves to talk to young people about the risks.
"That's when I came up with, 'Why don't we do it [at all the complexes]?'" Strop said. "We might not help everybody, but maybe out of 100 players, maybe 10 will listen and they can keep it from happening again."
Cubs infielder Jeimer Candelario said being careful away from the field was a topic discussed during Major League Baseball's rookie development camp in January, and he talked to other players about the risk.
"You can lose your career in a minute," Candelario said on Thursday. "You have to make good decisions."
Strop was unable to go to Ventura's funeral. He wants to try and stop such incidents from happening again.
"It is scary driving there," Strop said. "We know how people drive there, so you just have to be careful."
Carrie Muskat has covered the Cubs since 1987, and for MLB.com since 2001. She writes a blog, Muskat Ramblings. You can follow her on Twitter @CarrieMuskat and listen to her podcast. This story was not subject to the approval of Major League Baseball or its clubs.