Jay anxiously awaits return to Cubs-Cards rivalry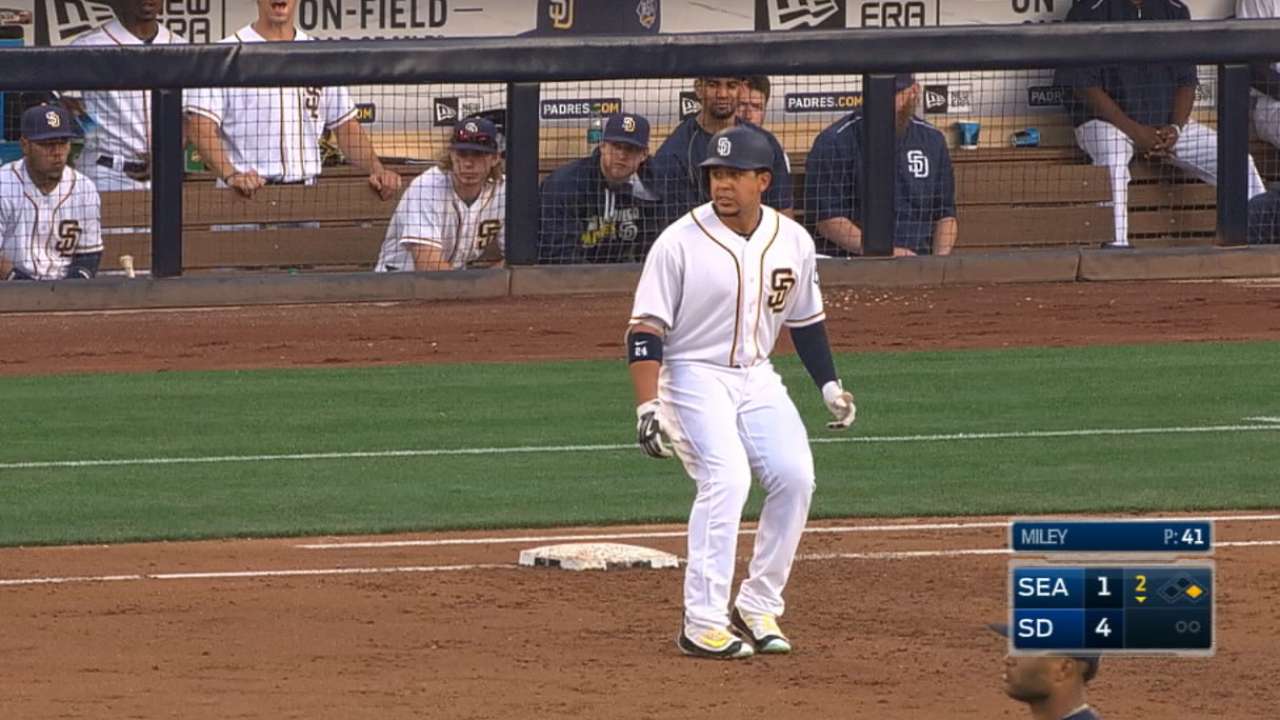 MESA, Ariz. -- Jon Jay loved those moments at Wrigley Field. In the six seasons Jay wore St. Louis Cardinals red, the center fielder always looked forward to his team's trips up Interstate 55 to Chicago.
As Jay stepped out from the dugout for batting practice at Wrigley Field, it didn't take long for the Cubs' faithful to welcome their visitor.
"You would always hear some things here and there from the fans," Jay said. "It was all in good fun, and really helped the rivalry."
The sight was impressive, Jay said. The boisterous crowds arrived early at Wrigley Field, piling in for one of baseball's best rivalries.
"I loved all the day games at Wrigley," Jay said. "Even during batting practice, the fans are out there when the Cardinals are taking BP. It's kind of crazy going out and having the stadium packed already. The outfield, the bleachers; people are out there. I just always remember those fans and the significance of that."
Until last season, Jay had been part of the fabric of the Cardinals-Cubs rivalry since he made his Major League debut in 2010.
Of course, that meant a lot of winning in a Cards uniform. Jay made the playoffs in each of his St. Louis seasons, and he was part of the World Series championship team in 2011 and another squad that made it to the Fall Classic in '13.
However, Jay found himself in a different uniform for the first time in 2016. He was sent to San Diego in a trade that garnered Jedd Gyorko for the Cardinals. Injuries halted a strong start with the Padres for Jay. It was only the second time in his career that Jay played in fewer than 100 games in a season.
It also marked the first time in his career that Jay hadn't made the playoffs, which is something he noted as he tested free agency for the first time. The defending World Series champion Cubs came calling, and he agreed to a one-year, $8 million deal.
"I loved my time in San Diego, but unfortunately we missed the playoffs," Jay said. "It's something that I really did miss, and coming here gives me a great opportunity for that. I'm looking forward to doing that. It was just a good fit."
Now, Jay finds himself on the other end of the rivalry alongside former Cardinals teammates Jason Heyward and John Lackey. He also finds himself as a prime contender for the everyday center-field job in Chicago.
Dexter Fowler, the man Jay is replacing, coincidentally landed in St. Louis. The battle between the two National League Central powers rages on.
Of course, the two teams have been among the most competitive in one of the best divisions in baseball of late, including a rare first for the rivalry in 2015 when the Cardinals and Cubs met in the playoffs. Chicago claimed that best-of-five NL Division Series in four games.
"It's just one of those things where I think that it's good for the division, and for baseball," Jay said of that NLDS. "You've seen it in the NL Central the last couple years, where Pittsburgh has been very competitive, St. Louis, Chicago, even Milwaukee. It's been a tough division."
Jay's first game at Busch Stadium in Cubs blue will be his first there since leaving the organization. Injuries caused him to miss San Diego's trip to St. Louis last season. As for the reception Jay will receive, he's ready for whatever comes.
"I'm looking forward to it this year, definitely," he said. "We'll see how the reactions are."
Fabian Ardaya is a senior majoring in journalism at Arizona State University. This story is part of a Cactus League partnership between MLB.com and ASU's Walter Cronkite School of Journalism and Mass Communication. This story was not subject to the approval of Major League Baseball or its clubs.