Full circle: Rings mean World to Cubs scouts
Blitzer, Lofrano, Servais thrilled to experience long-awaited championship with Chicago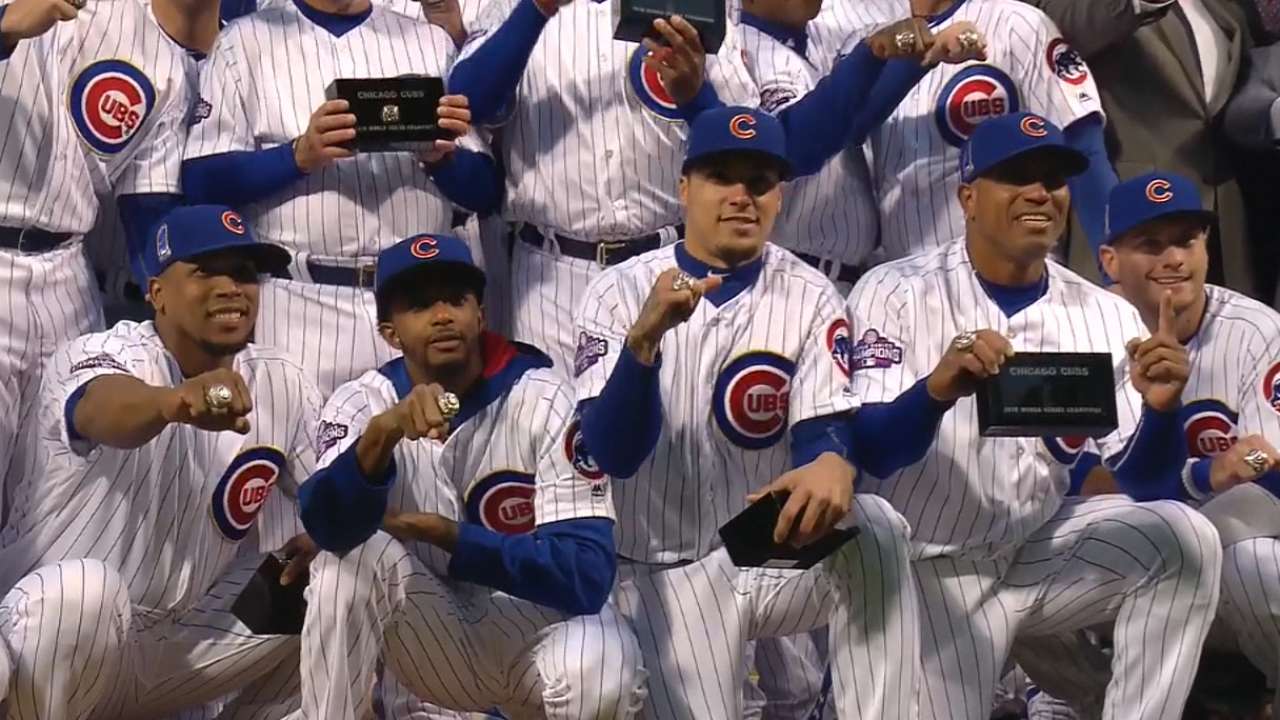 CHICAGO -- They've spent more than 90 years combined looking for the players who would help the Cubs win a World Series. They've endured razzing from their peers and sympathy from friends after each losing season. They've been on the road so much, they've lost track of the miles and hotel nights. But this week, Billy Blitzer, Bob Lofrano and Mark Servais were like little kids on Christmas morning.
The three longtime scouts finally received a World Series ring, each personalized with their name. Most important to them -- it has the Cubs' logo on it.
"You're not in this job to make money," Servais said. "You're in it for one thing."
How'd they get here? Lofrano, now 67, and his family moved from Chicago to California when he was 5 years old. Despite the distance, he maintained his love of the Cubs, inspired by players such as Ernie Banks. In 1981, Lofrano was a baseball coach at Chatsworth (Calif.) High School, and he wrote a letter to the Cubs. He didn't consider any other team.
"I wrote to one team, one team only," Lofrano said. "Who knew if they'd ever answer? Here I sit, 36 years later."
Doug Mapson, an area scout for the Cubs who signed Greg Maddux, responded, and he hired Lofrano as an associate scout. Lofrano stayed with the Cubs under Dallas Green -- and he remembers the "Building a New Tradition" motto -- and Jim Hendry, and now current Cubs president of baseball operations Theo Epstein.
Besides scouting, Lofrano is also the athletic director at Pierce College in Woodland Hills, Calif.
"This is a high priority," Lofrano said of his job with the Cubs. "I go to school, and boom, I'm off at 4 o'clock and go to a game. I go to a Dodger game, Angels game. When summer comes, it's a lot easier.
"And now, to end up with that," Lofrano said, showing off the diamond-encrusted ring on his right hand.
Servais, 67, was friends with legendary scout Stan Zielinski, who called to ask about a player in the La Crosse, Wis., area.
"Stan said, 'By the way, I could use a little help. Are you intested in scouting?'" Servais said. "I said, 'Are you serious? I don't know anything about scouting.'"
Apparently, Zielinski could scout a scout. Servais, who is Mariners manager Scott Servais' uncle, was a Midwest area scout for five years, and he has been a pro scout for the past 17 years.
One of the players Servais watched was Kyle Hendricks, when he was pitching in the Carolina League for the Rangers in 2012.
"When he sat back there and charted [pitches], you knew this guy was nothing but serious, serious business," Servais said.
Note to Minor League players: Scouts find out a lot about someone's commitment to the game by watching how they chart a pitcher from the stands. Lofrano remembers Clayton Kershaw when he was 19 years old, pitching in Midland, Mich., and he gave him the highest grade, partly because of how the lefty paid attention to the game.
"You talk to these kids -- 'How you doing?' -- and you can tell some kids are focused and they know what they're going to do out there, and some kids are out there and they want to get a hot dog or whatever," Servais said.
"Some of those kids are picking your brain," Blitzer said. "They're trying to figure out what you're looking for."
A player's off-the-field makeup is as important as his physical talent, and it could be a determining factor in a trade. Lofrano watched Anthony Rizzo when he was playing for Triple-A Tucson in the Padres' organization. The scout knew about Rizzo's successful battle against cancer when he was Minor Leaguer with the Red Sox.
"The guys in the stands were talking about what a great guy [Rizzo] is and how he deals with people," Lofrano said. "That one sticks with me more than anything. You write your reports, you turn them in -- who knows what's going to happen? Theo makes the trade."
"I think that's a key ingredient with the whole club," Servais said of the Cubs. "They're young kids, but we haven't heard one bad word about any of these kids. You win with good people."
Blitzer, 63, is a baseball lifer. He was coaching a sandlot team, and a man approached him to ask for help with a tryout camp. The man, Ralph DiLullo, was part of the Major League Baseball Scouting Bureau, and he had worked for the Cubs, signing Bruce Sutter and Joe Niekro. Blitzer joined the bureau, and his first roommate was Lennie Merullo, who played for the Cubs on the 1945 team that was the last to reach the World Series until last season.
"It was really fate that this man was sitting next to me, and he saw something in me and he taught me how to scout," Blitzer said of DiLullo.
When Shawon Dunston was 11, he was Blitzer's bat boy, and the scout would eventually sign him out of Thomas Jefferson High School in Brooklyn, N.Y., when the shortstop was the first overall pick by the Cubs in the 1982 Draft.
In a meeting with the Cubs' scouts in February 2012, Epstein asked Blitzer to address the group.
"I wanted someone to testify about what the organization means to people, how deep that connection runs, how meaningful it can be," Epstein said at the time.
During the 2015 postseason, the Cubs' scouts and Minor League staff were to parade around the warning track before a game at Wrigley Field. Blitzer was called to the front of the group.
"They said, 'Theo wants you to lead everybody out,'" Blitzer said. "I got all choked up."
Blitzer wasn't going to let his health problems interfere with the World Series, either. He had a cancer scare when doctors found an abscess on his colon. Five days after the World Series ended, Blitzer had hernia surgery. He'd asked doctors to postpone the procedure. On Wednesday, he had stitches on his left hand removed.
"They told me to bring the ring because they want to take a picture of that with the scar, and they're going to put the photo on the wall," Blitzer said, laughing.
Since the Cubs won the World Series in November, friends, family and anyone who knows Lofrano, Servais and Blitzer have asked to see their rings.
"Look at this, they put our names on it," Lofrano said, studying the details. "It says, 'We never quit.'"
That phrase could apply to the scouts, too.
"I can't tell you how much this means to me, to all of us," Blitzer said. "This is worth the 35 years."
Carrie Muskat has covered the Cubs since 1987, and for MLB.com since 2001. She writes a blog, Muskat Ramblings. You can follow her on Twitter @CarrieMuskat and listen to her podcast. This story was not subject to the approval of Major League Baseball or its clubs.