Little surprise? Cubs land lefty with 1st pick
Bringing power, competitiveness, JUCO arm selected with 27th overall selection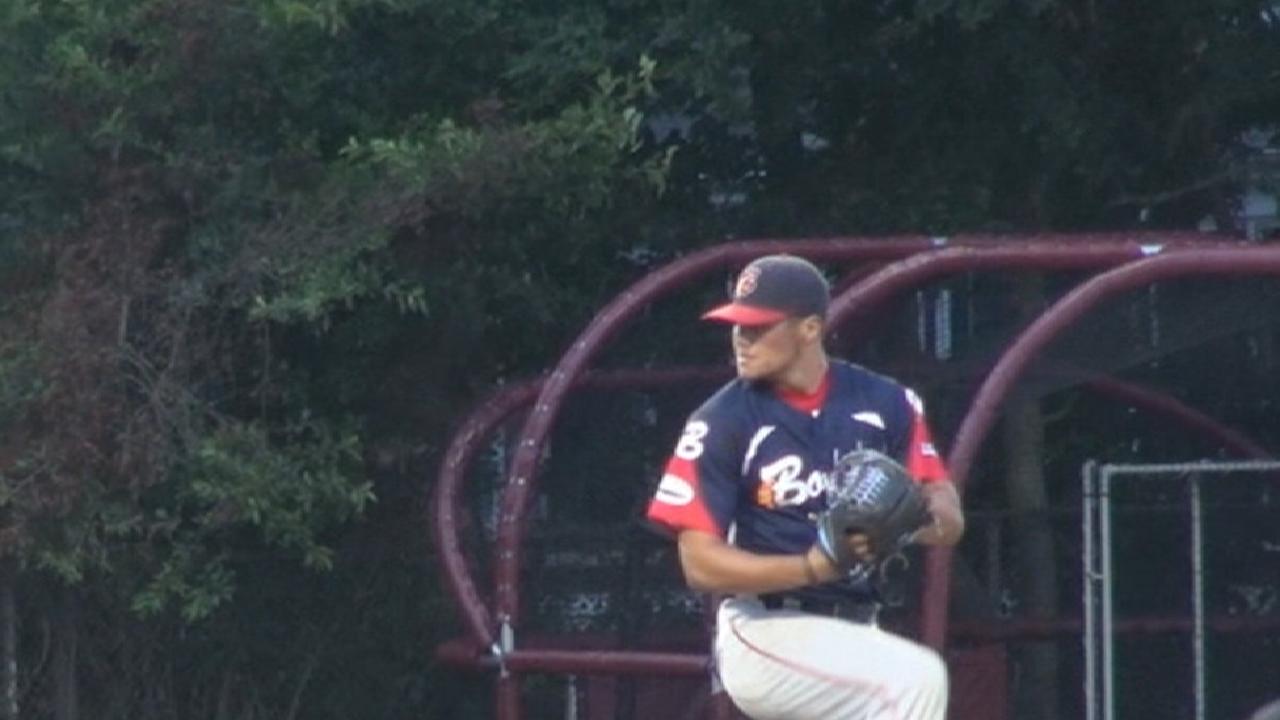 The Cubs have kept at least an eye on left-hander Brendon Little for quite some time. However it wasn't until an impressive showing at the 2016 Cape Cod League that he began to really turn some heads.
"He went to the Cape and things just really popped for him out there," said Jason McLeod, Cubs senior vice president of scouting and player development. "He was one of the biggest surprises coming out of there last year. ... He made quite a name for himself."
So much so, in fact, that the 36th-round selection in the 2015 Draft didn't have to wait long to hear his name called in 2017. Little was selected by the Cubs with the 27th overall pick on Monday following a successful sophomore campaign at the State JC of Florida.
• Cubs' 30th overall pick: Alex Lange
• Cubs' 67th overall pick: Cory Abbott
Little originally committed to North Carolina in 2015 but transferred after struggling to find time on the mound. He broke out at Cape Cod and continued to impress into his next college season.
"The best arm in the league was Little," said Mike Roberts, a manager with one of the teams in the Cape Cod League, at the time in an MLB.com article. "When he threw against us, I thought he was Randy Johnson. He flat lit it up against us."
McLeod, who said coming into the Draft the Cubs would take the best impact players on the board, restated that neither Little nor Alex Lange -- a right-hander from LSU, whom the Cubs selected 30th overall -- were "forced" picks.
The Cubs will have a chance to add to their pitching haul when the Draft continues on Tuesday with Rounds 3-10. The MLB.com preview show begins at 12:30 p.m. ET, with exclusive coverage beginning at 1 p.m. ET.
"We weren't going to force the issue up there," McLeod said. "Certainly we were really excited with Brendon and Alex when they were available for us."
Little -- the 36th-ranked Draft prospect according to MLB.com -- posted a 2.53 ERA in 85 1/3 innings this spring. McLeod described him as a physical lefty who is beginning to tap into his potential and has one of the best curveballs in the Draft.
Little's fastball is typically in the low-to-mid 90s, but he can reach as high as 97 mph. He will have some work to do in terms of consistency with his delivery, but McLeod noted he's a strong competitor and showed exactly what they wanted to see week after week in his sophomore JUCO season.
"It worked out well for him," McLeod said. "He just kept getting better and better every week."
Scott Chasen is a reporter for MLB.com based in Chicago. This story was not subject to the approval of Major League Baseball or its clubs.