Jimenez ready to bring pop to Futures Game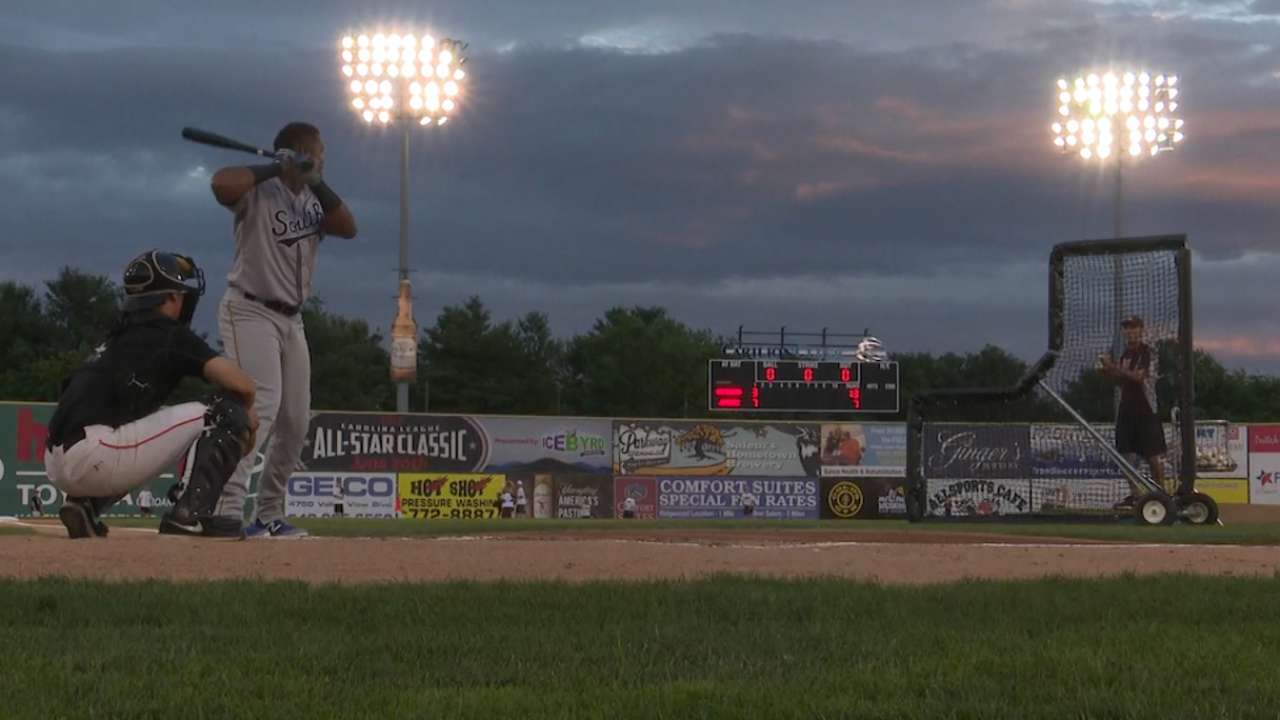 CHICAGO -- The Cubs know Eloy Jimenez has power. They didn't know he had so much that he'd be breaking lights at ballparks in the Minor Leagues.
Jimenez has busted two lights with his prodigious home run swings in recent weeks, and the 20-year-old will show off his talent today in the 2017 SiriusXM All-Star Futures Game. The game takes place at 4 p.m. ET at Marlins Park in Miami and can be viewed live on MLB Network and MLB.com.
This is the second year Jimenez was named to the World team. Last year, he hit a three-run homer and a double and finished with four RBIs. Jimenez also made a tremendous catch that was the defensive play of the game.
"You can see him growing up before our eyes, his maturity at the plate, understanding how he's growing and how his body works now and how he needs to maintain his body," said Alex Suarez, the Cubs' director of international pro scouting. "He's becoming a man on and off the field and understanding how to take care of his body and how his body works with his swing and throwing motion and everything baseball-wise. You're seeing him become a full baseball player, and not just a tool shed of talent."
The Futures Game, which is now in its 19th year, features the top Minor League prospects competing in a nine-inning contest as part of All-Star Sunday. The U.S. team leads the all-time series, 11-7. Last year in San Diego, the World team defeated the U.S., 11-3, snapping a six-game U.S. winning streak.
Ranked No. 1 among the Cubs' top 30 prospects by MLBPipeline.com, Jimenez, 20, was batting .279 in 40 games with Class A Advanced Myrtle Beach this season, with eight home runs, six doubles and two triples.
Jimenez was a non-roster invitee in Spring Training, and that exposure to the big league players helped his development, too, said Jaron Madison, the Cubs' director of player development.
"He understands what it takes and how close he actually is to the big leagues, and it's really opened it up for him and put him in a good mindset," Madison said. "I think he's buying into what he has to do to be successful, the work off the field as well as on the field. He's just growing up. He's just 20 years old. There's still a maturing process, but he's getting close."
Last season, Jimenez batted .329 at Class A South Bend, and spent the entire season there. Once he got over a right shoulder injury suffered in Spring Training, he joined Myrtle Beach.
"We'll let him dictate when he's moved," Madison said. "I'd love to do nothing more than move him up to Double-A when the time is right."
The Cubs have seen Jimenez reduce the number of strikeouts; he had 32 over 40 games. Last year, he fanned 94 times in 112 games.
"He's cut down on the strikeouts and is controlling the zone better and really understanding himself more as a hitter and not trying to be a power guy -- he's trying to be a hitter who has power, which is the focus for us," Madison said.
What about the lights?
"That's impressive," Suarez said. "You always thought he had this incredible raw power, but to do what he's done the last couple weeks has surpassed anything I thought he'd do."
Carrie Muskat has covered the Cubs since 1987, and for MLB.com since 2001. She writes a blog, Muskat Ramblings. You can follow her on Twitter @CarrieMuskat and listen to her podcast. This story was not subject to the approval of Major League Baseball or its clubs.