Biker club? Cubs head West with vests, flair
Outfits personalized as Maddon trying to instill more fun down stretch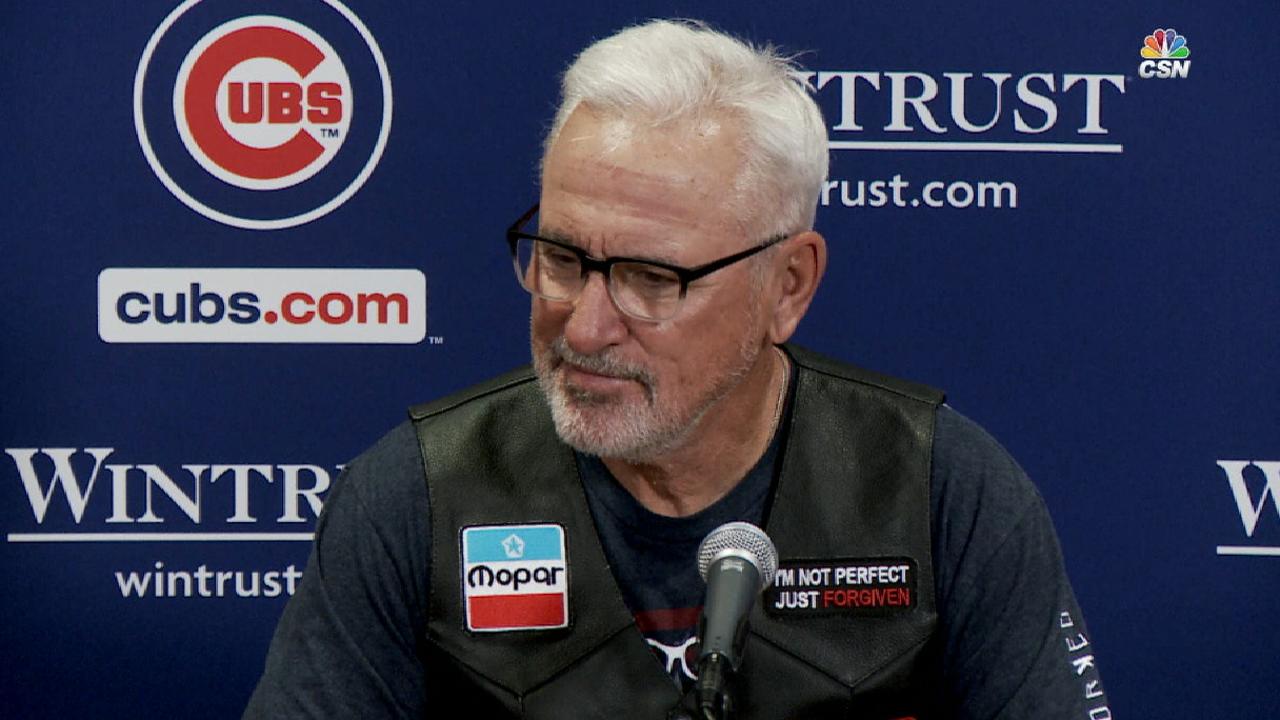 CHICAGO -- The Cubs' West Coast trip features personalized black biker vests, all part of the fun-loving attitude which manager Joe Maddon said may have been missing early this season.
"Anything you can do to unify the group is always a good thing," Maddon said of the get-ups. "For the group that doesn't understand it, that's too bad that you forgot what it's like to be a kid."
Last year, the Cubs had several dress-up trips, but it seems they've toned down their outfits and visits this year from zoos or magicians.
"I don't know that we've had enough fun this year, quite frankly, and a lot of that comes with winning," Maddon said. "That's just a natural -- when you're winning, you have more fun. But what comes first? You have fun, and then you win? Whatever. I think it's good timing for right now."
When the Cubs return from San Francisco and Arizona, they will have American Legion week at home, which allows the players to just show up and play. Maddon may have more ideas as the season progresses.
"Listen, we're not going to win it if we don't really enjoy the day," he said. "You have to enjoy yourself, you have to enjoy the day and you have to put defeat behind you and keep moving forward. That's the only way to do this. I believe in the camaraderie component of what we're doing and the fact that it is purely fun. There's nothing wrong with that."
Each vest has the players' or coaches' nickname. For example, Ian Happ is "Happer," Ben Zobrist is "Zorilla," Addison Russell is "Russ," and Javier Baez is "Mago," which is Spanish for magician.
Maddon's vest says "Pino," which he said is "Joe" in Italian. He got that nickname when he held a clinic in Italy in 2003.
Strength coach Tim Buss and traveling secretary Vijay Tekchandani coordinated the vests.
"Guys are jacked up about it," Maddon said.
Carrie Muskat has covered the Cubs since 1987, and for MLB.com since 2001. She writes a blog, Muskat Ramblings. You can follow her on Twitter @CarrieMuskat and listen to her podcast. This story was not subject to the approval of Major League Baseball or its clubs.