Cubs can't pick up slack after Arrieta out early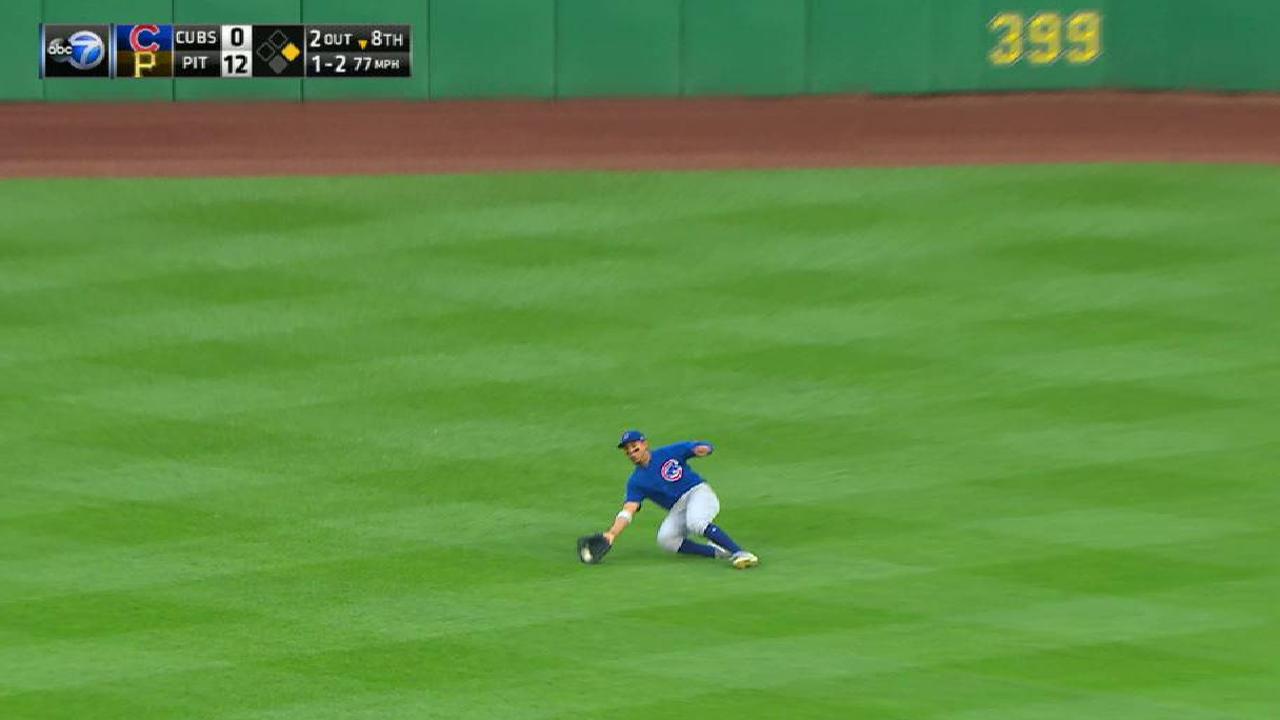 PITTSBURGH -- The Pirates have fallen far out of the National League Central race, but they can still play the role of September spoiler as they look toward 2018. They did just that on Monday, as their rookies backed up Chad Kuhl's seven scoreless innings in the Bucs' 12-0 win over the Cubs.
Kuhl struck out a career-high eight in his best start of the season, the Pirates' second shutout in the last three days. The 24-year-old right-hander gave up three runs on seven hits over 5 1/3 innings at Wrigley Field last Tuesday, but he was in command on Monday afternoon. Kuhl fired fastballs up to 99 mph and kept the Cubs' imposing, lefty-laden lineup off-balance with a mix of sliders, curveballs and changeups, as he held them to four hits and two walks on 100 pitches.
"They got me a few times last year, got me earlier this year. I had five really good innings six days ago at Wrigley," Kuhl said. "It's just nice to put it all together and finish a good game."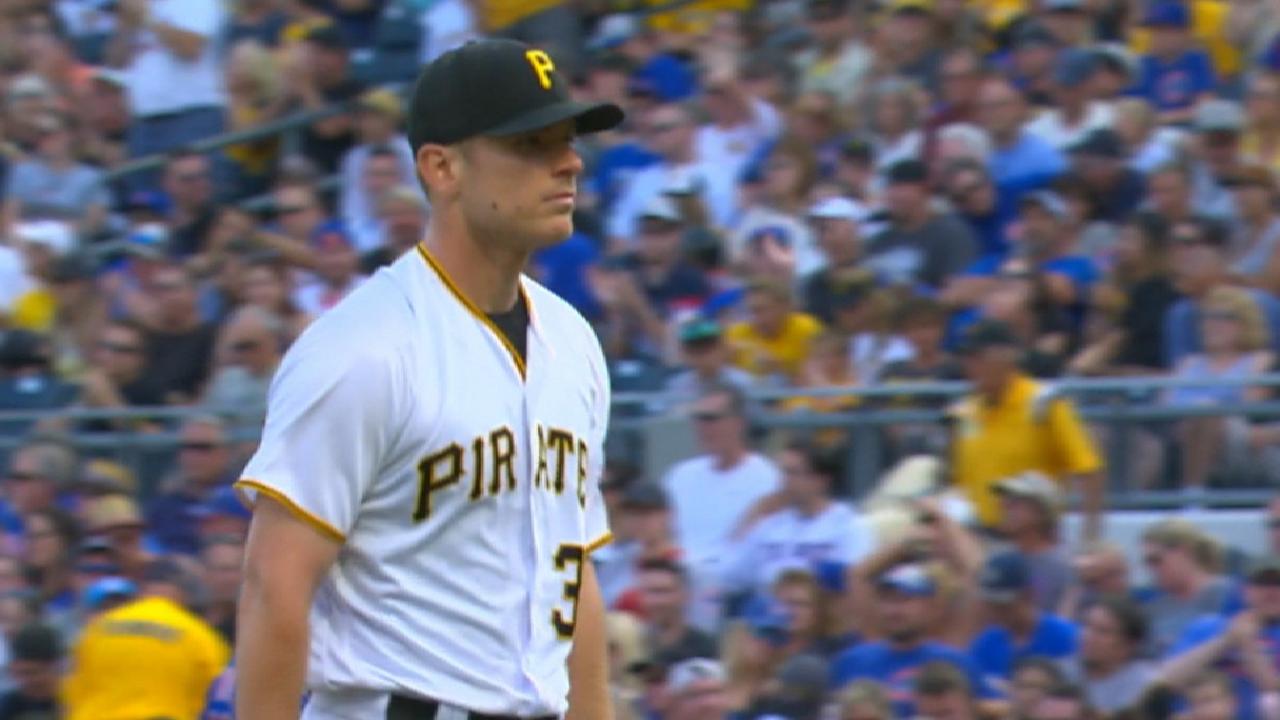 He worked around a pair of two-out doubles by Kris Bryant in the first and third innings, and Starling Marte cut down a run at the plate in the second inning with a 99.4-mph throw from left field. But Kuhl found his rhythm after that. He struck out the side in the fourth, retired 10 straight between the third and the seventh and didn't allow a hit after the third inning.
"Kuhl kept getting better," Cubs manager Joe Maddon said. "He had real good command of his breaking ball today. Very good. We had a chance early, but once he found his breaking ball command, he took off."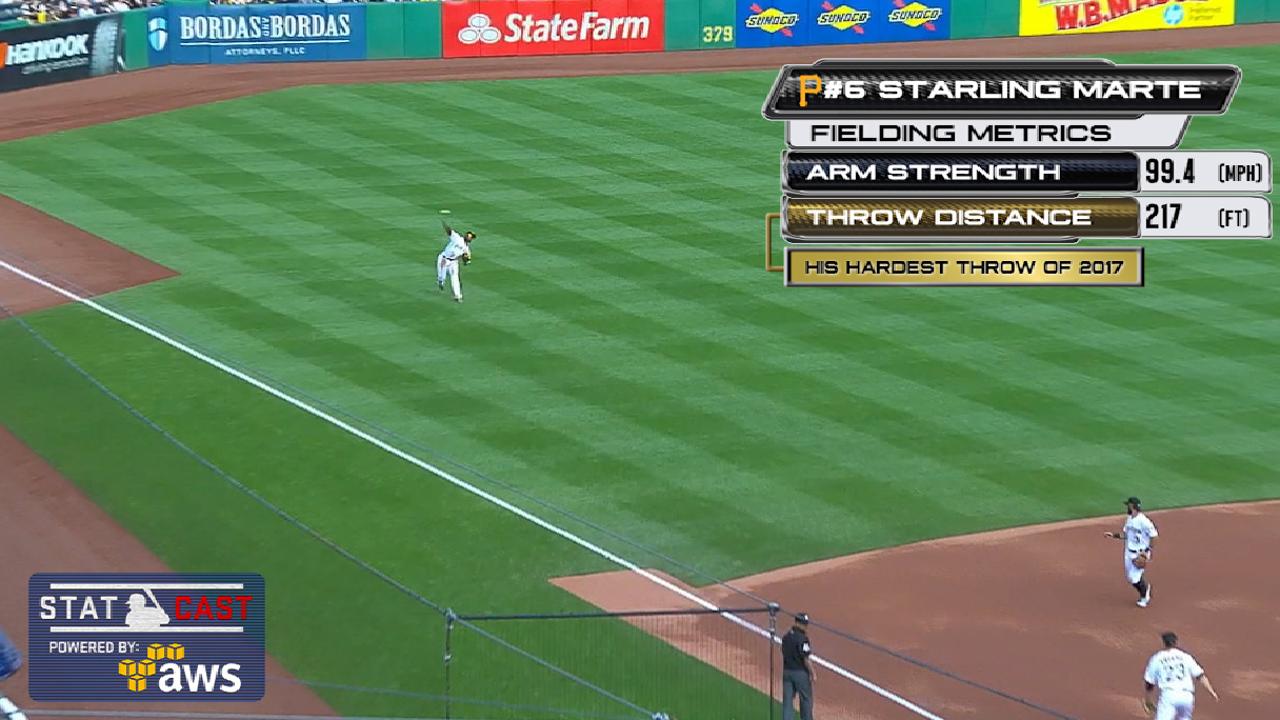 The Cubs have lost two in a row, but they maintained a 3 1/2-game lead in the NL Central because the Brewers lost to the Reds. The good news for them is it appears they won't be without Jake Arrieta for long. The reigning NL Pitcher of the Month left the game with one out in the third inning, clearly favoring his right hamstring, but the injury is believed to be just a cramp.
Arrieta's exit and the Pirates' big lead led to outfielder Leonys Martin making his Cubs debut on the mound, of all places, and giving up a home run to David Freese in a seven-run eighth inning.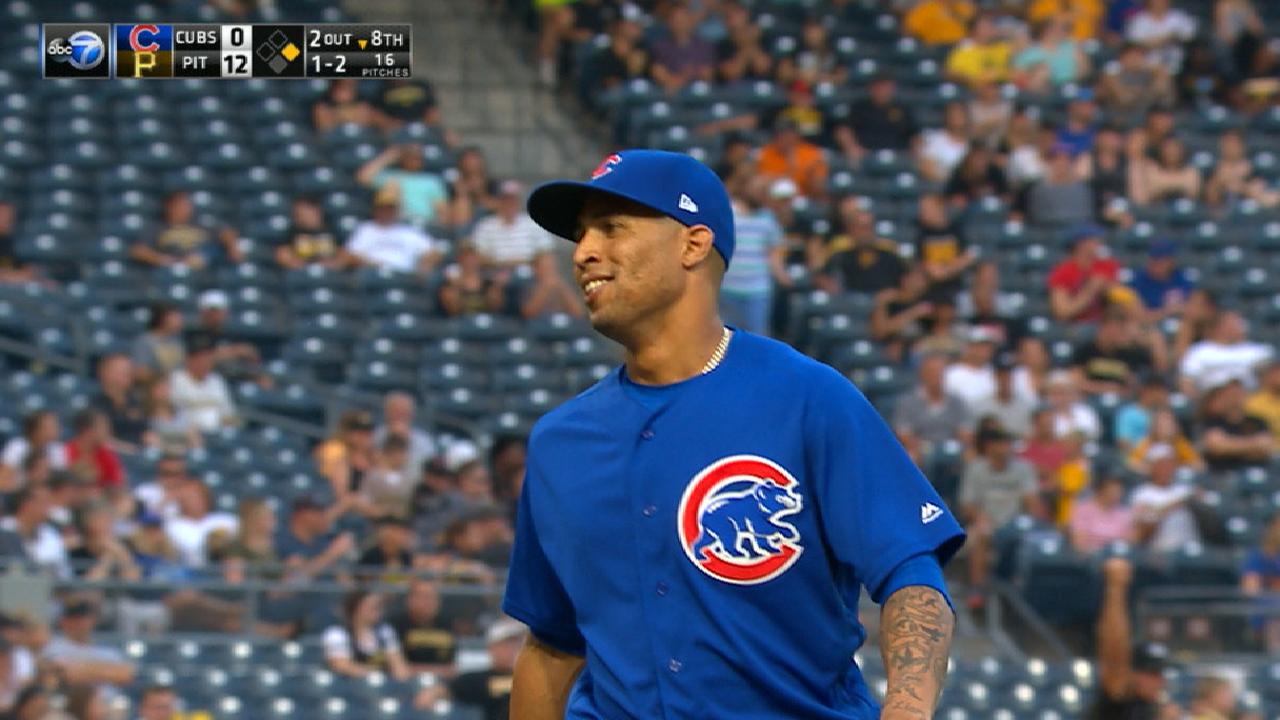 Josh Bell and Max Moroff provided most of the early run support behind Kuhl on a day in which Pirates rookies finished 10-for-18 with two homers, three doubles, five runs and nine RBIs. Rookies Bell and Moroff both went 3-for-5 with a homer and four RBIs. Marte set the tone atop the lineup, going 2-for-4 with three runs scored, and rookies Jordan Luplow and Elias Diaz added a pair of hits apiece.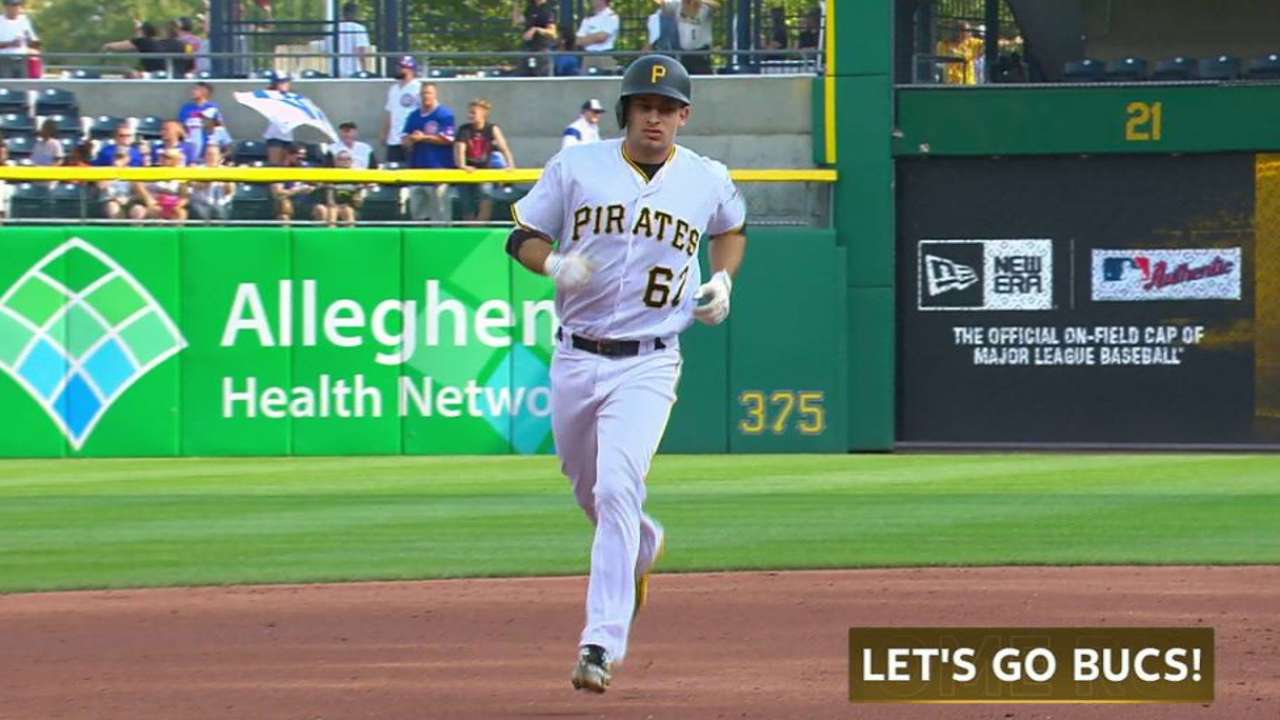 "That was a good one. It was a good one for all of us," Bell said. "Kuhl started us off. Jumped on Arrieta early. Throughout the course of the game, just a lot of hard-hit balls and a lot of good defense."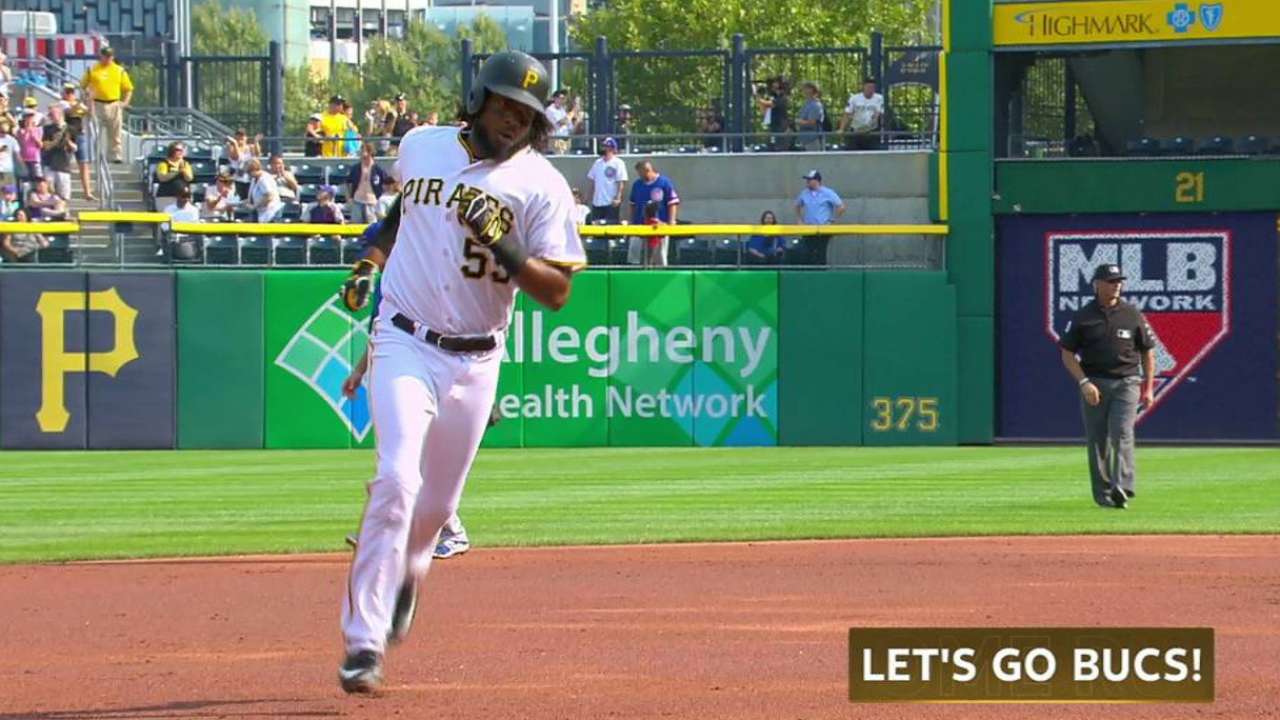 MOMENTS THAT MATTERED
Ring it: For whatever reason, Bell seems to enjoy hitting against the Cubs, specifically Arrieta. His two-run shot in the first inning -- a 101.6-mph blast that traveled a Statcast-projected 397 feet -- was his seventh hit and second homer in 14 at-bats against the veteran righty. It was Bell's 24th of the season, surpassing Chipper Jones for the NL switch-hitting rookie record. Even after Arrieta's exit, and switching to the other side of the plate, Bell kept hitting. He ripped an RBI single to left field in the fifth inning off lefty reliever Rob Zastrynzy.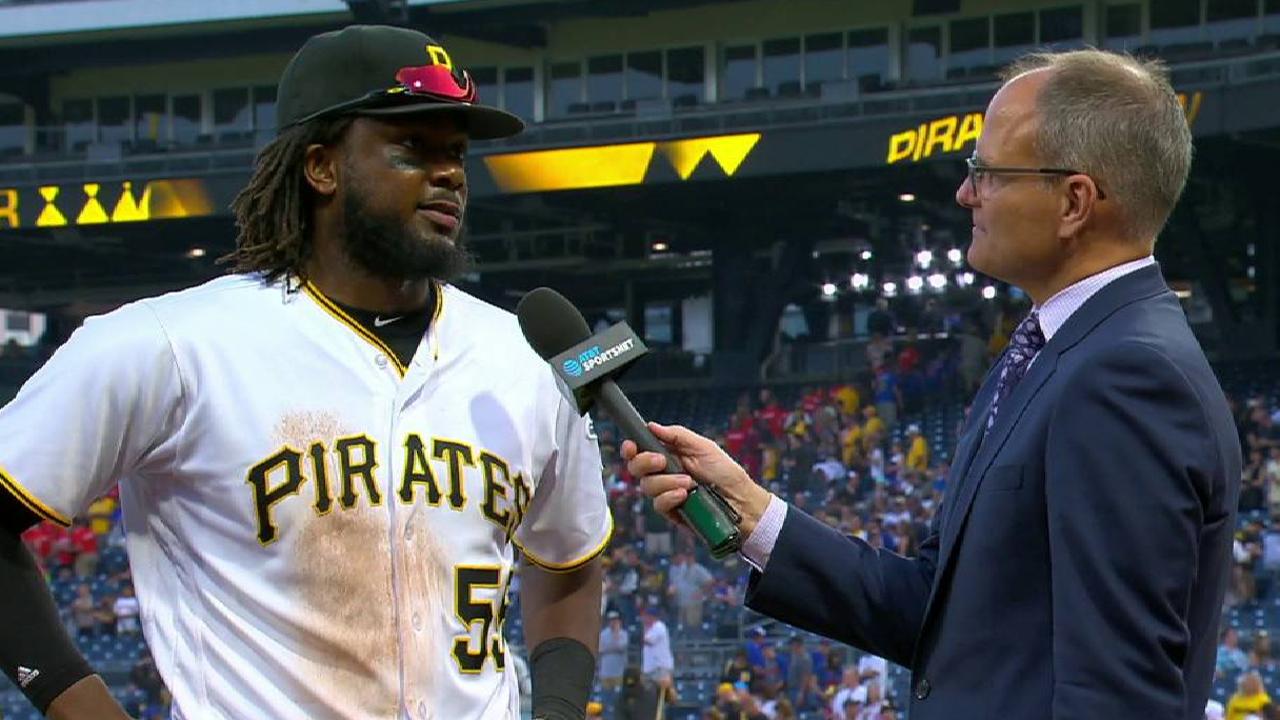 "Just laying that foundation for myself," Bell said of his home-run power emerging in the Majors. "It's always something I wanted in the Minor Leagues, but never really harnessed. Hopefully I can continue to grow on it." More >
Mad Max: Following Josh Harrison's season-ending hand injury, Moroff is taking advantage of the opportunity to play on a regular basis. The rookie infielder, listed at 5-foot-10 and 185 pounds, bashed a homer over the right-field seats off Arrieta in the third inning, his third in the Majors. That ball traveled a Statcast-projected 395 feet with an exit velocity of 102.5 mph. Moroff then ripped an RBI double to left field off Zastrynzy in the seventh inning and a two-run single off righty Dillon Maples in the eighth.
"You don't have to be big to hit a ball for distance," Pirates manager Clint Hurdle said. "His swing's connected. When his swing's connected, it arrives on time. The man has barrel strength. He's got hand strength, got arm strength. ... You watch BP, and you're like, 'Wow.' He hits balls with Bell."
QUOTABLE
"It was a good day for Pirate baseball. It was a good day for these young men to go out and compete. It was a good day for our team. ... If you wanted to draw it up, I don't even know if you'd go to those lengths to draw it up. You'd probably be happy with a little bit less than that. The results matched the effort." -- Hurdle, on the success of the Pirates' young players
"It's been a long time coming. I think since July 1, when I really noticed a lot of changes, this is the kind of game you were looking for. Had to stick with it, really work at it. ... I'm very happy with this one." -- Kuhl, who owns a 3.11 ERA since July 1
SOUND SMART WITH YOUR FRIENDS
The Pirates have not allowed an earned run since Friday. Between shutouts on Saturday and Monday, the Bucs gave up an unearned run in the ninth inning of Sunday's 3-1 win over the Reds.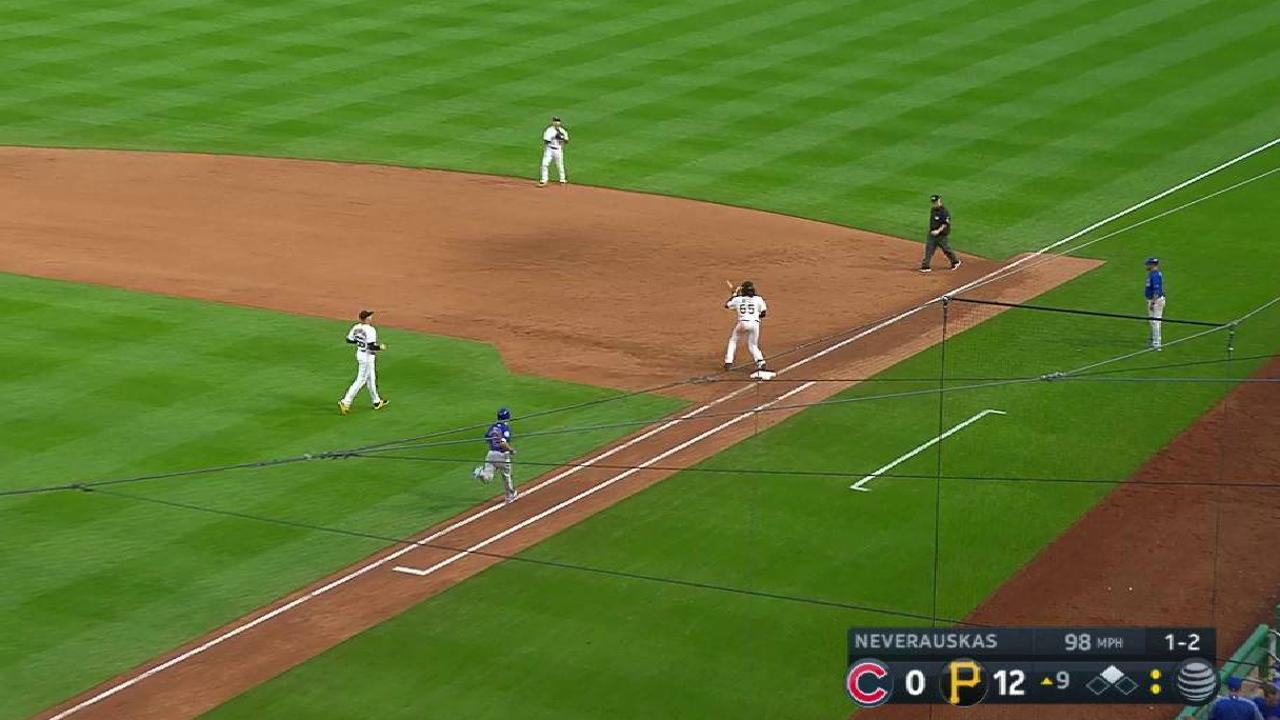 Bell has as many RBIs (82) as Jason Bay did in 2004, when the former Pirates outfielder won the NL Rookie of the Year Award. The last Pirates rookie to drive in more runs than Bell and Bay? Maurice Van Robays, who plated 116 runs in 1940.
WHAT'S NEXT
Cubs: Kyle Hendricks starts Tuesday at 6:05 p.m. CT at PNC Park. Since coming off the disabled list in July, Hendricks has been better than at any time since last season. In eight appearances since returning, the right-hander is 2-1 with a 2.31 ERA, and has not allowed more than three runs in any of those games.
Pirates: Left-hander Steven Brault will make his first Major League start of the season Tuesday for a 7:05 p.m. ET game against the Cubs. Brault will move out of the Bucs' bullpen and become the first lefty, and only the seventh pitcher, to start for Pittsburgh this season. He is filling in for veteran right-hander Ivan Nova, who was skipped due to what the Pirates believe is a fatigue-related slump.
Watch every out-of-market regular-season game live on MLB.TV.
Adam Berry has covered the Pirates for MLB.com since 2015. Follow him on Twitter and Facebook and read his blog.

Bob Cohn is a contributor to MLB.com based in Pittsburgh who covered the Cubs on Monday.

This story was not subject to the approval of Major League Baseball or its clubs.