Russell in good spirits prepping, watching Cubs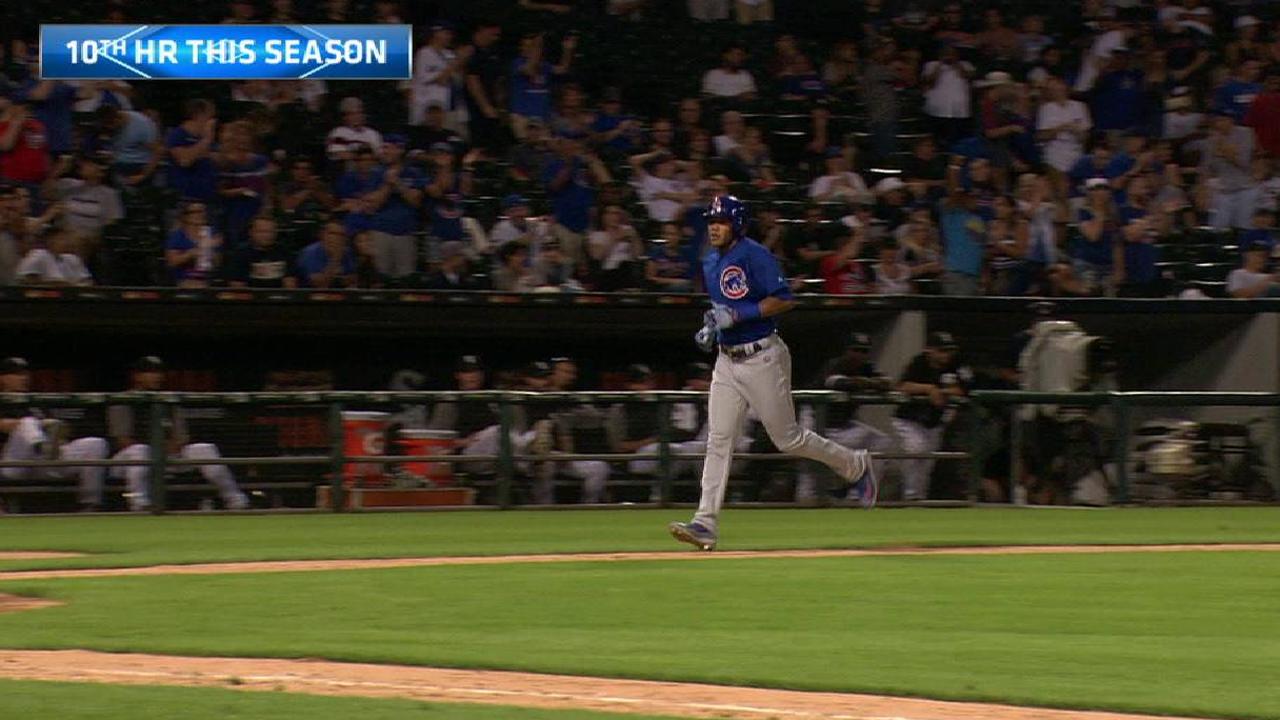 CHICAGO -- There's been some good-natured joking in the Cubs' clubhouse since Addison Russell was sidelined in early August with a right foot strain and Javier Baez took over at shortstop. Baez has played extremely well at short.
"He's great," Russell said Saturday of Baez. "He's great wherever he plays. He's an athlete and he's going to make the big plays. The team is very fortunate to have him. He's someone I can learn something from here and there."
But when Russell is ready to return, he will reclaim the shortstop position and Baez will shift to second base. Russell still has at least two more weeks of rehab.
"It's coming along pretty smoothly," Russell said. "It's the third day in a row of running, and each day I come in and my foot is feeling better."
Russell had started one game in a Minor League rehab assignment but then suffered a setback, and an MRI exam revealed he had aggravated his foot. The positive of that is Russell felt something "pop" in his foot. That's actually good.
"Before it popped, I was managing it and I couldn't really do what I was capable of doing on a normal basis," Russell said. "I'm actually pretty excited that it popped so I can get the muscles to recover fully and go from there."
In the last three days, he's been able to run side to side and do light jogging. Plus, he's been throwing a football to keep his arm strong.
"As far as moving around, I'm right there," Russell said.
• Catcher Willson Contreras was headed back to Chicago on Saturday after two rehab games with Class A Myrtle Beach. Contreras went 1-for-2 with two walks as the designated hitter on Friday. He's been out since Aug. 11 with a right hamstring strain. What's next? Cubs manager Joe Maddon said they need to talk to Contreras to see how he feels before deciding the next step.
"It's not impossible [he could be activated on Sunday], but I don't know that it's going to happen," Maddon said on Saturday. "It's just a matter of when you talk to him, 'How are you seeing the ball? What do you feel like at the plate? How does the leg feel?'"
• The Cubs still aren't sure if Jake Arrieta will miss one start or two as he deals with a sore right hamstring.
"He's feeling better," Maddon said. "I talked to [athletic trainer PJ Mainville], and things are progressing. Until [Arrieta] gets out and actually throws in a workout, I don't know [how long he'll be out]. Definitely one, possibly two [starts]. PJ just told me [Friday] that Jake's doing better, and that's what I've got."
• The Cubs have their scouts checking all the playoff-eligible teams in preparation for possible postseason play.
"You're looking for little nuances this time of year," Maddon said. "Because it's so topical now, if you had a good scout who could steal signs and what they're doing on the bases, [that would help]. That's where an in-the-seats scout is valuable."
• Several of the Cubs are keeping tabs on Hurricane Irma. Maddon's wife, Jaye, was able to leave the Tampa Bay area before the storm reached Florida. Cubs outfielder Albert Almora Jr. said his family was hunkered down in the Miami area but felt safe as the hurricane moved west.
Carrie Muskat has covered the Cubs since 1987, and for MLB.com since 2001. She writes a blog, Muskat Ramblings. You can follow her on Twitter @CarrieMuskat and listen to her podcast. This story was not subject to the approval of Major League Baseball or its clubs.