Crew-Cubs dance-off still making waves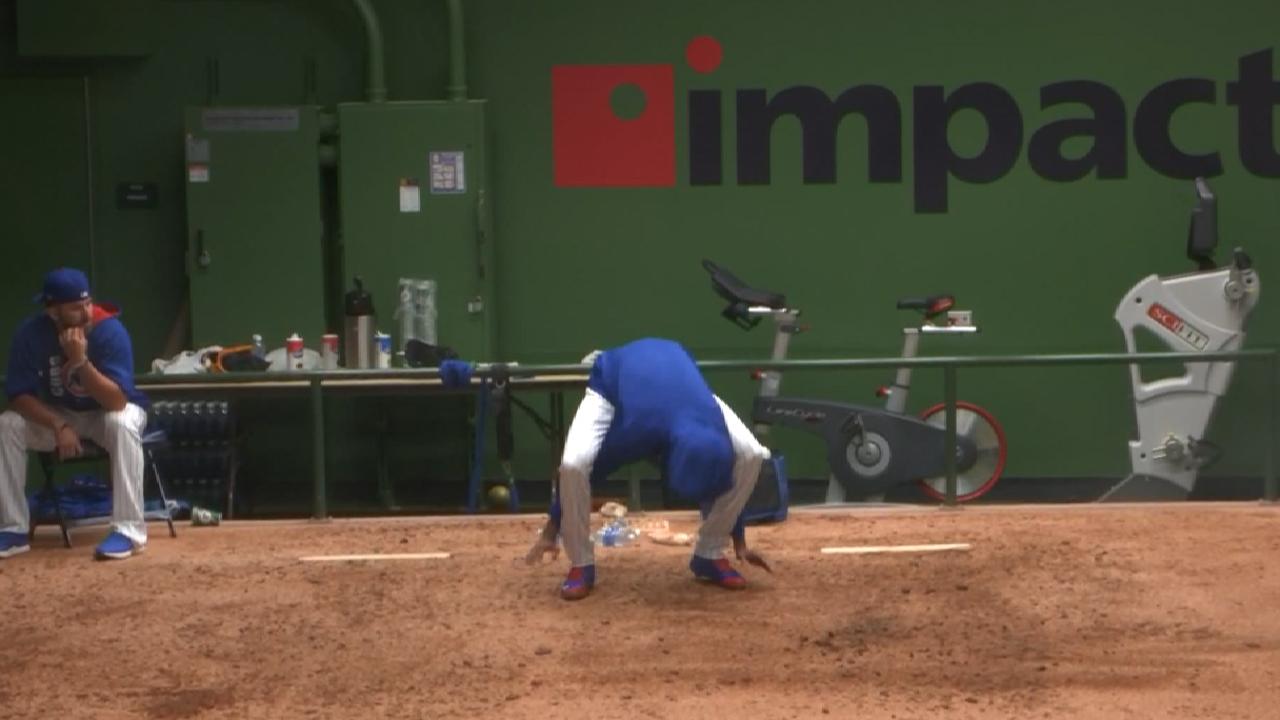 CHICAGO -- It started with a wave and was fueled by coffee and competitive juices. Who knew Major League relievers could dance? The Brewers and Cubs found out back in May when they sparked what has become a social media sensation.
With the bullpens now under the bleachers at Wrigley Field, the pitchers discovered they can spy on the opposition on the television sets there. During a Brewers-Cubs series in May at Wrigley, Milwaukee's pitchers tuned in to see Chicago's relievers. Game on.
"I think we just happened to have the channel on that shows their bullpen, and they saw us looking at them and started waving. So we started waving. And there you go," Brewers reliever Oliver Drake said. "They would do something and we would try to one-up them. Back and forth. You sit back at the end and look at it, and you say, 'Of course that just happened.'"
Cubs reliever Carl Edwards Jr. did "The Worm" dance. Brewers closer Corey Knebel did something that vaguely resembled breakdancing.
"We said, 'What are they doing, trying to challenge us?'" Edwards said. "It was raining, we were bored, we were in a confined place."
"It's just a bunch of dudes drinking too much coffee, getting ready to pitch and have too much energy," Milwaukee's Jared Hughes said. "And guys who are really competitive. Caffeine and competitiveness."
Did Hughes have a favorite performance?
"Corey's breakdancing was absolutely ridiculous," Hughes said. "But the effort was there. 'A' for effort."
Naturally, video of the dance off was shown on the video screen and the respective teams' social media outlets. That set the bar for other teams that came to Wrigley. During a series against the D-backs, Arizona's relievers seemed ready for the challenge.
"It looks like they were prepared," Chicago's Pedro Strop said of the D-backs, who mimicked a bobsled race. "Everybody knew we were doing that. We were all over social media."
"If I was a team, I'd hope for a rain delay to do something," Edwards said.
Did the Brewers think it would take off like this?
"We had a feeling," Drake said. "I remember somebody mentioned, 'I guarantee you that all got recorded and we're going to see it.' The next day, it was on the highlights. Sure enough, it blew up."
The Cubs' relievers dance in-game after one of their teammates hits a home run. They've added animal masks to their repertoire, and if a new pitcher joins the bullpen, he has to do a solo dance. Dillon Maples made an impression with his dance, which he called "Flossing."
"We have a great group of guys," Strop said. "We like to have fun and we have great dancers, like C.J. Edwards can dance. It's not even that they can dance, but the fact that guys like Brian Duensing, he's always moving. I didn't know he could move like that. Even [bullpen coach] Lester Strode -- everybody just has fun. I love it."
It's all in good fun, and the Cubs hope to continue dancing into October.
"I haven't even brought out my best moves yet," reliever Justin Grimm said.
Carrie Muskat has covered the Cubs since 1987, and for MLB.com since 2001. She writes a blog, Muskat Ramblings. You can follow her on Twitter @CarrieMuskat and listen to her podcast. Adam McCalvy has covered the Brewers for MLB.com since 2001. Follow him on Twitter @AdamMcCalvy and like him on Facebook. This story was not subject to the approval of Major League Baseball or its clubs.