Maddon: Cubs 'heartbeat' leads way to NLCS
Manager credits club's attitude as Chicago overcomes obstacles to advance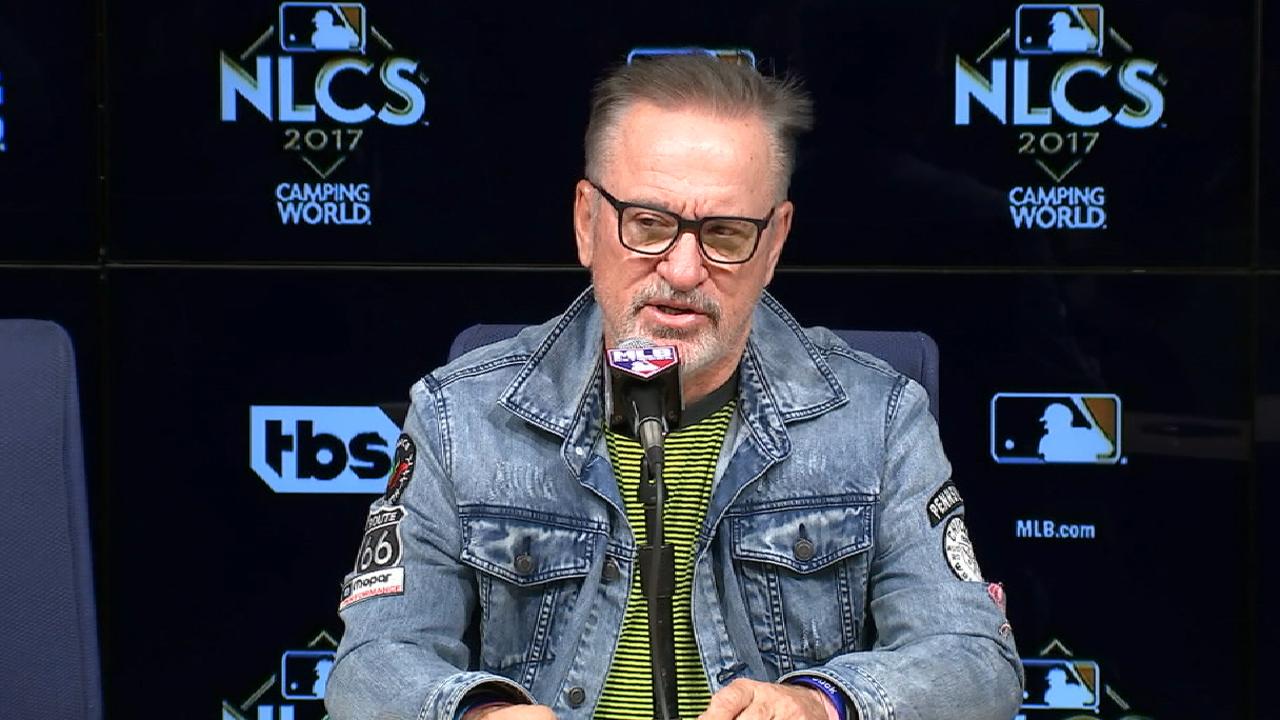 LOS ANGELES -- Perhaps reality should have struck the Cubs in the second inning of Game 5 of the National League Division Series presented by T-Mobile on Thursday. Perhaps they should have withered when Michael A. Taylor hit a three-run homer to give the Nationals a 4-1 lead. Perhaps they should have looked to the outfield and glimpsed Max Scherzer, the probable NL Cy Young Award winner, lurking in the bullpen. Perhaps they should have seen the Nats -- statistically a better team throughout the regular season -- and conceded to the forces working against them.
But then they would not have been the Cubs.
"You would not believe the attitude in our dugout after Taylor hit the home run," manager Joe Maddon said Friday. "Beautiful. Spectacular. We were definitely not out of that game."
• Dress for NLCS: Get Cubs postseason gear
That the Cubs went on to win, securing their place in the NL Championship Series presented by Camping World against the Dodgers, was a nod to what Maddon called their "heartbeat." This is largely the same Cubs team that stormed back from a 3-1 series deficit and a late game-tying Game 7 homer to win the 2016 World Series. They likewise recovered from a slow start to reclaim the NL Central crown this summer, then upended a Nationals club with enough talent to fend off anyone in baseball.
If it is indeed "about the heartbeat, brother," as Maddon put it, the Cubs will need to draw upon even more of that as they descend deeper into October. Heading into NLCS Game 1, the Cubs are fatigued, enduring a long travel day after taking their NLDS victory to the limit. Maddon, the only member of the Cubs' uniformed traveling party to make it to Dodger Stadium for Friday's workout day, admitted to exhaustion.
And oh, by the way, the winningest team in baseball awaits in the NLCS, fully rested with ace Clayton Kershaw ready for Game 1.
"We're going to be tired tomorrow," Maddon said. "Who cares? They're going to be ready to play."
The Cubs' primary advantage may be their experience overcoming just about every on-field hardship a team can overcome. And they appear to be peaking at the right time. Wary of the championship "hangover" effect that has afflicted World Series teams in the past, Maddon lauded his group for fending off those demons and more en route to the NLCS.
"What our guys have been through the last several years, they're young. They're really young. I can't say they're inexperienced anymore," Maddon said. "We're young, but we're not inexperienced. So the boys have responded properly and well. I'm really proud of it."
As Maddon spoke, his team members were mostly hanging around their Los Angeles hotel, resting from a cross-country flight that included an emergency medical stop in New Mexico.
None of it seems to matter much to these Cubs, who are once again playing for the pennant in spite of everything.
"Those guys over there, they're the world champs," Dodgers manager Dave Roberts said. "They're very resilient. They're a professional group, so they're going to come out and fight."
Anthony DiComo is a reporter for MLB.com. Follow him on Twitter @AnthonyDiComo and Facebook. This story was not subject to the approval of Major League Baseball or its clubs.