No repeat in 2017, but Cubs sitting pretty
Team 'well positioned for future,' after falling short in NLCS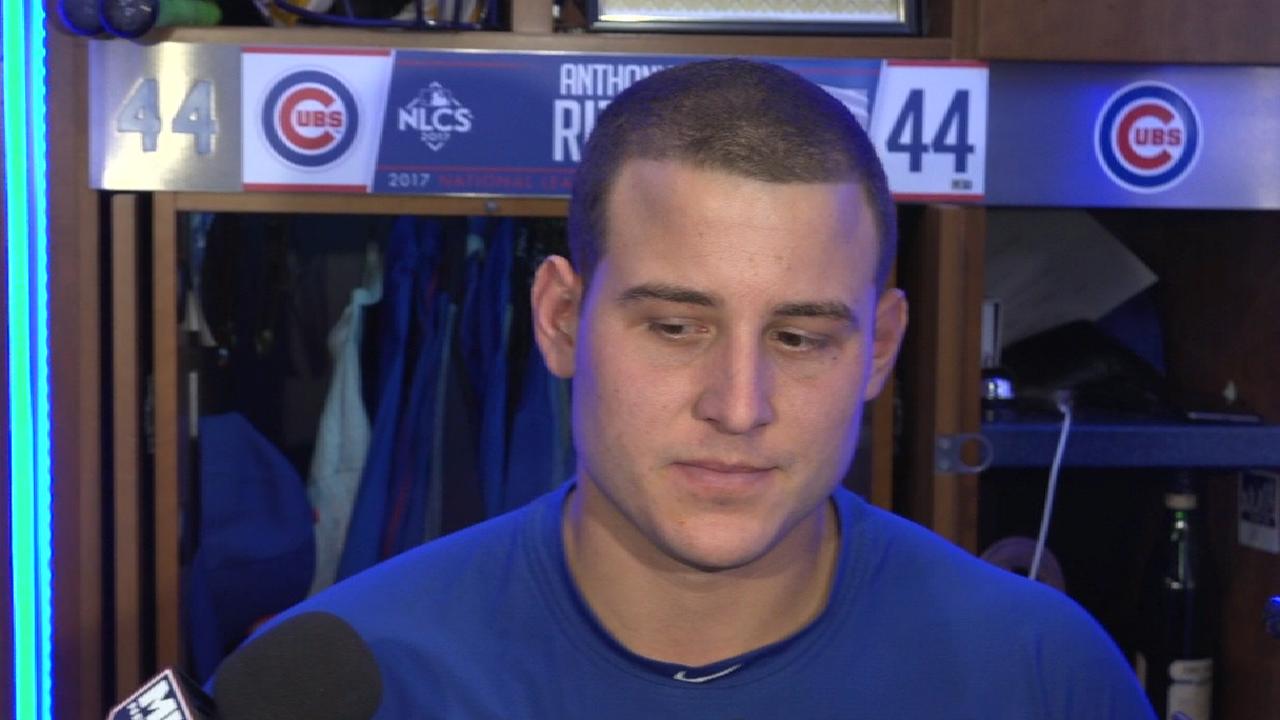 CHICAGO -- The World Series will begin on Tuesday, and a new champion will be crowned as the Cubs fell short in their bid to repeat. On the plus side, they were the first defending champs to win 90 games and their division the following season since the 2009 Phillies. But the Dodgers ousted the Cubs in the National League Championship Series presented by Camping World in five games.
Since the 2015 season, the Cubs lead the Majors in combined regular-season and postseason wins (311). The '17 season marked the first time the franchise has reached the playoffs three years in a row since 1906-08. Yes, it's been that long.
• For Cubs, there's work to be done in offseason
"We're on our way. Mission not accomplished," Cubs president of baseball operations Theo Epstein said. "We've done a lot of tremendous things, and thus far, it's been a success. But the whole goal is to try to get there as many times as you can over a long stretch and a long period of time. We're really well positioned for the future. In no way do we see this window ending now or lessening in any way."
This team we had this year was a special one and wouldn't want to go to battle with any one else. Thank you all for the special year! #Cubs

— Kyle Schwarber (@kschwarb12) October 22, 2017
Here are five things to remember from the 2017 season:
1. September surge
The Cubs trailed the Brewers by 5 1/2 games at the All-Star break, and their strong second half helped them repeat as NL Central champs. That included a 15-4 regular-season finish featuring back-to-back tough road series against the Brewers and Cardinals in which the Cubs won three of four both times. The rally revived the Cubs' 2016 motto, "We never quit," but it also was tough mentally on the players, and several of them called this year a "trying" season. The Cubs went 49-25 in the second half, batting .273 and posting a 3.78 ERA. By comparison, they hit .239 in the first half and had a 4.10 team ERA.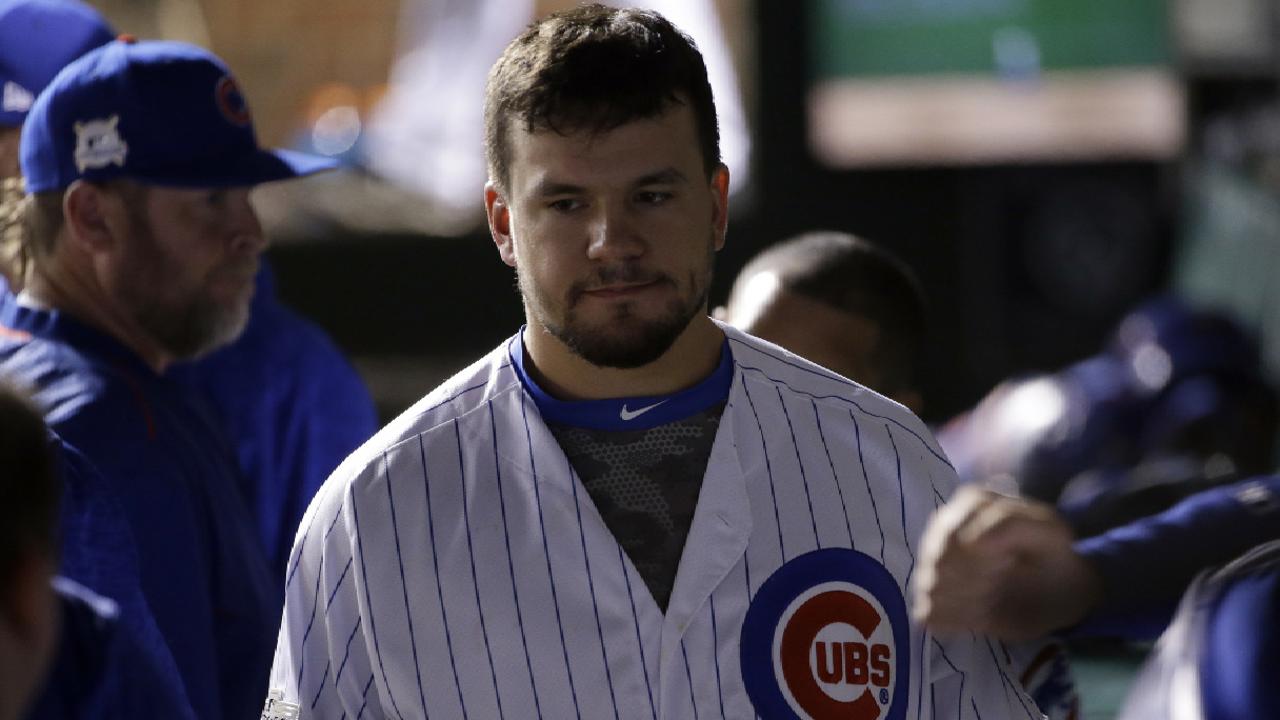 2. Offense good, but not good enough
The Cubs scored 822 runs, topping 800 runs for the second season in a row, and belted 223 home runs, second-highest single total in franchise history. For the first time, six players reached the 20-homer mark: Kris Bryant, Willson Contreras, Ian Happ, Anthony Rizzo, Kyle Schwarber and Javier Baez. The Cubs also set a Major League record with five 20-homer seasons by players age 25 or younger (Bryant, Contreras, Happ, Schwarber and Baez). Rizzo drove in 109 runs, the most by any left-handed batter in the Majors. But the Cubs struggled with situational hitting.
3. Look to the future
The Cubs made a rare crosstown trade in July for Jose Quintana, and even though he took the loss in Game 5 of the NLCS, Epstein noted the team would not have reached the postseason without the left-hander. Quintana went 7-3 with a 3.74 ERA in 14 starts for the Cubs, including a shutout against the Brewers on Sept. 24. Said Epstein: "The biggest factor in that deal was not even 2017 -- it was 2018, '19 and '20, and solidifying a pitching staff and putting us in a position to be able to make a couple more moves and have an outstanding starting rotation." The Cubs will be looking for starting pitching with both Jake Arrieta and John Lackey headed to free agency.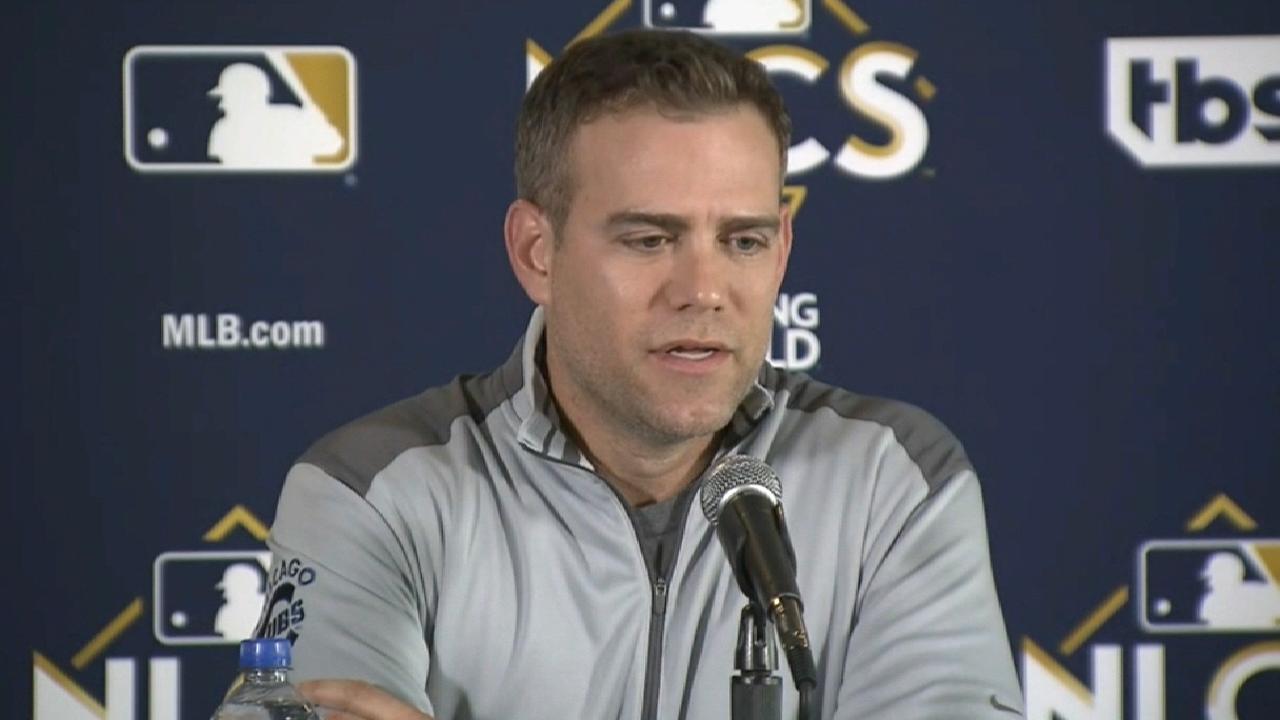 4. Closing time
Davis converted a franchise-record 32 straight save opportunities through Sept. 19, and his streak came to an end on Sept. 23 against the Brewers. The Cubs' lone All-Star representative, Davis went above and beyond in his last two postseason outings, throwing 44 pitches in 2 1/3 innings in Game 5 of the NL Division Series presented by T-Mobile, and then 48 pitches over two innings in Game 4 of the NLCS. The Cubs would like Davis, a free agent, to return. If not, they'll be looking for their fourth closer in the last four years.
5. The kid can play
On May 13, Happ recorded his first Major League hit, a two-run homer off the Cardinals' Carlos Martinez. Happ finished with 24 home runs, and he was one of 11 players to lead off for the Cubs this season. Said Epstein: "We didn't expect him to hit 24 home runs in the big leagues this year, and we didn't expect him -- maybe most important of all -- to make some of the adjustments back to the league that will be so important to him that are important to all young hitters." Happ still has work to do, but the Cubs were definitely encouraged by what he did his rookie season. He also exemplifies the versatility they're looking for in players. Happ played all three outfield positions, second base and even some third.
Carrie Muskat has covered the Cubs since 1987, and for MLB.com since 2001. She writes a blog, Muskat Ramblings, and you can follow her on Twitter @CarrieMuskat. This story was not subject to the approval of Major League Baseball or its clubs.