Interpreter on mound helps Fujikawa, Navarro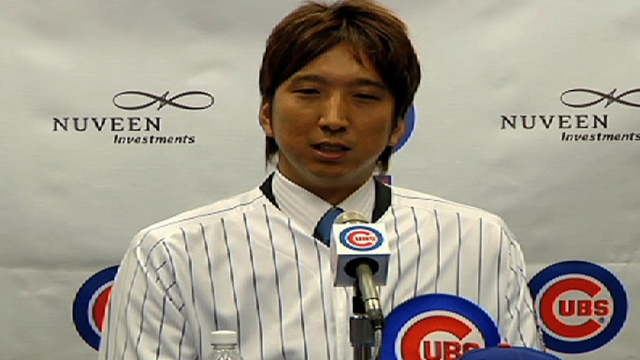 MESA, Ariz. -- In a rule change this year, interpreters will be allowed onto the field during games to help coaches and managers get their message to the pitchers during mound visits. What was lost in translation in the beginning finally made sense between Kyuji Fujikawa and catcher Dioner Navarro.
Fujikawa, one of two Japanese pitchers on the Cubs' staff, entered in the sixth inning of a 2-0 loss Wednesday against the Rockies. Navarro, who had not caught the right-hander in a game before, went to the mound to go over the signs. Apparently, there was a little miscommunication.
"It was a little rough," Navarro said. "It's part of Spring Training. He's still working on stuff, and we're trying to get on the same page. He battled through the inning and minimized the damage and did a great job. He made the pitches when he needed to make them."
It helped after interpreter Ryo Shinkawa went to the mound with pitching coach Chris Bosio, and Navarro met them.
"It was a little weird at the beginning," Navarro said. "We've got a little sign situation where I wanted to get it right, and after we did, it became a lot easier."
Fujikawa, who had not walked any batters in his previous spring outings, walked the first batter he faced, then gave up a single. He struck out Josh Rutledge before walking Carlos Gonzalez, prompting the visit from Bosio and Shinkawa. Apparently the problem was that the first time Navarro called for a cutter, Fujikawa threw a slider.
"I just wanted to get it right," Navarro said. "It wasn't a big deal, but once the runners got on, I didn't want to make a fool of myself behind the plate. Once the interpreter went out, and we settled that down, it was a lot easier."
Fujikawa did give up a sacrifice fly to Troy Tulowitzki to score Colorado's second run, but struck out Michael Cuddyer to end the inning.
"He's pretty good," Navarro said of the Cubs' new set-up pitcher. "He's got a live fastball -- it gets onto you quick -- he's got a really nice split and the cutter. He uses his cutter a lot. I think he'll be a huge help for us."
As long as they get the signs right. Navarro said he will probably learn more Japanese as the season progresses.
"I'm trying to learn the curse words," he said.
Carrie Muskat is a reporter for MLB.com. She writes a blog, Muskat Ramblings, and you can follow her on Twitter @CarrieMuskat. This story was not subject to the approval of Major League Baseball or its clubs.