Rizzo returns after exciting Classic ride with Italy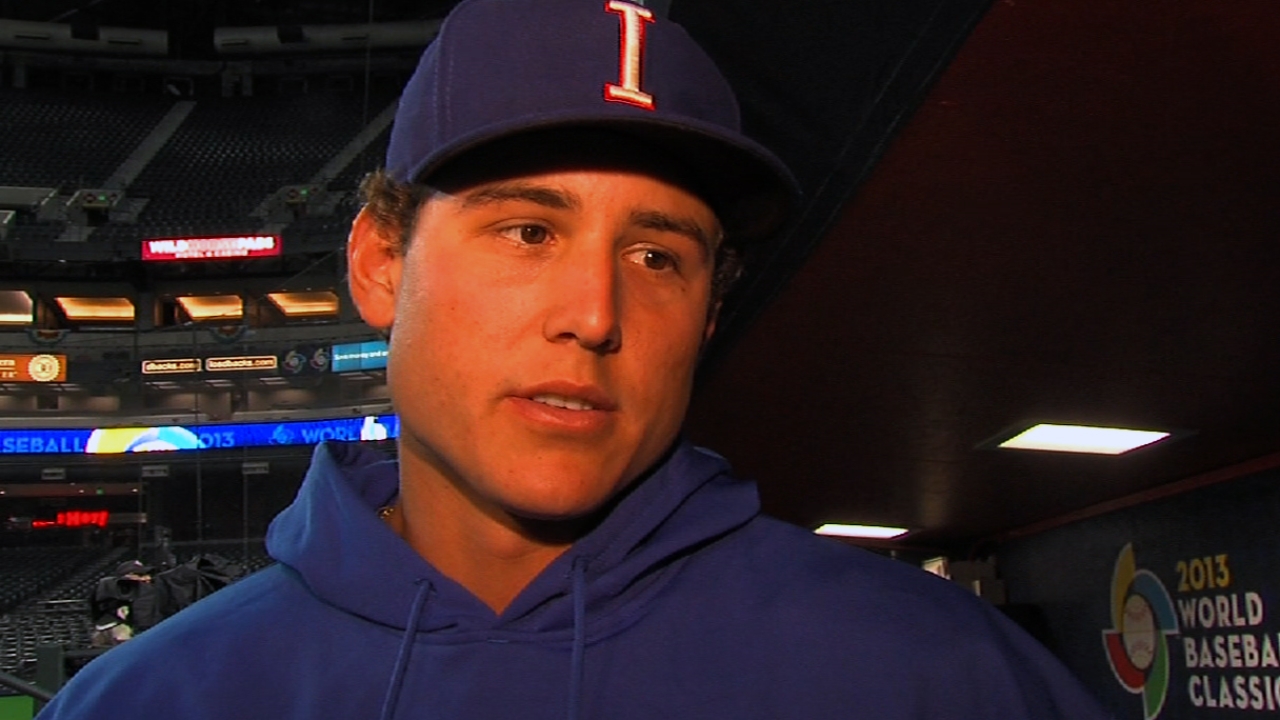 MESA, Ariz. -- Cubs first baseman Anthony Rizzo has never been to Italy, but over the past 10 days he helped bring the country of his ancestors where it had never been before -- the second round of the World Baseball Classic.
"It was bittersweet," Rizzo said of his experience playing for Team Italy, which reached the second round for the first time in three Classic appearances. "Nobody expected us to do well. The competition we faced was way better than our talent level, but that's baseball."
Rizzo was among a small handful of Major Leaguers playing for Italy, but the team defied expectation, coming from behind to beat Mexico and invoking the mercy rule on Canada as it eliminated both teams and advanced out of the first round with Team USA.
"You had to really slow the game down as much as possible, every single pitch, every inning," Rizzo said of the playoff atmosphere throughout the World Baseball Classic. "Especially as the game got later on, your at-bats being more [critical], it's really about slowing the game down and focusing."
Ultimately, the aggressive more talented teams sped past Italy as its luck turned, squandering a 2-0 lead in a loss to Team USA in the final game of the first round. Italy then lost leads of 4-0 and 3-0 -- thanks to a three-run double from Rizzo -- against the Dominican Republic and Puerto Rico, respectively.
"That's something I wouldn't be able to get here, even in the regular season," Rizzo said of the intensity of elimination games. "[During the season], if you win or lose a game in the later innings, you know you can still play tomorrow. This is kind of like a playoff atmosphere -- you lose, you're done."
With all of Italy behind them, the blend of Major and Minor League players of Italian descent and Italian-based players with no stateside experience came together to further the nation's profile on the diamond.
"All the Italian guys who are from the country were so nice to all of us who weren't from there," Rizzo said. "They're excited to be here, just as we were excited to be in the clubhouse and play. That's why our team did well, because everyone wasn't selfish and had fun, and no one had egos."
Even Rizzo's Chicago teammates found themselves rooting for Rizzo and his new "amici" as their lone representative to the Classic captivated the Cubs' attention.
"It was a rollercoaster," Rizzo said. "The [Cubs] here were so excited. No one expected us to do well. We had guys pulling for Italy over USA. It was just funny. We were the underdogs. It was a lot of fun. We played well. We gave everyone a run for their money."
With Italy eliminated in Miami on Wednesday, Cubs manager Dale Sveum told Rizzo to catch his breath at home in Fort Lauderdale before returning to Phoenix on Friday night. Rizzo will be in the lineup at first for Saturday's and Sunday's split-squad games, and is focused on preparing for Opening Day.
"It's my first time going into April 1st as the Opening Day starter," Rizzo said. "But it's like every other year. I go out and compete. The intensity was 10 notches higher [in the World Baseball Classic] than Spring Training, but I still go out here and compete every day the same way I did there."
Carrie Muskat is a reporter for MLB.com. She writes a blog, Muskat Ramblings, and you can follow her on Twitter @CarrieMuskat. Owen Perkins is a contributor to MLB.com. This story was not subject to the approval of Major League Baseball or its clubs.