Baker takes big step with first spring start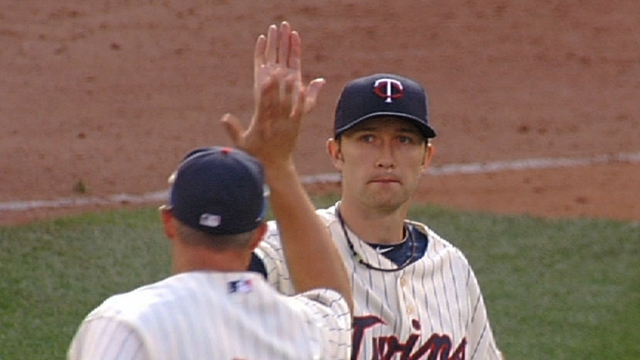 LAS VEGAS -- It was only a Spring Training game, but for pitcher Scott Baker, Sunday's start was a big step in his comeback from Tommy John surgery.
"Results are one thing, but getting back out there and pitching in front of fans was something I haven't done yet, so it's exciting to get out there and do that today," Baker told reporters in Phoenix after his first spring start, against the Athletics.
It was an abbreviated start. Baker was scheduled to pitch two innings but was pulled after facing six batters in the first. He gave up three runs on three hits -- including a three-run homer by Chris Young -- and two walks in one-third of an inning.
"I felt like I made some decent pitches," he said. "Occasionally, I got a little jumpy and left the ball up a little bit. I was happy to be out there. It's another step. You go back and work on the things that, regardless of whether you had surgery or not, you work on those things mechanically and just go get them next time."
This was Baker's first game since Sept. 24, 2011, when he started for the Twins against the Indians. The right-hander underwent Tommy John surgery last April, and missed the entire season. The Cubs are targeting a return for mid-April, which would be the one-year anniversary.
"I think that was mainly the reason we chose that date -- as the one year [mark]," he said. "There are plenty of guys that have come back in one year and have done exceptionally well."
As of now, Baker will start every fifth day, which will give him at least two more starts in Arizona before the Cubs break camp. He could then stay in extended spring training.
What was encouraging to Baker on Sunday was that he could throw all of his pitches.
"Did I locate as well as I would like to? No," he said. "That's still part of the process, also. It's another step. The results weren't there. Physically, I did everything I could to prepare for this outing, and that's going to continue to be the case. As long as I continue to progress and build the pitch count up, we're still shooting for that mid-April timeframe."
The right-hander, who signed a $5.5 million contract with the Cubs in November, admitted that he had a few butterflies.
"Trust me, there were some nerves there," he said. "That's a good thing. It means that I still love this game and enjoy pitching. I want to compete. At the same time, you have to combat those feelings and still make good pitches. I made some good pitches, and I didn't. Just didn't work out today."
Carrie Muskat is a reporter for MLB.com. She writes a blog, Muskat Ramblings, and you can follow her on Twitter @CarrieMuskat. This story was not subject to the approval of Major League Baseball or its clubs.