Stewart to open season on disabled list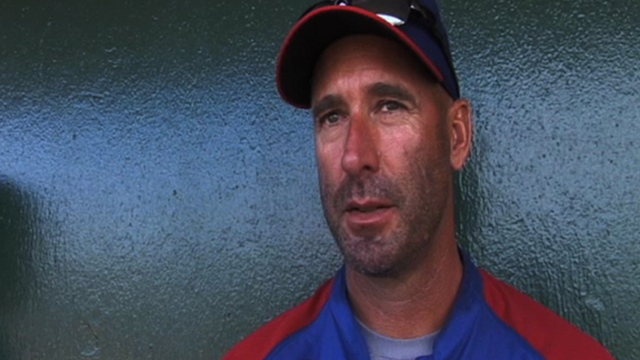 MESA, Ariz. -- An MRI showed a pocket of fluid in Ian Stewart's left quad, and the Cubs third baseman will open the season on the disabled list.
The Cubs will see how Stewart responds to treatment over the next several days and then expect to have a better timetable for his progress.
Stewart said he felt something in his leg during a Minor League game last Thursday, and wasn't sure if that aggravated his left quad. It was his first game action since he injured his leg Feb. 21 in an intrasquad game.
There's stil pain, Stewart said Tuesday, and he hasn't been on the field since. On Monday, he tried to work out.
"I just tried to run, and can't run, can't get through the running part," Stewart said. "That's really the last hurdle. I can hit, take grounders, I just can't run."
Is he upset, frustrated?
"I would say frustration, because I can pretty much do everything somewhat pain-free without being able to run," Stewart said. "I know what it's like to play through pain and that's what's hard about this is I can't get through the pain because it's just too much."
Luis Valbuena is expected to start Opening Day, and Cubs manager Dale Sveum said Brent Lillibridge will make the 25-man roster. Lillibridge is a versatile player who can handle infield and outfield positions.
"Under the circumstances, it's pretty much a no-brainer [that he made the team]," Sveum said of Lillibridge, a non-roster invitee. "He's just too valuable a commodity."
Valbuena took over the starting third-base duties last season after Stewart needed surgery on his left wrist, and batted .219 in 90 games. Lillibridge played for the White Sox, Red Sox and Indians last season, and combined to bat .195 in 102 games.
The Cubs also will continue to consider non-roster invitees Alberto Gonzalez and Edwin Maysonet, who are in camp, and Sveum said they are checking the waiver wire as well.
"Basically, we have a spot open now," Sveum said. "Whether we do something within or through the waiver wires and guys being released these last two weeks, we'll have to wait and see. Obviously, it brings other people in camp into the mix."
Cubs third basemen combined to bat .201 with 12 home runs and 55 RBIs last season, the lowest production in the National League. The good news for Stewart this spring was that his wrist was healthy, and the Cubs were hoping to get at least 20 home runs and 70 plus RBIs from him.
The Cubs could platoon at third with Valbuena and Lillibridge.
"Valbuena does give you a pretty decent at-bat against left-handed pitching," Sveum said of the infielder, who batted .196 against lefties last year. "In the National League, there's one thing you like doing is keeping your bench fresh, because pinch-hitting is a big part of the game, and can win you one or two games a week, or two weeks."
Carrie Muskat is a reporter for MLB.com. She writes a blog, Muskat Ramblings, and you can follow her on Twitter @CarrieMuskat. This story was not subject to the approval of Major League Baseball or its clubs.