Baker sidelined indefinitely after MRI on elbow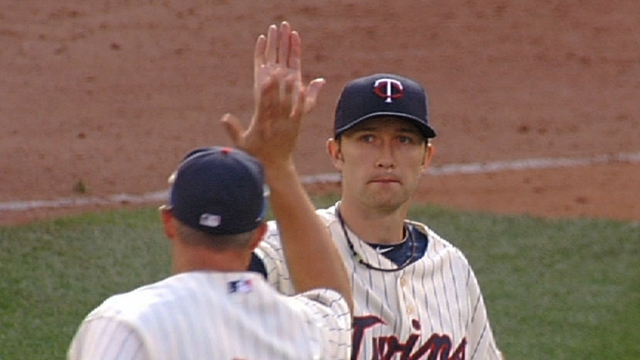 MESA, Ariz. -- Cubs pitcher Scott Baker, whose throwing program was suspended after his first Cactus League outing, called the setback "a little speed bump."
Baker, coming back from Tommy John surgery, underwent an MRI on his right elbow Monday and will be examined this weekend by Cubs orthopedic specialist Stephen Gryzlo.
"Right now, I'm choosing to be optimistic and hope for the best," Baker said Tuesday. "Obviously, any setback of any sort is not something you like to hear, but I think we'll know more when Dr. Gryzlo gets down here and he can do a physical exam. MRIs are great and everything, but you treat the patient, you don't treat the MRI."
On Sunday, Baker threw 23 pitches in his first spring start but failed to finish the first inning. He felt some discomfort in his right elbow on Monday and underwent an MRI that day.
"It's more disappointing for him, for a guy who's worked that hard and did everything and really did nothing to warrant something like this, being shutdown," Cubs manager Dale Sveum said. "Hopefully, it's not that big a deal, and he can continue. It's just a wait and see thing now."
There's no timetable for Baker's return, and the extent of the injury is not known. The Cubs had hoped Baker would be able to return by mid-April.
"From talking to guys, it's fairly uncommon not to have any setbacks," Baker said. "Thus far I haven't had any up until now. Is there ever a good time for a setback? Absolutely not. It is pretty common, but at the same time, it's not fun."
The team is already short-handed as far as the starting pitching, with Matt Garza not expected to return until the first week of May. He's been sidelined with a strained left lat, discovered during a live batting practice session Feb. 17. Garza has not been on the mound since then.
The Cubs began this spring feeling they had plenty of depth. Travis Wood and Carlos Villanueva will open the year in the rotation, filling Baker and Garza's spots. Another option could be lefty Chris Rusin, who has had a solid spring and started Tuesday against the Rangers.
"Garza is doing really well, so that's something we have to look forward to there," Sveum said. "If there's no setbacks, he'll be right on track, right around the first week of May. With Rusin, he's putting himself in that mix for the depth reasons and for a guy who had a lot of valuable time in the big leagues last year. Maybe that's why he's pitching so well in Spring Training...because of that experience he got last year."
Rusin spent most of the year at Triple-A Iowa, and went 2-3 in seven starts with the Cubs last season.
Baker did his homework after undergoing Tommy John surgery, asking other pitchers who had the procedure about what to expect.
"I feel fortunate to this point to not have any setbacks, and hopefully this is something that's a little speed bump and you keep moving," he said.
Carrie Muskat is a reporter for MLB.com. She writes a blog, Muskat Ramblings, and you can follow her on Twitter @CarrieMuskat. This story was not subject to the approval of Major League Baseball or its clubs.