Signs point to constant traveler Bowden making roster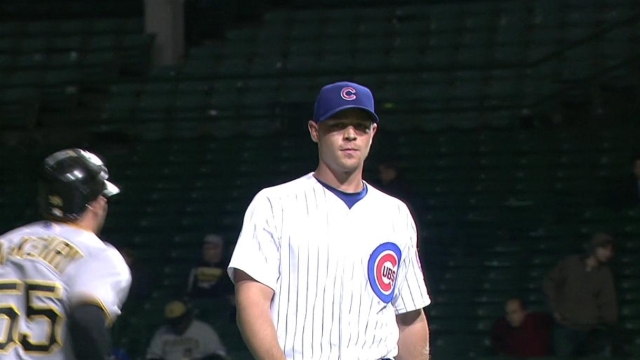 TUCSON, Ariz. -- Michael Bowden made the two-hour drive to Kino Stadium on Thursday with the rest of the Cubs, and ended up throwing two pitches to one batter. The right-hander barely worked up a sweat against the Dodgers' Alex Castellanos, yet still did his postgame stretching routine.
"I know my body very well, I know how it handles what I do, the next day how I should feel and if I don't feel it, I'm aware of it," Bowden said. "I take a lot of pride in taking care of my body and being healthy, and making sure I maintain my health so I can go out there and perform every day."
It seems to be working. Bowden has never been on the disabled list.
But he has kept the transaction wire busy. In 2011, he shuttled between Pawtucket and Boston. Last year, he made the Red Sox's Opening Day roster and was then designated for assignment on April 15, and traded to the Cubs six days later for Marlon Byrd.
But the Cubs had to make a roster move in June, and Bowden was designated for assignment, then cleared waivers and was outrighted to Triple-A Iowa. On Aug. 13, he was promoted, and he stayed with the club. Batters hit .320 against him in 12 games in April and May, and he compiled a 6.39 ERA. They batted .174 from August to the end of the season, and he compiled a 1.33 ERA over 20 games.
"I got a lot of innings and a lot of repetitions," Bowden said. "I made a lot of mechanical changes when I went down to Triple-A and I got work down there consistently, and I threw well and it transferred to the big leagues.
"I think a lot of it also had to do with [the fact that] I was out of options, I cleared waivers, so I knew going back up. I really had nothing to lose, I could go out there and have fun and just enjoy it."
Which is the way it should be.
"I've been able to do that at every single level, and it's a comfort thing," Bowden said. "You get to know the guys. With the Red Sox, it definitely wasn't comfortable. I was there for a day, I was there for a week, couple weeks. I knew I was just the guy who was there to fill in. I didn't feel like I was ever really part of the team. I knew it was in my own hands."
Now, he's waiting to hear if he's made the Cubs' Opening Day roster. All signs point to the right-hander being on the final 25. He's versatile -- Bowden can throw two pitches or go four innings -- and he's been effective.
"It's just a matter of repetition," Bowden said. "I feel healthy, I feel strong. All my pitches are working -- they're not as crisp as I'd like them, but they're good enough to compete and get outs. I'm very happy with where I'm at now.
"I just like to pitch. Just throw me out there. I'll do whatever."
After being taken off the Cubs roster, Bowden wasn't sure what to expect. What would it be like if he's on the Cubs' roster April 1?
"Awesome," Bowden said. "That's my goal, and not just my career, but to continue to play with the Cubs, especially the way last year started. Who would've known I'd be back, but I was fortunate enough to get another opportunity. I haven't seen that in my career -- a guy gets taken off the roster and then two months later, gets called back up and put back on the roster. I was lucky, but I feel I went down there and pitched well enough and got another shot."
Carrie Muskat is a reporter for MLB.com. She writes a blog, Muskat Ramblings, and you can follow her on Twitter @CarrieMuskat. This story was not subject to the approval of Major League Baseball or its clubs.