Bogusevic among 11 players trimmed from camp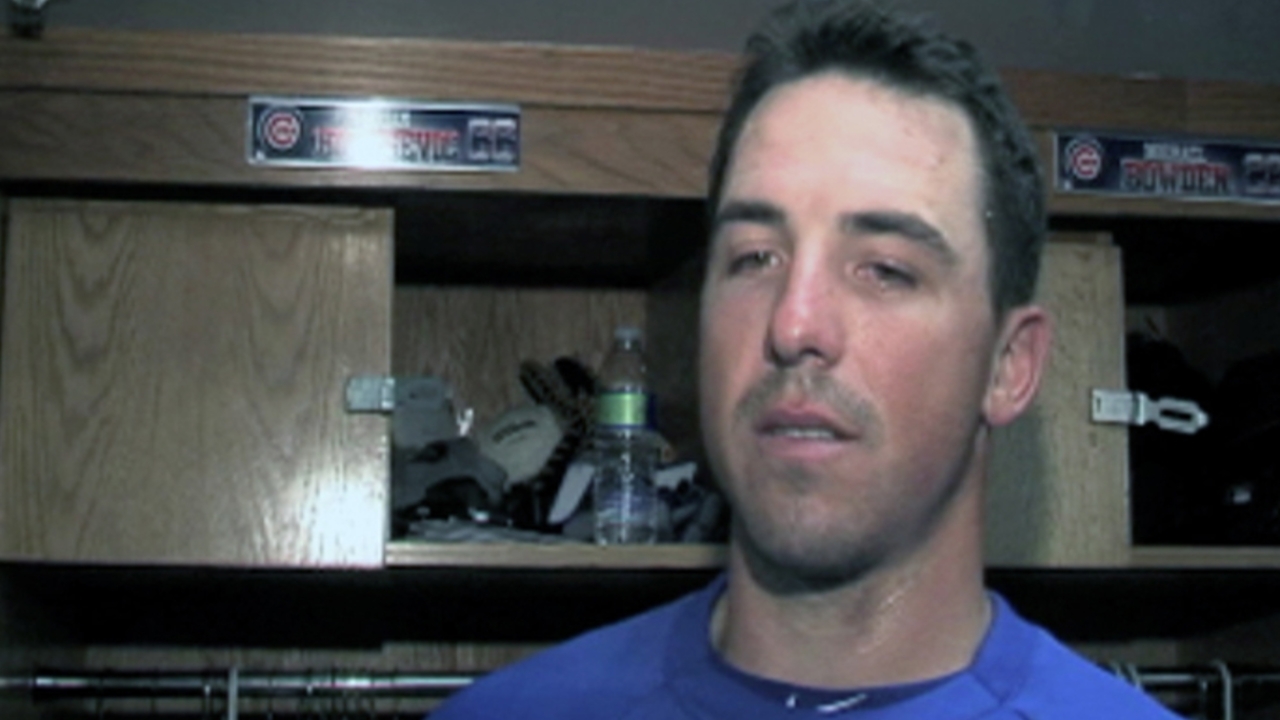 MESA, Ariz. -- The Cubs trimmed 11 players from spring camp Friday, including hot-hitting outfielder Brian Bogusevic, and have one spot in the bullpen to fill and one on the bench as Michael Bowden and Dave Sappelt appear to have made the Opening Day roster.
The pitchers sent to Minor League camp included Jensen Lewis, Drew Carpenter, Blake Parker, Casey Coleman and Jaye Chapman. Lefty Chris Rusin was optioned to Triple-A Iowa, but he will start on Sunday when the Cubs face the Indians in Cactus League play.
The Cubs also assigned Bogusevic, Brad Nelson, Edwin Maysonet, Johermyn Chavez and Darnell McDonald to the Minor League camp, and the moves leave 35 players still with the big league team. Matt Garza, Scott Baker, Ian Stewart and Arodys Vizcaino are on that list, and were expected to open the season on the disabled list.
Bowden, who does not have options remaining, appears to have made the final 25-man roster, and there is one opening remaining with four pitchers competing for the spot: Rafael Dolis, Zach Putnam, Hisanori Takahashi and Corey Wade. Takahashi is the only lefty in the mix.
Outfielder Brett Jackson is still limited because of his shoulder injury, but position players still in camp not assured of a spot on the Opening Day roster include catchers J.C. Boscan and Steve Clevenger and infielder Alberto Gonzalez. Clevenger, a left-handed hitter who was on the Opening Day roster last year as the backup catcher, could help the team out as a backup infielder. Gonzalez, who batted .241 for the Rangers last year and .314 at Triple-A Round Rock, is a right-handed hitter.
Barring any unexpected additions from the waiver wire, Sappelt appears to have made the final 25. He batted .266 at Triple-A Iowa last year, and .275 in 26 games with the Cubs. This spring, he batted .182 in 18 games.
"I think the writing is on the wall -- 'Sap' is going to be on the team," Cubs manager Dale Sveum said in announcing the moves. "There's still things that can happen through guys getting released and waiver wires and all that with the extra spots. He's proven to me and the organization he can swing the bat and he's done a really nice job in center field."
Bogusevic, an Oak Lawn, Ill., native, had a great spring, batting .410 in 20 games and "did everything we asked," Sveum said. It just shows that sometimes Spring Training numbers aren't as important as what the coaching staff sees in a player.
"The guy has proven he can hit, he can hit a Major League fastball," Sveum said of Sappelt. "More impressively, getting to see him play quite a bit he's played really good outfield and is capable of playing center field. He's done everything we've wanted him to this spring and worked hard and made himself a better outfielder. We know he can swing a bat. He has the ability to hit a ball out of the ballpark and hit right-handed pitching and the whole thing. He's done a nice job."
Coleman will continue to pitch in relief, and has impressed the Cubs after making some adjustments with his arm slot that has helped him be more consistent.
The Cubs front office is still looking at outside help. Last year, they acquired Shawn Camp in the final week of Spring Training.
"Through the waiver wire, people become available in other camps," Sveum said. "No matter what you think you have, you're always trying to make yourself a better team."
Carrie Muskat is a reporter for MLB.com. She writes a blog, Muskat Ramblings, and you can follow her on Twitter @CarrieMuskat. This story was not subject to the approval of Major League Baseball or its clubs.