Villanueva duels against good friend Gallardo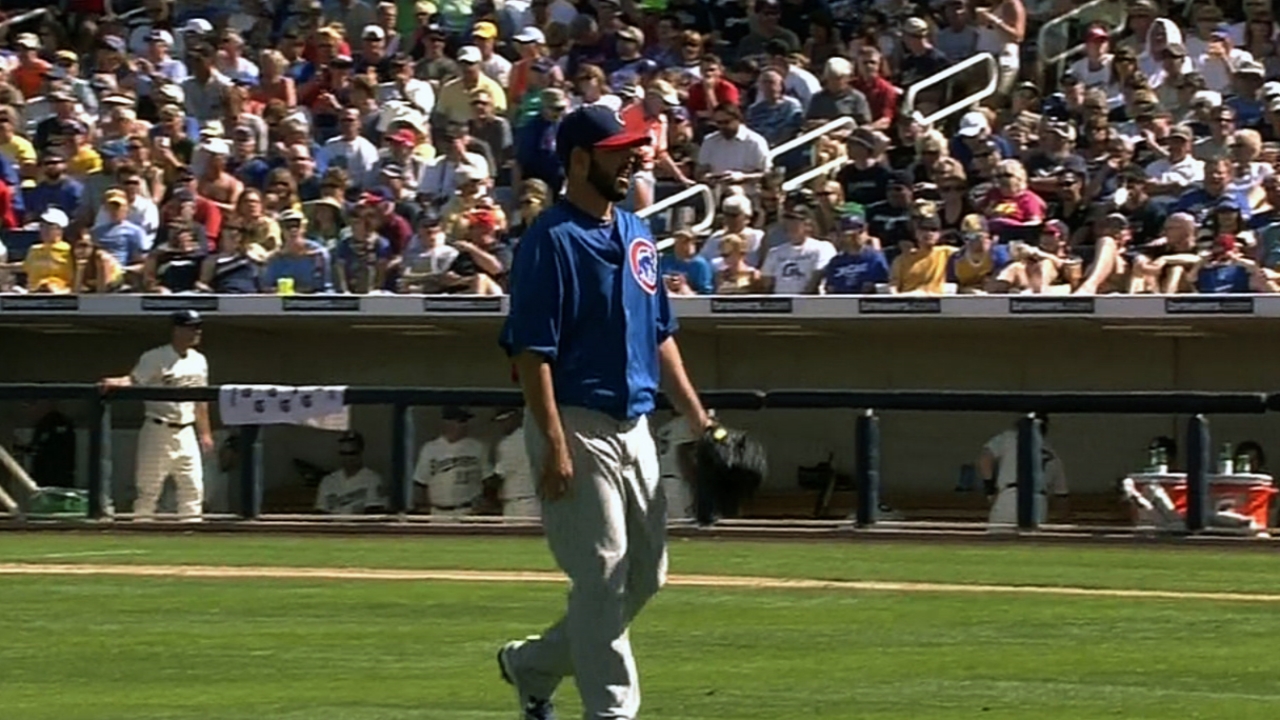 PHOENIX -- Carlos Villanueva doesn't believe in fraternization and wanted to avoid seeing his former Brewers teammates until he took the mound on Friday. But Milwaukee's Yovani Gallardo did a sneak attack.
"Someone mentioned to me [that he doesn't like to talk on the field]," Gallardo said. "I was like, 'Oh, I have to talk to him on purpose now and see what he does.' We said hello before the game. He was a good friend of mine, and he still is. It's good to see him doing well."
Gallardo started by sending his former teammate text messages around 7 a.m. MST Friday.
Villanueva left Mesa before the Cubs' team bus, and was hoping to avoid seeing anyone from the Brewers. But when he got to Maryvale Baseball Park, there was Gallardo, waiting for him. The two hugged.
"Of course, he's warming up right there," Villanueva said of Gallardo. "I couldn't just push him away. Pitchers, I'm OK with."
Villanueva and Gallardo were together on the Brewers from 2007-10, and good friends.
"Me and Yo, we were tight when I was there," Villanueva said. "There was a lot of trash talking back and forth for the last couple days. I have a lot of friends on that team, but when it comes down to business, it's business, and they know it.
"We'll be facing them a lot during the season and sometimes it's a good thing I know a little bit about them because that way I can maybe use some of that against them, but hopefully those two years I was away [playing for the Blue Jays], they forgot a little bit."
Villanueva threw six scoreless innings Friday, while Gallardo gave up one unearned run over 5 1/3 innings. Gallardo did offer a scouting report on Villanueva.
"He looked pretty good to me," Gallardo said. "He's got good stuff. Even when he was here, he's got four plus pitches, commands the ball very well, and any time you have the off-speed like he does, you're one pitch away from getting out of a tough inning."
Villanueva's Cubs got the upper hand on Friday, rallying to beat the Brewers, 4-1. They'll meet again April 8-10 in the Cubs' first regular season series at Wrigley Field.
Carrie Muskat is a reporter for MLB.com. She writes a blog, Muskat Ramblings, and you can follow her on Twitter @CarrieMuskat. This story was not subject to the approval of Major League Baseball or its clubs.