Coleman enjoying Florida Gulf Coast's tourney run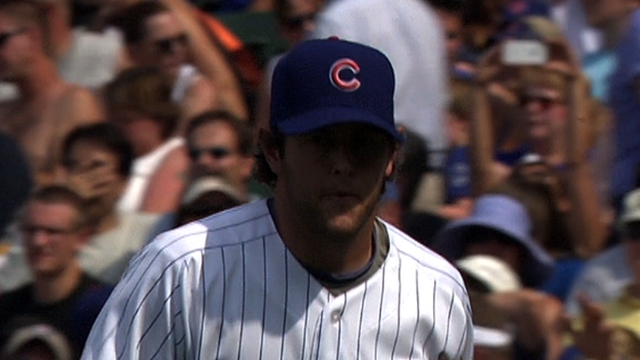 MESA, Ariz. -- Casey Coleman went to Florida Gulf Coast University because the school's baseball team would let him both pitch and play infield. Coleman is older than the school, which played its first collegiate baseball game when the Cubs right-handed pitcher was in high school in Ft. Myers, Fla.
On Friday, Coleman found out he was being assigned to the Cubs' Minor League camp, but later that day, he was able to celebrate. Florida Gulf Coast University, a 15th seed, had done the impossible, upsetting No. 2 seed Georgetown, 78-68, in the NCAA men's basketball tournament.
"I knew they were good," Coleman said Saturday of FGCU. "I don't know if I'd give them enough credit to beat Georgetown, not because I didn't think they could, but because Georgetown is an unbelievable team. I'll tell you, after meeting that coach, I knew he wasn't going to let them go in there intimidated."
It's been a wild year for the Eagles, who beat Miami and played Duke, Iowa State and VCU this season. Next up in the NCAA tournament is seventh-seed San Diego State on Sunday. Coleman has been keeping track.
"The good thing is Georgetown is a Big East team that slows the pace down, and they're big and long and that's where they kill you, and FGCU is a team that gets out and runs, and they were able to not let Georgetown set anything up," Coleman said. "Seventy-eight points -- Georgetown never gives up 78 points."
Coleman had gone to Phoenix on Friday for the Cubs' game against the Brewers, and was keeping track of the action on the bus ride back to Mesa. He got to watch most of the second half.
"Everyone was surprised at how athletic they were," Coleman said of the Eagles. "I knew they were athletic and knew they could shoot some threes. I knew there was a chance -- but it's tough to envision them actually beating a team like Georgetown."
Did Coleman pick his school in his bracket?
"I didn't fill out brackets this year," Coleman said. "I let family and friends do the ones here. They did not pick them."
Hindsight is easy, but would he have picked FGCU if he did his own bracket?
"With there not being a clear cut No. 1 this year, it would've been fun to pick them," he said. "Personally, I would've seen Georgetown losing to Florida anyways, so why not pick a team like FGCU to have fun with it? Florida's going to be tough. FGCU has a tough matchup against San Diego State, but that's a winnable game, too. When you get to Florida, that'll be interesting. If they can get to that Sweet 16 against Florida, that'll be a fun story."
Coleman has enjoyed seeing all the attention FGCU has gotten. Some of the big league players in Ft. Myers, Fla., near the school have been using social media to show their support.
"It's cool to see [Jacoby] Ellsbury tweeting about them," Coleman said. "The really cool thing is the program is getting out there now. Dick Vitale is in Sarasota, which is 45 minutes from campus, and he said he's going to go down to the campus. It's cool seeing that kind of stuff about your school."
Recruiting should improve at FGCU, which already has an edge. There's a beach on campus. At 25, Coleman is older than the school itself.
"What they did, [beating Georgetown], that'll be talked about forever," Coleman said. "They're going to be a big school. They're going to get football in the next 10 years. [Ohio State coach] Urban Meyer's daughter goes there. He's been around the campus giving them ideas on how to start it up. I think Dan Marino's son went there. They've got a bunch of name guys who will help the school and help it grow."
Eagles coach Andy Enfield has gotten a lot of media attention because of his supermodel wife. Coleman has met Amanda Enfield, but was hoping the television broadcast would focus more on the game, not her.
"That coach, he's such a positive guy, he'll take any media and turn it into good media," Coleman said. "He's real energetic."
Carrie Muskat is a reporter for MLB.com. She writes a blog, Muskat Ramblings, and you can follow her on Twitter @CarrieMuskat. This story was not subject to the approval of Major League Baseball or its clubs.