Garza progressing while Baker suffers setback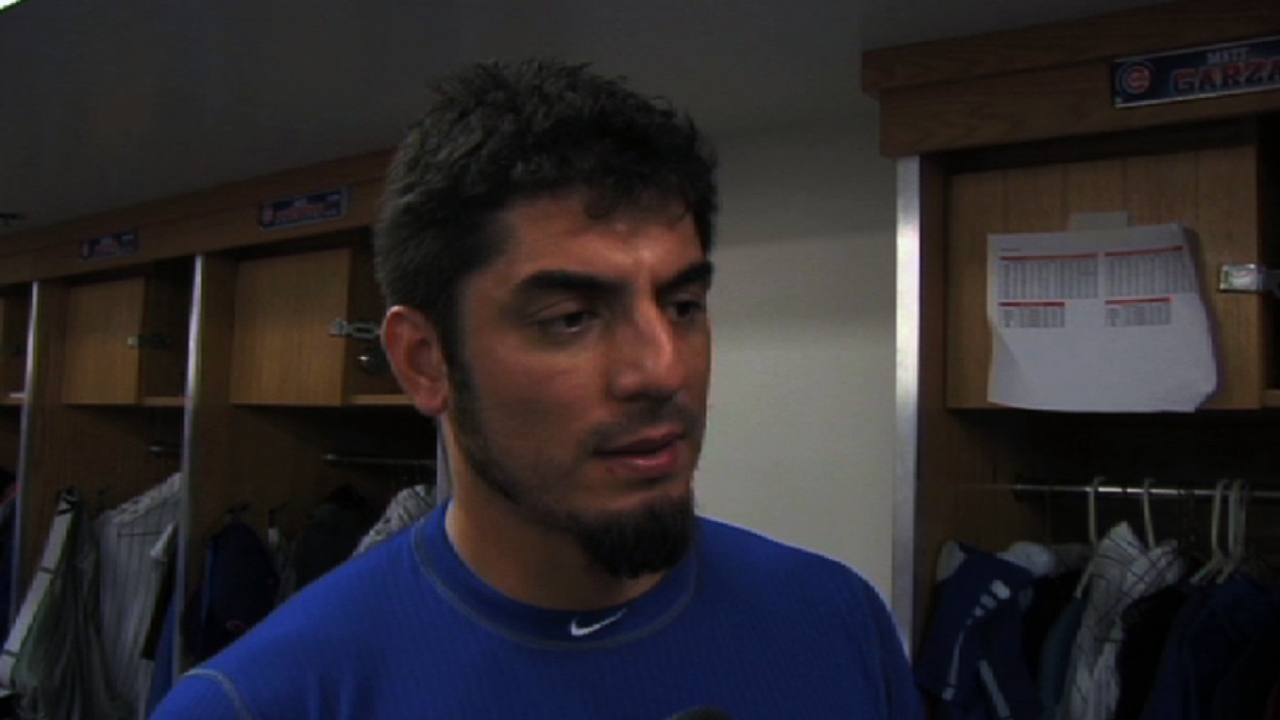 GOODYEAR, Ariz. -- Cubs pitcher Scott Baker had hoped to pitch in a big league game on the one-year anniversary of his Tommy John surgery. Instead, he'll have to delay his return.
Baker, who has been shut down since his only Cactus League start March 17, was examined on Sunday and diagnosed with a strained right elbow. The right-hander will not throw for at least one month, and then be re-evaluated at that point.
Baker had the procedure performed last April, and had optimistically hoped to be pitching in a Major League game next month.
Cubs orthopedic specialist Dr. Stephen Gryzlo, who examined Baker on Sunday, also checked on starter Matt Garza, who has not thrown off the mound since Feb. 17 because of a strained left lat. Garza was making progress, and on pace to throw his first bullpen the first week of April.
The Cubs have slotted Travis Wood and Carlos Villanueva into the rotation to fill Baker's and Garza's spots. Next in line would be Chris Rusin, who started on Sunday against the Indians and gave up two hits over 5 1/3 scoreless innings.
"We do have the luxury with the depth we have," Cubs manager Dale Sveum said Sunday. "It is obviously a setback [with Baker] but it's not to where he won't be able to pitch this season."
Baker had felt some discomfort after throwing 23 pitches against the Athletics, and the good news is that the problem won't require any additional surgery, which had been the initial fear.
"It's always bad news whenever you lose a little bit of depth and know it'll take longer," Sveum said.
Baker did his research and talked to other pitchers who underwent Tommy John surgery.
"He was down when he first found out [he'd be shut down], like anybody would be," Sveum said. "I don't care who you are, but you're set on a certain date to pitch in a Major League game. That's what we do for a living, that's what we like to do is compete. It's pretty good news now, but at that time, it was pretty scary to him, I'm sure."
And today's news?
"It's got to be a relief to know it's more of a muscle than the thing that was operated on, or the tendon anyway," Sveum said.
Most pitchers need two years to get to full strength after having the Tommy John procedure.
"[Adam] Wainwright last year came back in about the same amount of time," Sveum said of the Cardinals pitcher. "He struggled in the beginning and then obviously got pretty strong in the second half. Everybody's a little bit different."
Garza was limited to 18 games last season and then shut down in July because of elbow problems. So far, his elbow has felt good.
"A rib-cage muscle is pretty serious," Sveum said. "It's not career threatening but it's something that takes a long time to heal."
Baker and Garza will open the season on the disabled list along with third baseman Ian Stewart, who has a sore left quad. With one week until Opening Day, Sveum remained optimistic about the start of the season.
"I think the one disappointment was Garza really," Sveum said. "The other guys, we weren't sure on Stewart. We got to see [third baseman Luis] Valbuena a lot, so knock on wood, if we were to end camp now, we're better off than some teams with injury problems.
"If we had [Garza] on Opening Day, it changes things around a little bit," Sveum said. "We'd have three guys at the top and mix in Wood and Villanueva and [Scott] Feldman and one of them would've obviously been in the bullpen."
Carrie Muskat is a reporter for MLB.com. She writes a blog, Muskat Ramblings, and you can follow her on Twitter @CarrieMuskat. This story was not subject to the approval of Major League Baseball or its clubs.