Baker receives good news on elbow rehab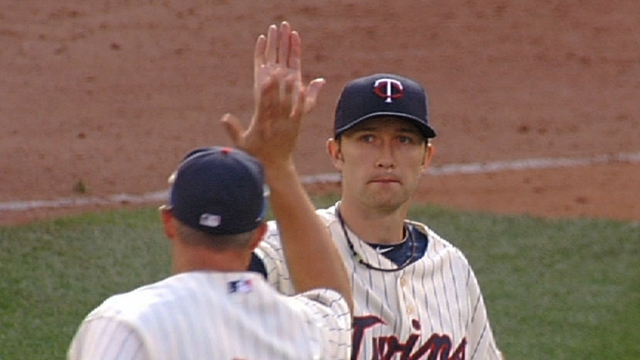 MESA, Ariz. -- Cubs pitcher Scott Baker was relieved to find out there was nothing structurally wrong with his right elbow, and all he needs to do is rest and let the muscle strain heal.
Baker had an MRI on his elbow after feeling some discomfort following his first and only Cactus League start March 17. He was examined Sunday by team orthopedic specialist Dr. Stephen Gryzlo.
"It's always nice to have some clarity when dealing with an injury," Baker said Monday. "Any type of setback is not fun and there's never good timing for any sort of setback, but knowing what we're dealing with helps us deal with it better, obviously. With the type of injury it is, Doc likened it to a scab. You can't pick at it; you have to let it heal and rest and get back after it after that."
Baker said he felt great during all of his throwing sessions leading up to the game. He's coming back from Tommy John surgery last April, and the good news is that he doesn't need any additional surgery. That was a relief.
"You can tell yourself as much as you want that's not the case, but until the doctor sits there and shows you you're fine, it definitely feels good to know the surgery took care of the original problem and this is a little speed bump," Baker said.
There is no timetable for his return, and Baker said he will be a good patient and do what the medical staff says. He doesn't go back to zero in his work, but can continue to condition his lower half and core. He'll work on strengthening his right shoulder and, when it's ready, strengthen the elbow.
He had hoped to return in mid-April, which would have been the one-year anniversary of the procedure.
"It is disappointing in the fact that one, I feel like I've sit out enough," Baker said. "I don't want to sit out any more than I have to. To sit here and say it's going to be at least a month more than we originally anticipated, it's tough. I've come this far. I'm not about to give up or give in. I'm just going to continue to try to get ready to pitch at whatever point during the season it is."
Carrie Muskat is a reporter for MLB.com. She writes a blog, Muskat Ramblings, and you can follow her on Twitter @CarrieMuskat. This story was not subject to the approval of Major League Baseball or its clubs.