Feldman staying at camp for extra mound work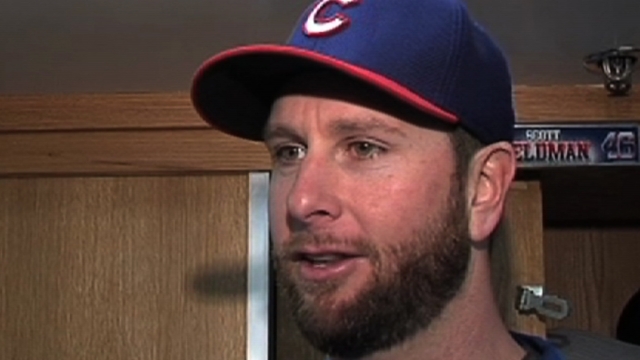 MESA, Ariz. -- While his teammates were packing their gear and preparing to head to Houston for the final two exhibition games of the spring, starter Scott Feldman wasn't in such a hurry to get out of town, even if he wanted to be joining the rest of the traveling party. Feldman, the Cubs' No. 4 starter, is staying at camp in order to get another start under his belt, facing Minor Leaguers in a game Sunday morning. Sure, he'd prefer to leave Arizona behind, but Feldman would rather pitch in a game situation than bide his time before his first start of the regular season with bullpen sessions. "It's just something you've got to do to get the last time on the bump before the season starts," Feldman said on Thursday. "I could have thrown three bullpens or something, but I'd rather get on the mound and face some hitters one last time."
In his last outing of the spring against Major Leaguers on Wednesday night, Feldman allowed seven runs on 12 hits, including four homers, in 4 1/3 innings of work. But the 30-year-old right-hander said the results didn't necessarily reflect how he feels about his pitches and where he stands as he enters his first season with the Cubs after being with the Rangers his entire career. "The numbers weren't good, but honestly most of the stuff that was happening yesterday was just hanging some offspeed pitches," Feldman said. "The good news is I feel like I was commanding four pitches. Some of this stuff is just Spring Training and guys are going to be swinging a little bit more. "This is the best I've physically felt in Spring Training in a long time. My stuff feels good, and now it's just a matter of executing, finishing guys off and not hanging pitches." He'll get one more chance to do that on Sunday before the bell rings and regular-season games begin next week. Feldman is slated to make his 2013 debut in Atlanta the first weekend of the regular season.
John Schlegel is a national reporter for MLB.com. This story was not subject to the approval of Major League Baseball or its clubs.