Prospect Soler suspended five games for outburst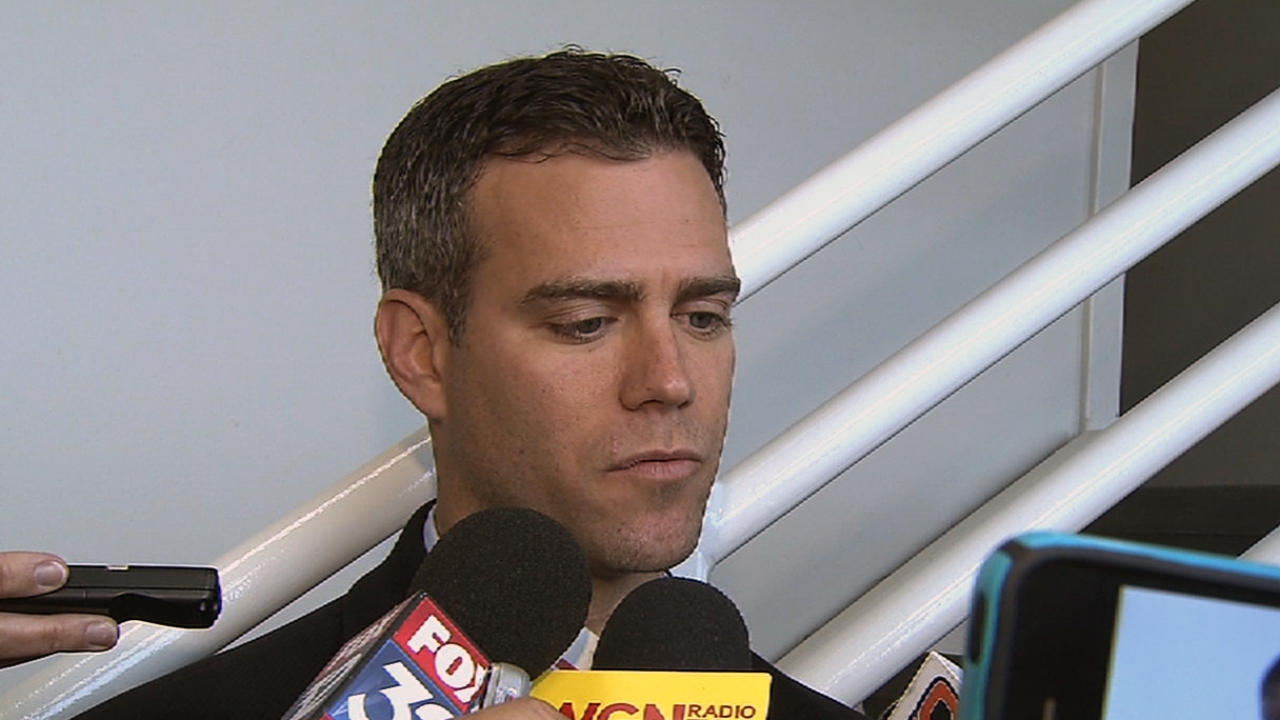 CHICAGO -- The Florida State League suspended Cubs top prospect Jorge Soler five games for leaving the dugout and wielding a bat during a game Wednesday night.
"Jorge is tremendously remorseful about what happened and understands what he did was wrong," said Theo Epstein, the Cubs' president of baseball operations. "He didn't sleep last night -- was up all night thinking about it. He was very apologetic. He understands this can't happen again and understands there will be discipline associated with it."
Soler, who is playing for Class A Daytona, was ejected in the seventh inning. Clearwater second baseman Carlos Alonso came down on Soler after he slid into second trying to break up a double play. Soler and Alonso exchanged words and were separated. But Soler re-emerged from the Cubs dugout with a bat and made his way toward the visitor's dugout. He was restrained by teammates, then ejected. Daytona pitcher Frank Del Valle was the first to get to Soler.
"I think he was frustrated by some things, and there was some emotional things he was fighting with," Daytona manager Dave Keller told The Daytona Beach News-Journal after the game.
"When he slid into second base, [Alonso] ended up laying on top of him. He was laying on him, so [Soler] pushed with his arm to get him off him, and I think the second baseman interpreted that the wrong way, like he wanted to fight or something," Keller said.
Epstein reviewed the video of the incident and spoke to Soler Thursday morning. According to the outfielder, there was some talk back and forth during the game, and something was said about Soler's family, and Epstein said, "that's when he lost his cool."
"He understands and we agree that's not an excuse for what happened," Epstein said. "He has to find a way to better manage his emotions on the field. We condemn the act and what took place, but we support the player. We believe in Jorge as a person as well as a player. It's our responsibility to work with him and make sure he has a better way to channel his emotions on the field and make sure something like this doesn't happen again."
Anyone around Soler in Spring Training could see he was well-mannered, friendly and had a quick smile. But he's also young and adjusting to life in the U.S.
"This is a great kid who has already overcome a lot in his life and someone we're not worried about at all for the long haul," Epstein said. "He's been thrust into a very high-profile situation very suddenly, and it's our job as an organization to make sure he has the tools to make good decisions even in the heat of the moment."
The entire incident was over quickly, Epstein said.
"There was no swinging of the bat, whatsoever. There was no physical contact. There was no violent act," Epstein said. "This was merely a situation of grabbing a bat, which he shouldn't have done, and heading toward the opposing dugout, which he shouldn't have done."
The news of Soler's outburst surprised Cubs players, who were with the 21-year-old outfielder in Spring Training.
"He came here to work hard, to be in the big leagues, and [I told him to] not pay attention to the negative in the Minor Leagues, because sometimes there are some people who are negative," veteran Alfonso Soriano said. "I said, 'Don't think about that, just think about how you came here to play hard, and sooner or later, you'll be in the big leagues if you do the right thing.'"
Soler's father lives in Miami, and his mother and sister are still in Cuba. Soriano tried to give the young outfielder advice in Spring Training and planned on calling Soler.
"I'd tell him to focus and play baseball and not listen to anybody. Just play baseball," Soriano said.
Cubs manager Dale Sveum said he recalled an incident in rookie ball when one of his players grabbed a bat and went after the opposition.
"We had all kinds of incidents. It was a mess," Sveum said. "We only won 17 games."
That doesn't give Soler a free pass.
"Anything like that is surprising, but the circumstances, you don't know because you weren't there," Sveum said. "You don't know what set somebody off. I really don't know all the details yet, except obviously there was an incident you want back."
Soriano said he was surprised to hear about Soler's actions.
"I talked to him a lot in Spring Training, and he looked to be a nice guy, quiet guy," Soriano said.
Soler signed a nine-year, $30 million contract last June, but Sveum said he didn't think that made the outfielder a target.
"When you're in the Minor Leagues, I don't think anybody knows or cares how much money you've got," Sveum said. "The guy's obviously a good player and going to be a really good player. You just have to be able to handle your emotions, that's all."
Anthony Rizzo said Soler, who played just 34 games last season in the Minor Leagues, is still adjusting to life in the U.S.
"He hasn't even been here a year in the States," Rizzo said. "He's got to adjust. That's why he's not in Triple-A or Double-A. He has to learn the ropes. Everyone has made mistakes. Everyone in this clubhouse has made a mistake playing. It's something you learn from."
Carrie Muskat is a reporter for MLB.com. She writes a blog, Muskat Ramblings, and you can follow her on Twitter @CarrieMuskat. This story was not subject to the approval of Major League Baseball or its clubs.