Barney receives Gold Glove Award at Wrigley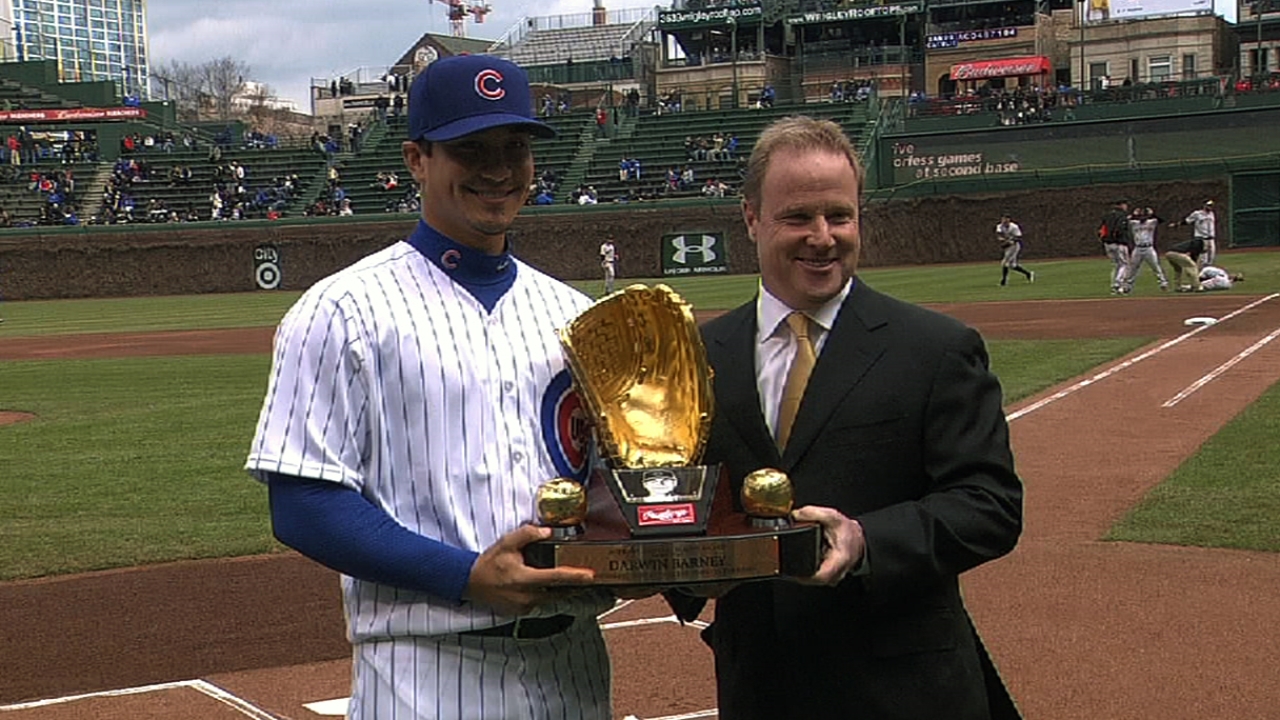 CHICAGO -- Darwin Barney finally got to hold his 2012 Rawlings Gold Glove Award.
The Cubs' second baseman was presented the trophy prior to Friday's game against the Giants. Barney's teammates came out of the dugout to applaud him during the ceremony, which included manager Dale Sveum and general manager Jed Hoyer.
"It'll be good to actually see it," Barney said. "It's exciting to get it and start the campaign for a new one."
Sveum said it's a special day for Barney.
"The Gold Glove is one of those unsung trophies that go unnoticed sometimes, and it's nice for everybody to see it -- as well as some other players -- to see that award," Sveum said. "It's probably one of the nicer trophies there is."
Does Barney have a spot at home for the trophy?
"I kind of plan on holding it for a couple days," he said, smiling. "My wife will have to move to the couch for a couple days."
He's kidding, Lindsay.
"Last year is over and done with," Barney said. "You can reflect on that when the time comes. Right now, my focus now is getting my mind and everything ready for Tuesday or Monday, whichever day I play."
Barney will begin a Minor League rehab assignment with Triple-A Iowa on Saturday, and if all goes well, he will rejoin the Cubs on Tuesday. He's on the disabled list with a left knee laceration, which he suffered March 30 when he slid into the right-field wall at Minute Maid Park. He got the stitches removed on Friday.
"I feel like I'm ready now," Barney said. "I felt like I was ready a few days ago. It's just a matter of getting that first slide out of the way. I've kept my arm in shape. I've seen pitches. It wasn't an injury that I couldn't go and do things. I could still be active. I feel I'll be ready for when I come back."
Couldn't he pick someplace warmer to rehab?
"They left it up to me, and [Class A] Daytona was thunderstorms all weekend," Barney said. "[Double-A] Tennessee is probably the best weather. I decided on Iowa. It's going to be cold here, so might as well get some at-bats with your hands frozen so you're ready when you come back."
Carrie Muskat is a reporter for MLB.com. She writes a blog, Muskat Ramblings, and you can follow her on Twitter @CarrieMuskat. This story was not subject to the approval of Major League Baseball or its clubs.