Oblique strain to shelve Clevenger at least six weeks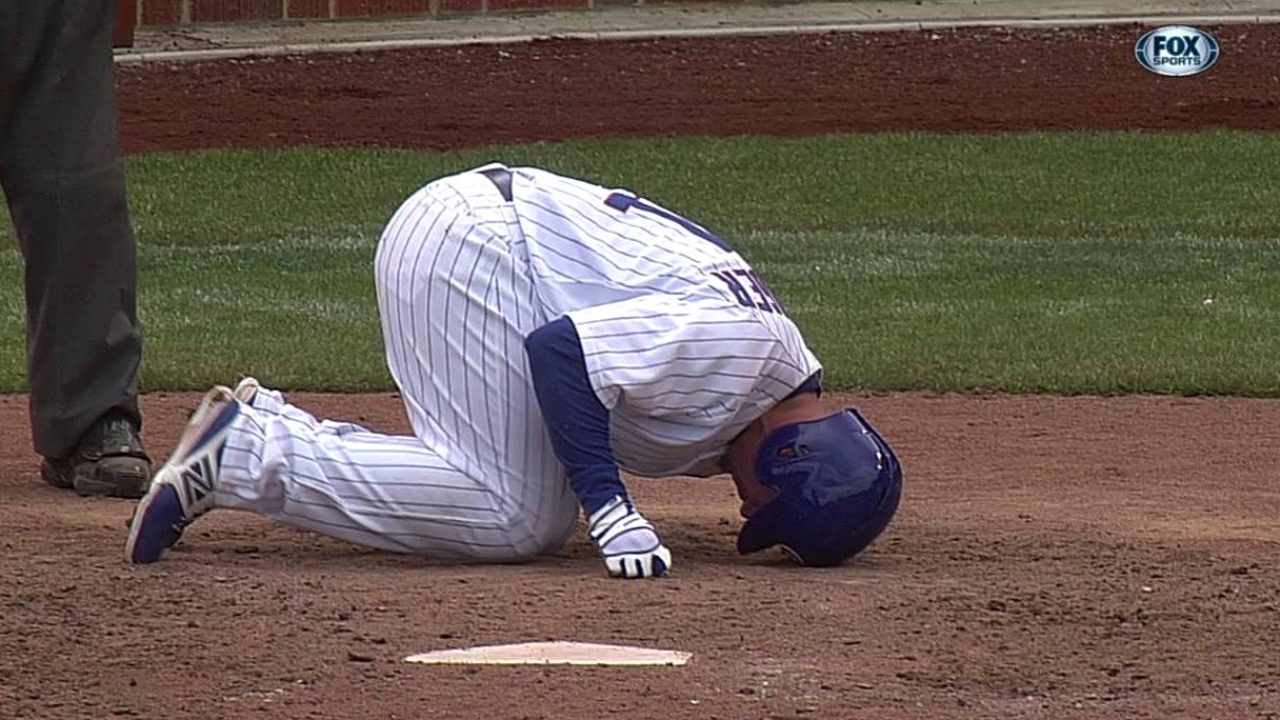 CHICAGO -- Given his history with such injuries and the alarming pain he suffered, Steve Clevenger knew what he was in for as soon as he followed through on his last swing Saturday.
Clevenger, pinch-hitting in the ninth against Giants reliever Santiago Casilla, got twisted up when he foul tipped an 80-mph curveball to end the game for a 3-2 loss. He fell to the ground in pain, with what was confirmed Sunday to be a strain of his left oblique. He's expected to miss at least six weeks, and was placed on the 60-day disabled list on Sunday.
"As soon as I swung, I just felt like somebody stuck a knife in my side," Clevenger said. "The reason I wasn't moving was I couldn't really breathe too good, so I was just staying down trying to catch my breath as quick as possible. It took a while to catch my breath."
The backup catcher, who is 1-for-8 with a run, a walk and three strikeouts in eight games this season, suffered a similar injury to his right side last April. He missed about a month.
"It was a lot worse than last year, pain-wise," Clevenger said. "They told me about six weeks right now, at the earliest. But last year they told me the same thing and I think I came back in about 4 1/2-5 weeks. It just takes time to heal."
The Cubs had been carrying three catchers, which gave manager Dale Sveum a right-handed option (Welington Castillo), a switch-hitter (Dioner Navarro) and a lefty (Clevenger) behind the plate.
"You could see how that bench was able to work correctly with having three catchers, and two of them being left-handed -- obviously Navarro's a switch-hitter -- but it kind of makes it a little bit easier on a manager to mix and match at the end of games and things like that," Sveum said. "So it's very unfortunate. [Clevenger] came into camp in great shape and worked his butt off in camp to make the team."
Clevenger played in a career-high 69 games last season, and had an excellent Cactus League season, batting .370 in 29 games. All 79 of his career regular-season games have been with the Cubs, in which he's batted .199 with a homer and 16 RBIs.
Now, his next course of action will simply be rest and treatment. Because the oblique muscle is so thin, Clevenger says, there's not much else he can do in terms of rehabilitation.
"I don't think I've ever seen one that's been less than three weeks, and those kind could be a couple months," Sveum said.
Carrie Muskat is a reporter for MLB.com. She writes a blog, Muskat Ramblings, and you can follow her on Twitter @CarrieMuskat. & This story was not subject to the approval of Major League Baseball or its clubs.