Sveum ejected in sixth inning of Friday's game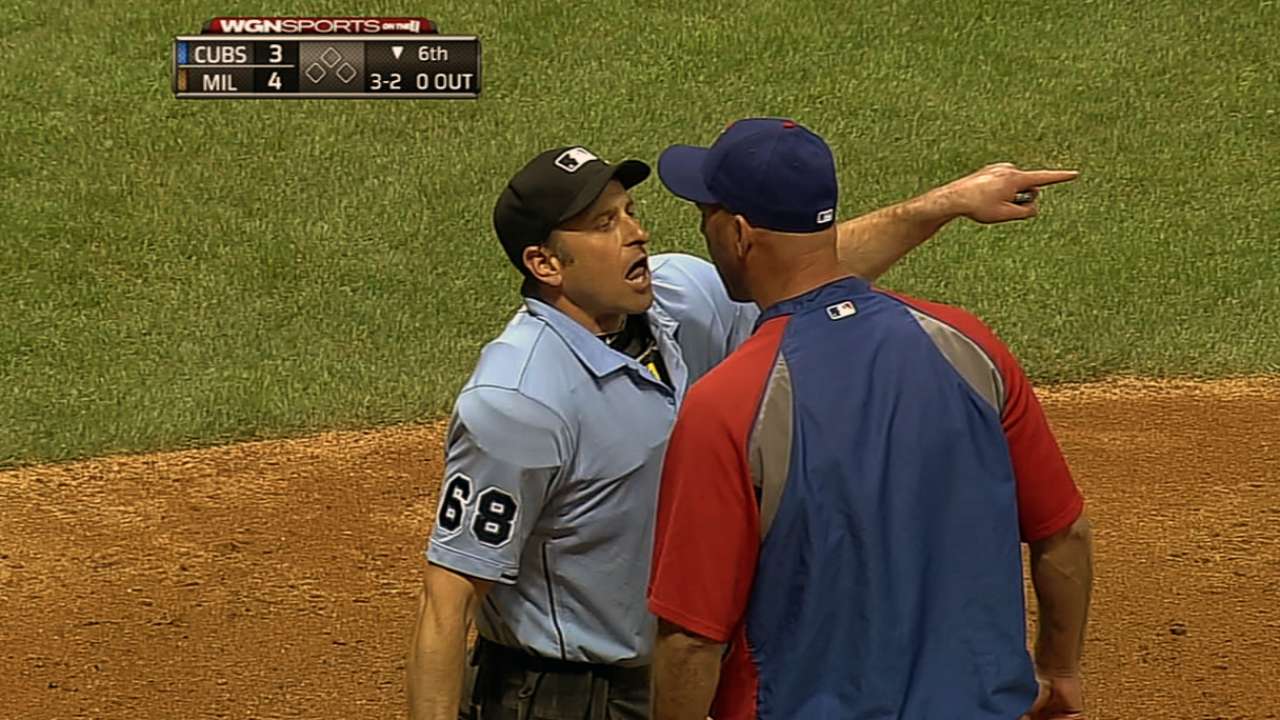 MILWAUKEE -- Cubs manager Dale Sveum was ejected in the sixth inning of Friday night's 5-4 loss to the Brewers when he defended starter Jeff Samardzija, who argued a call by home-plate umpire Chris Guccione.
With the Brewers leading 4-3 in the sixth and the count 2-2 to Ryan Braun, Samardzija threw a pitch that Guccione called a ball. Samardzija said something, and catcher Welington Castillo stepped between the pitcher and the umpire, who had pulled off his mask to say something.
Sveum came out to talk to Guccione and was then tossed. Samardzija had settled down after the Brewers scored four runs in the first.
"Samardzija was pitching a great game, and after what happened in the first inning, for him to battle like that and get excited about one pitch, and for [Guccione] to rip his mask off, it's not acceptable," Sveum said.
"That's not acceptable when a guy's out there competing and somebody rips the mask off for one pitch," Sveum said. "It wasn't like he was [complaining] about eight or 10 pitches during the ballgame."
The Cubs' manager was ejected four times last season, his first at the helm. Samardzija didn't think he had shown up Guccione.
"As far as I was concerned, you can have a little emotions out there about some calls," Samardzija said. "I didn't think I did anything out of line. I just thought I made a comment and that was it. He decided to show me up from behind the plate. I don't know what that was all about."
Asked if he yelled any obscenities at the umpire, Samardzija said he'd "have to go back to the tape on that one."
Sveum doesn't often get that animated.
"The thing with Dale is he doesn't do it unless it's needed," Samardzija said. "He's not a [jerk] and isn't looking to argue. If he ever goes out there, it's usually just to talk. If he's fired up, it's usually something he doesn't like.
"Dale always has our side and he's a team guy," Samardzija said. "My hat goes off to him in that situation, standing up for his players."
The ejection came on the anniversary of one of Sveum's best games as a player for the Brewers. On April 19, 1987 -- Easter Sunday -- he hit a two-run walk-off home run to lead Milwaukee to a 6-4 win over the Rangers for their 12th straight victory.
Carrie Muskat is a reporter for MLB.com. She writes a blog, Muskat Ramblings, and you can follow her on Twitter @CarrieMuskat. This story was not subject to the approval of Major League Baseball or its clubs.