Sveum expresses frustration with team's sloppy play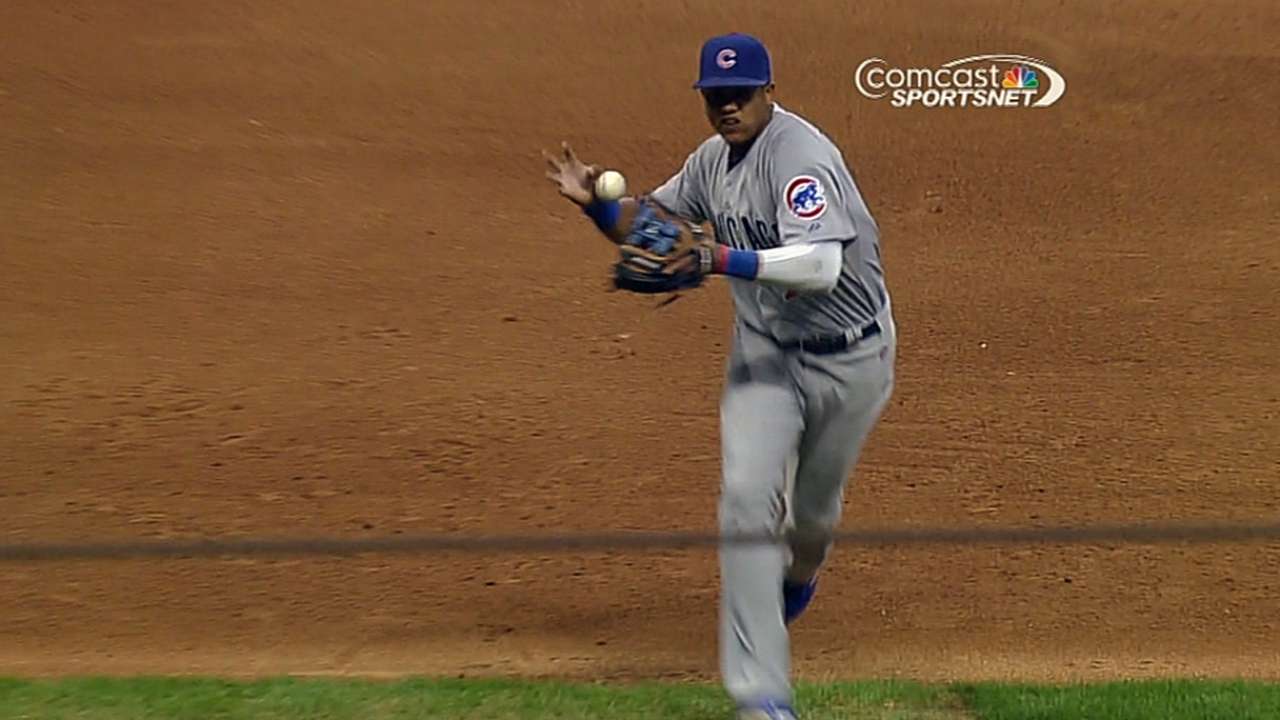 MILWAUKEE -- Manager Dale Sveum is losing patience with the way the Cubs have played recently, and the players can understand that.
"I think everyone is losing a little patience," Anthony Rizzo said Sunday. "Everyone needs to have fun. That's the main thing -- have fun and everything will take care of itself."
The Cubs headed into Sunday's series finale against the Brewers having won three of the last 13 games. They are among the Major League leaders in errors, adding three more Saturday in a 5-1 loss, and also have the lowest batting average in the Majors with runners in scoring position. They're wasting solid starting pitching. Chicago's starters have a 3.19 ERA, fifth lowest in the National League.
The errors are both physical and mental, and are a surprise after how well the Cubs played in Spring Training, Sveum said.
"Some of these errors, they look physical but they're maybe a lack of awareness at the time or the situation at hand or they're trying to be too quick, or sometimes we don't have enough aggressiveness on balls or whatever it is," said Sveum, whose voice was hoarse after his argument with an umpire Friday that resulted in him being ejected. "Sometimes defense is a rhythm and we're obviously not in any kind of defensive rhythm. Just like offense can be contagious, defense can, too.
"From top to bottom, we did outstanding in Spring Training, so to start out like this is obviously disappointing," Sveum said. "The bad thing is we're not picking each other up after these things happen.
"We're not overcoming our mistakes," Sveum said. "Good teams overcome those mistakes. A guy gets a ground ball double play and nobody thinks about what just happened."
Rizzo was charged with an error Friday and bobbled a ball on Saturday.
"We've got to make those plays and I think people are maybe putting too much pressure on themselves to make the plays," Rizzo said. "It's a long season and we need to start having more fun. Everyone says we're young -- let's play and have fun like we're young, too. Take it one pitch at a time."
Sveum said they can make changes if players don't perform.
"You find options," he said. "If people keep playing like that, you have to find options and give people playing time in Triple-A to figure this stuff out."
He's looking for more consistency, game-changing plays, and better performance on the field.
"You have to perform," Sveum said. "The bottom line is you have to perform. Whether they need more development, you decide all those kind of things."
And no one, he said, is invincible.
Carrie Muskat is a reporter for MLB.com. She writes a blog, Muskat Ramblings, and you can follow her on Twitter @CarrieMuskat. This story was not subject to the approval of Major League Baseball or its clubs.