Cubs' slow start upsetting to Sveum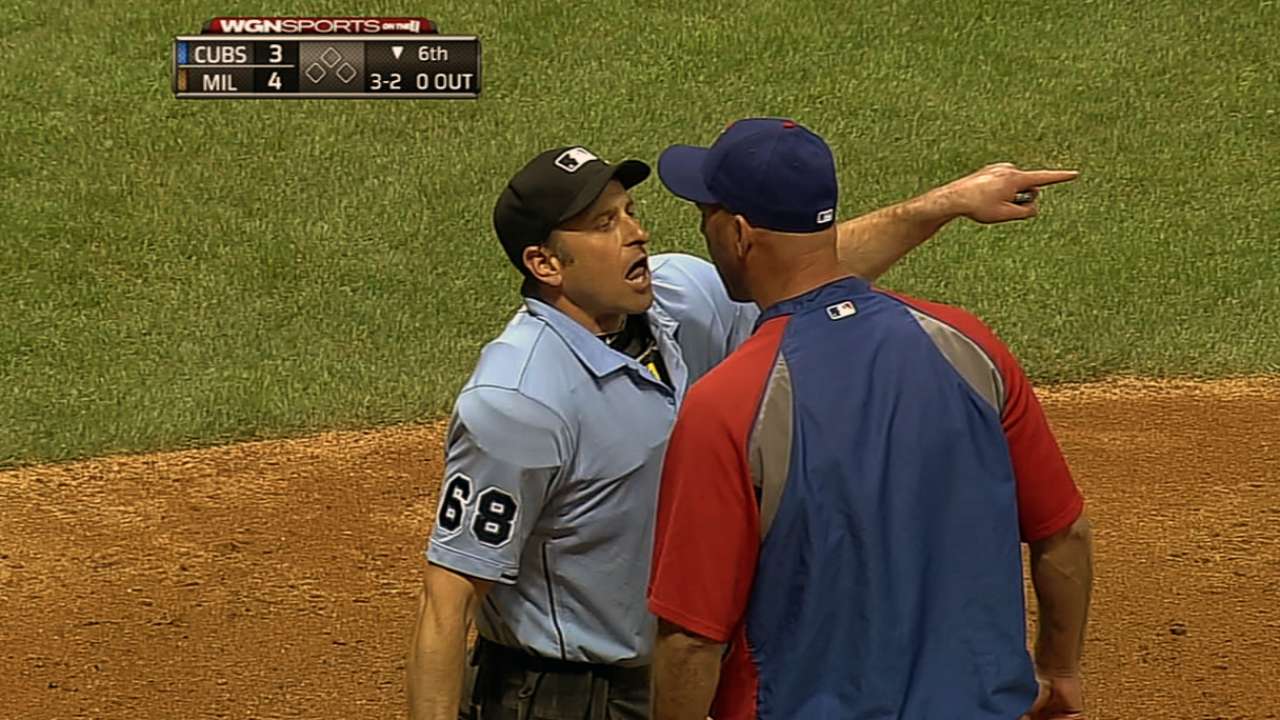 CINCINNATI -- The Cubs' slow start certainly bothers manager Dale Sveum. Does he think about his job security?
"I'd be lying if I didn't think about [myself] through some of this stuff," Sveum said before Monday's game in Cincinnati. "That's stuff you don't have control over. I have control over my job and my coaching staff to prepare everybody every day, and that's all I can do."
The Cubs rank among the Major League leaders in errors, yet the starting pitchers had a solid 3.67 ERA, sixth best in the National League, entering Monday.
"It's gnawing on me a little more than last year," Sveum said. "Even though we lost last year, we didn't play this bad of baseball. We were losing in the beginning because of bullpen stuff and bad pitching or not throwing strikes. This year is a lot different because everything could be a lot different. We've swung the bats well for the most part. We haven't hit with men in scoring position and every error we make is magnified because we have to make a pitch behind that mistake and we haven't recovered from it."
What hurts is that the Cubs were one of the top defensive teams in Spring Training.
"We're all in this together -- myself, my coaching staff -- it's just not the players," Sveum said. "We have to get them to respond to all of us and get better. You're not going to out-work these guys. The preparation and the routines they have is as good as I've seen. That's not the problem.
"It's one of those things that you obviously hope it passes," he said. "We know we're going to make mistakes, we're not going to be perfect, but we also have to make the pitch to get out of it after we do make the mistakes."
The problem hasn't just been errors. The Cubs have struggled to make pitches when they need to.
"We're right there at the top of baseball in walks and hit batters, and it's a losing product when you walk more than everybody else," Sveum said.
In his second season at the helm, Sveum said he has full support from general manager Jed Hoyer and president of baseball operations Theo Epstein. On Sunday, Sveum said no one on the team was "invincible" and that the Cubs would find "options" if needed. On Monday, he said he wasn't charging Starlin Castro and Anthony Rizzo as being responsible for all the team's mistakes.
"You guys asked me," he said of the media's questions. "Those guys couldn't get sent down, and I said nobody's exempt. They're not the only ones [making mistakes]."
And everyone has had a part in the Cubs' 5-12 start.
"Like I said, nobody's exempt," Sveum said. "Pointing [Castro and Rizzo] out, it doesn't mean they're it. ... I'm not pointing fingers at them or anything, I'm just saying, 'Hey, we're all [accountable] in this. I'm [not] exempt [from] being fired, so is my coaching staff. We're all in this together as a team.' As coaches, manager, we try to get people better on the team."
Carrie Muskat is a reporter for MLB.com. She writes a blog, Muskat Ramblings, and you can follow her on Twitter @CarrieMuskat. This story was not subject to the approval of Major League Baseball or its clubs.