Stewart trying to find his swing in Triple-A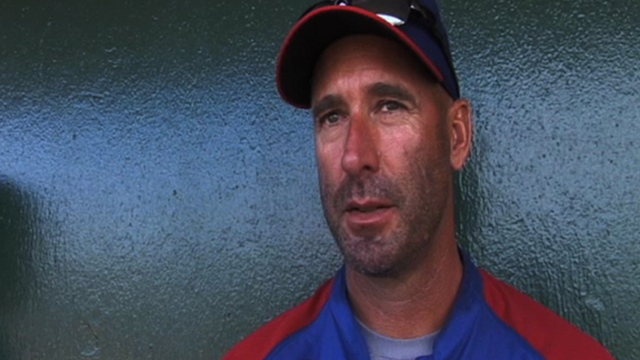 Ian Stewart, rehabbing from a strained left quadriceps, continues to work with Triple-A Iowa.
He has played all nine innings of his past four games, according to Cubs manager Dale Sveum. He started and hit third in Iowa's lineup against Omaha Thursday, and he went 1-for-3 with a run scored before getting pinch-hit for in the seventh.
"Now it's a matter of him getting his swing together. Now he's pretty much healthy and ready to go," Sveum said.
"He's getting to that 20, 30, 40 at-bats like Spring Training, so now it's just a matter of getting him swinging the bat better."
Although Stewart has gotten his share of at-bats, they have been mostly unproductive. Stewart was hitting .083 (2-for-24) coming into Thursday. He went 0-for-4 in his last start Tuesday, but Monday was probably his best game in Triple-A, as he went 1-for-3 with a double, a run and two RBIs.
It's not automatic that Stewart will be plugged into the Cubs' lineup at third base as soon as he returns to the Majors.
"He's got to earn it. He's got to go down there and play well. He's not swinging the bat very well," Sveum said.
"[Luis] Valbuena's one of our most consistent players right now, so it's going to be very hard to move one of our more consistent players out of his spot."
Valbuena's hitting .237 with four homers and nine RBIs. He's played in 18 of the Cubs' 21 games. He started on Thursday hitting seventh and knocked the game-winning home run in the ninth.
David Furones is a contributor to MLB.com. This story was not subject to the approval of Major League Baseball or its clubs.