Instincts took over on Rizzo's tarp catch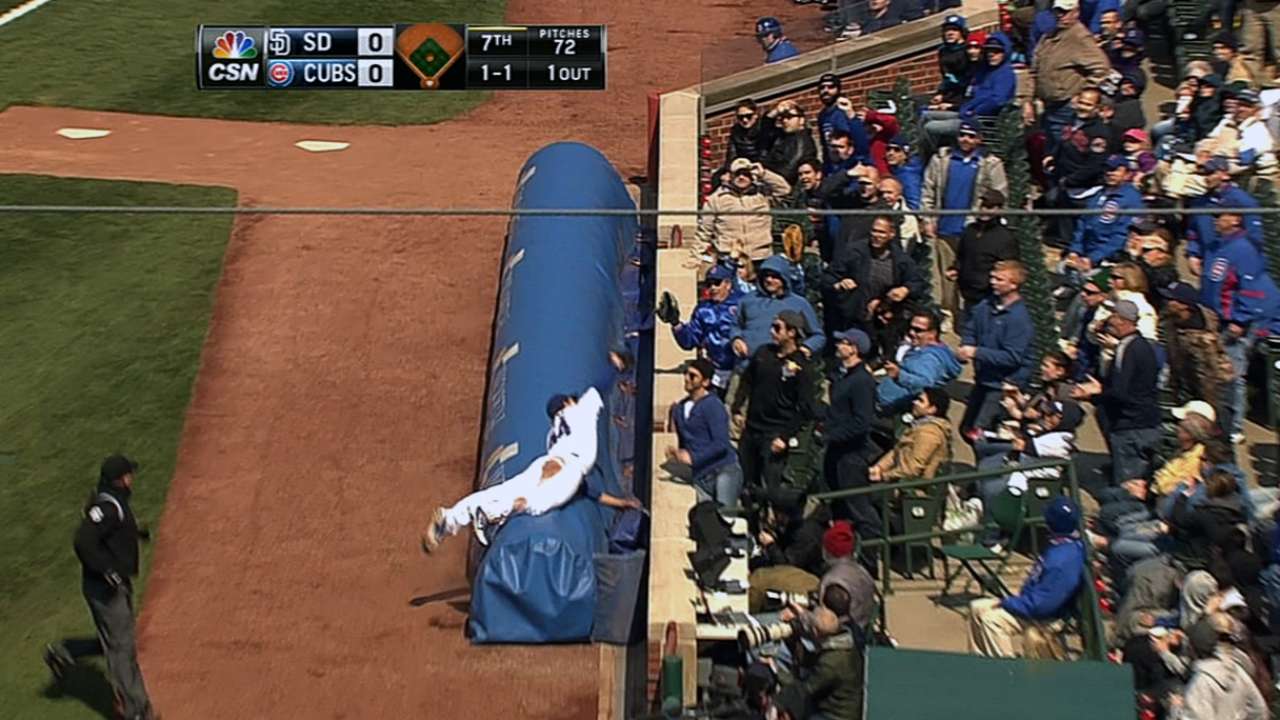 CHICAGO -- Anthony Rizzo jokes with teammate Darwin Barney at least twice a week that the first baseman is going to make the defensive play of the year that day. On Thursday, Rizzo might have done just that.
With one out in the seventh inning of a scoreless game against the Padres, Chase Headley hit a popup that drifted toward foul territory near first base. Rizzo tracked it and was able to catch the ball, then fell between the tarp and the brick wall. He hung on for the out and escaped without a cut or a scrape.
"I visualize those plays daily," Rizzo said Friday. "I actually had a bad read on it. The wind I thought would blow it quicker, and next thing you know, it's behind me. It was just an instinct play."
He's watched the replay a thousand times.
"I got a couple messages from people who said they were going to have a heart attack [watching it]," Rizzo said. "I didn't realize it was that close -- I don't know how I fit in there."
Rizzo is 6-foot-3 and 240 pounds. It's impossible to figure out how he squeezed between the tarp and the wall. He wouldn't mind a little padding next time.
"I could've been really close to looking like a hockey player there if my face would've hit it," Rizzo said.
Adding some cushion to the walls is most likely not in the Wrigley Field renovation plans.
"It's something that's been here for 100 years," Cubs manager Dale Sveum said of the brick walls. "We're getting back into the essence of Wrigley and the bricks and the ivy."
Sveum isn't going to tell his young first baseman to take it easy, either.
"That's not the way you can play," Sveum said. "You definitely don't take aggressiveness away from people. That's just the way you have to play the game."
Rizzo, who was definitely lucky to not get injured, said he's made some crazy plays before.
"There's plays like that where your instincts take over," he said. "Last year, before I got called up, I slid into stairs at [Triple-A] Iowa trying to make a play. It's something where instincts take over. [Travis Wood] was out there pitching his tail off, and you just want to make plays."
Rizzo, who has 13 hits in his last 30 at-bats after Friday's 3-for-5 performance, is going to keep hustling after balls.
"I'm not going to not sell out, no matter what," Rizzo said. "It doesn't matter if I get hurt, I get hurt. It's not like I'm not going to make the play because I'm scared."
Carrie Muskat is a reporter for MLB.com. She writes a blog, Muskat Ramblings, and you can follow her on Twitter @CarrieMuskat. This story was not subject to the approval of Major League Baseball or its clubs.