Sveum's patience tested when Cubs give up leads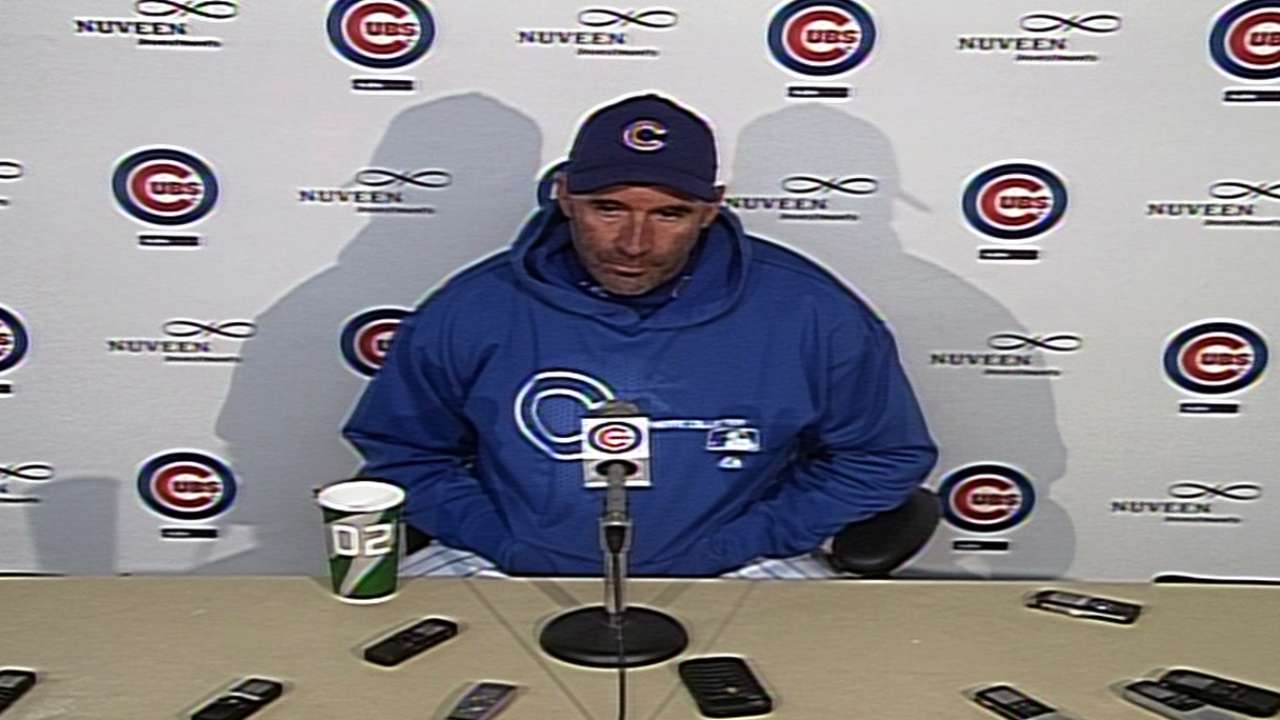 CHICAGO -- The first 30 games of the season have tested Cubs manager Dale Sveum's patience.
The Cubs have lost nine games in which they have led at some point -- second-most in the National League -- including Saturday's 6-4 loss to the Reds.
"Those are tough losses, and we've had quite a few of them this year," Sveum said. "It's no fun for anybody, and the players battle, battle, battle and get those leads, and then all of a sudden, they're gone. I don't care who you are, it ain't no fun."
Twelve of the Cubs' 19 losses have been by two runs or less. Twenty-five of their 30 games have been decided by three runs or less.
"Going into the season, we all said we had a much more competitive team," Sveum said, citing the addition of left-handed bats Nate Schierholtz and Dioner Navarro. "For the most part, that's all worked to a 'T,' but the back end of the bullpen has cost us, and not just cost us, but we've had some miscues on the field that have cost our starters some really good outings as well."
On Thursday, Travis Wood was cruising over seven shutout innings, and two defensive miscues in the eighth led to four runs and helped the Padres post a come-from-behind win. On Saturday, Carlos Marmol's meltdown cost the Cubs, who had a 4-1 lead going into the eighth. The starting pitching has posted 18 quality starts, yet the Cubs have won six of those games.
"It's just a shame knowing that if we played really clean baseball and had a dominating bullpen, this could be flipped and 19-11, and instead, we're on the back end of this and it's frustrating," Sveum said. "I think the good thing about it is knowing we've been in every single game we've played, and had games right in the palm of our hands and given them away. The team and everybody, we're putting ourselves in situations to win games and have leads. We just have to clean that up and somehow get those last three-to-six outs."
It's tested the second-year manager's patience.
"I won't lie, your patience can only take so much sometimes," Sveum said. "Obviously, you put players out there to do a job, and sometimes it works out and sometimes it doesn't work out, but the bottom line is production and getting the job done."
Carrie Muskat is a reporter for MLB.com. She writes a blog, Muskat Ramblings, and you can follow her on Twitter @CarrieMuskat. This story was not subject to the approval of Major League Baseball or its clubs.