Cubs' plan with Marmol is to keep him on the hill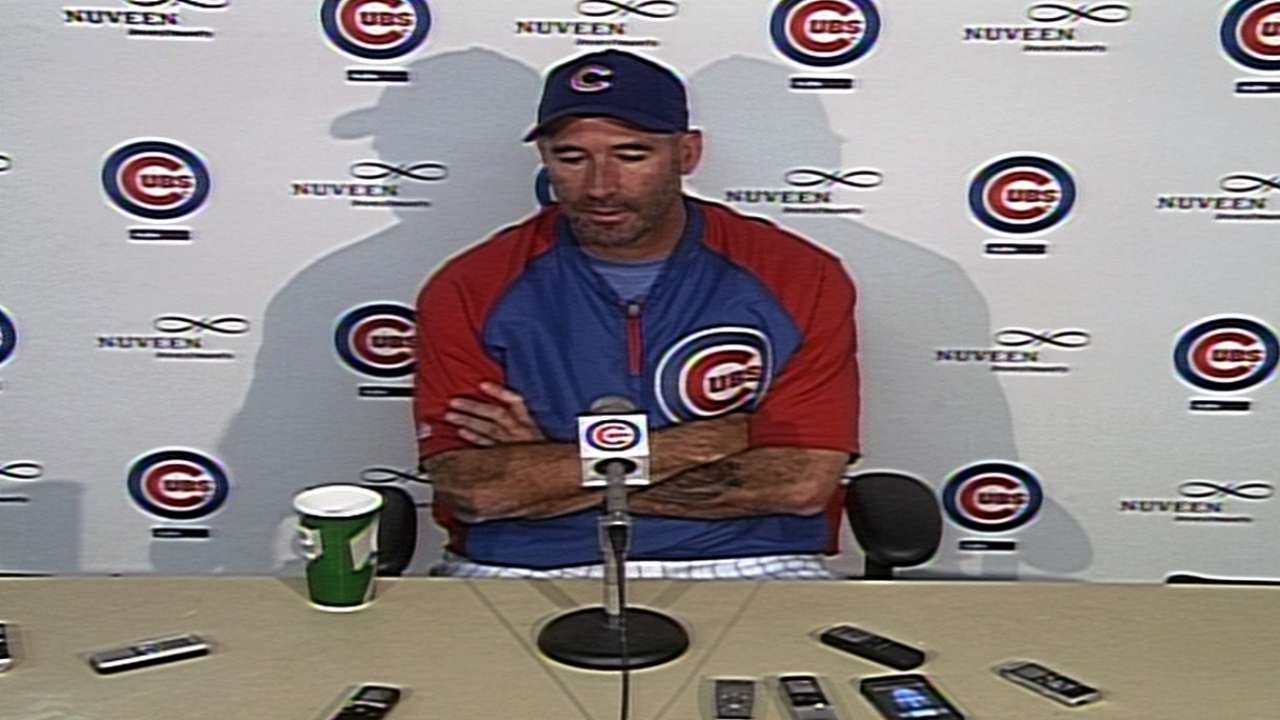 CHICAGO -- The only way Carlos Marmol will get back on track is to keep pitching, and that's the Cubs' plan.
Marmol struggled on Saturday, walking two and hitting another batter, and was the losing pitcher in a 6-4 loss to the Reds. The right-hander, who lost his job as the Cubs closer after the first week of the season, now has walked 12, hit three batters and served up 11 hits over 11 2/3 innings. His ERA is an ugly 6.17.
"I think the biggest thing with Carlos is concentration from pitch to pitch," Cubs pitching coach Chris Bosio said Sunday. "When Carlos gets in trouble, along with the rest of the guys, is when they get going too fast, and [Saturday] was a classic case of that. You've just got to slow it down, visualize the pitch and execute the pitch. He's certainly capable of doing that."
Marmol struggled at the start of last season and lost his job as closer then. But he was able to rebound and posted a 1.52 ERA in 30 games after the All-Star break.
"He thinks that guys are going to swing at every pitch out of his hand, and he tries to make every pitch a two-strike pitch, and that's part of the problem," Bosio said of the right-hander. "He tries to bury the pitch and overthrow the pitch. He needs to back off. A lot of times, doing too much can be a deterrent. You're not relaxed. You're not getting the spin on the ball. You're not working over the top of the ball. You're working under the ball. Get him to relax and get him to where he was the second half of last year. That's where we all want him to be, and that's where he wants to be."
On Sunday, Marmol replaced starter Edwin Jackson in the sixth and retired the Reds in order, throwing 11 pitches, seven for strikes. He struck out the first batter he faced, Todd Frazier.
Bosio and Marmol reached an agreement in the second half of last season that the catcher would call all the pitches. If Marmol shook them off, he had to pay the pitching coach a case of wine. Marmol only shook off once in the second half. That same rule applies this year, but that's not the problem; it's executing the pitches.
"I think it's his tempo and concentration for Carlos," Bosio said. "Those are two huge things for him. I just think that at times he tries too hard. He grips the ball too hard, and that's when we see those pitches that aren't executed."
Cubs manager Dale Sveum said they'll continue to use Marmol.
"He's one of the seven guys [in the 'pen], and he's got to pitch, and we'll get him back out there in some fashion," Sveum said. "You can't hide people. They have to pitch."
Carrie Muskat is a reporter for MLB.com. She writes a blog, Muskat Ramblings, and you can follow her on Twitter @CarrieMuskat. This story was not subject to the approval of Major League Baseball or its clubs.