Happ's injury very 'scary' for Villanueva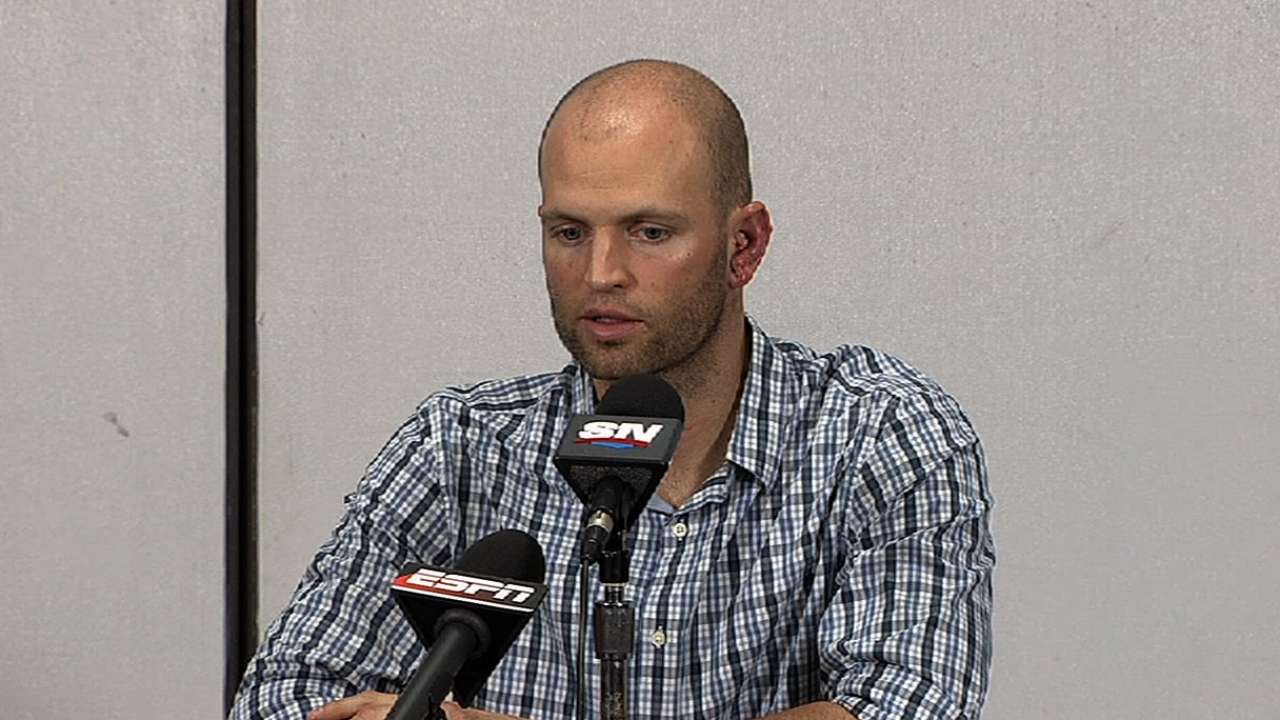 CHICAGO -- Carlos Villanueva remembers a game in New York last September when J.A. Happ broke his right foot, yet continued to pitch on it. The two pitchers were teammates on the Blue Jays, and Happ's gutsy effort then impressed Villanueva.
On Tuesday, Villanueva, now with the Cubs, cringed as most everyone did when they saw replays of Happ getting drilled by a line drive off the head by the Rays' Desmond Jennings. Happ was released from a St. Petersburg hospital Wednesday after sustaining a head contusion and a laceration to his left ear.
"It was devastating, and I felt horrible yesterday," Villanueva said. "You never want to see that happen to anybody, but having known him -- I've never seen that live, and I've never had it happen to somebody who is close to me. It's a moment as a pitcher, you never want to see it happen. What's to stop it from happening to one of us? You think that way, even though you don't want to, but the mind goes there."
Villanueva, who notched his fifth quality start on Wednesday in the Cubs' 5-4 loss to the Cardinals, did contact some of his former Blue Jays teammates to check on Happ's status and got encouraging news. That doesn't make it any easier on pitchers.
"It's scary, it really is," Villanueva said. "I know there's a lot of talk out there about the gear and protective stuff. Hopefully, they'll come up with something that won't affect us pitching. It's still such a fast game. What happens if the ball comes directly at your face? You can't pitch with a mask on. It just comes down to luck of the draw.
"We stand behind our brothers, because we're all brothers. It doesn't matter if you're a hitter or pitcher, you kind of root for the guy and I know everybody's thoughts are with him and his family. The encouraging thing is, he's out of the hospital, and hopefully, he has a fast recovery."
Carrie Muskat is a reporter for MLB.com. She writes a blog, Muskat Ramblings, and you can follow her on Twitter @CarrieMuskat. This story was not subject to the approval of Major League Baseball or its clubs.