Navarro, Cubs draw inspiration from pink bats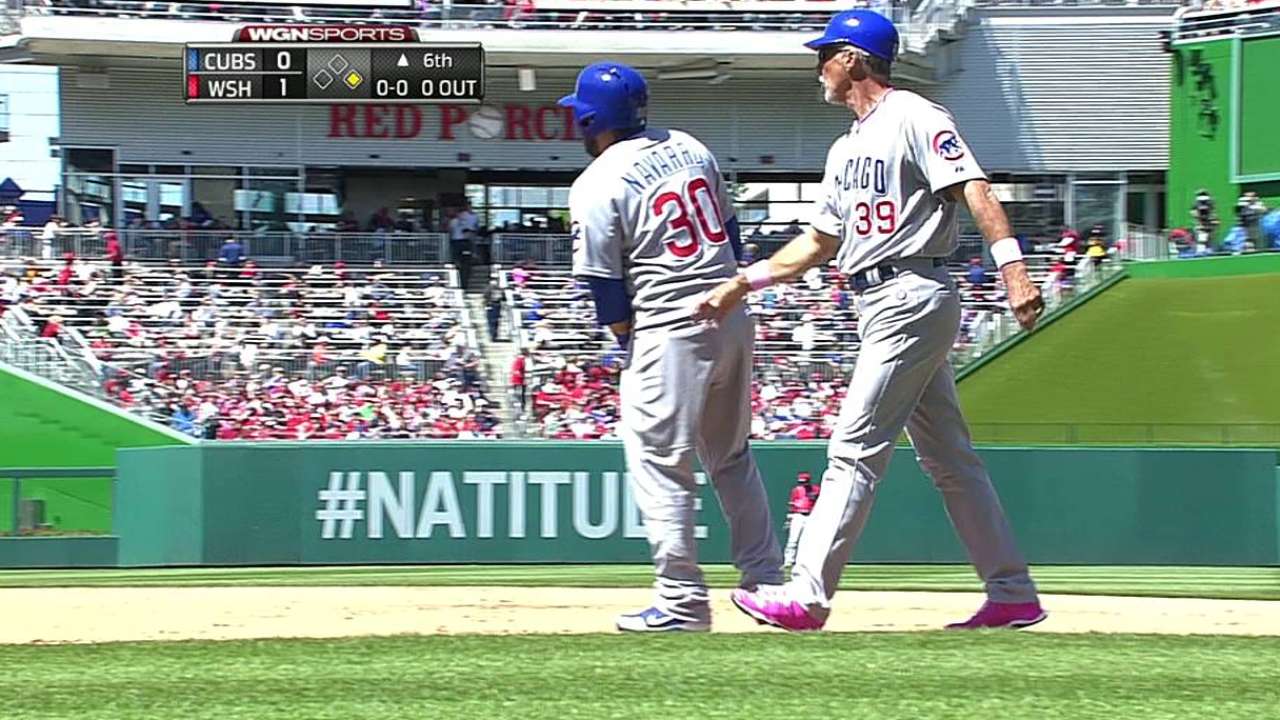 WASHINGTON -- Dioner Navarro was loosening up in the clubhouse prior to Sunday's game with his pink Mother's Day bat.
"If I get two hits, I'm going to keep using it," the Cubs catcher said.
Don't be surprised if he tries to use it in his next game. Navarro did get two hits on Sunday to make his mother and wife proud. His first single in the sixth inning of the Cubs' 2-1 win Sunday was the first hit off Nationals starter Gio Gonzalez.
Cody Ransom didn't get a pink bat, and used Dave Sappelt's bright pink model on Sunday. It too was lucky, as he got two singles, as well. Sappelt had been sent down to Triple-A Iowa before his bats arrived.
Pink power ruled. Ransom used his regular bat in his first two plate appearances, and grounded out and struck out. He doesn't have a bat contract with Louisville Slugger, which has exclusive rights to the Mother's Day event with MLB. Ransom would've liked to have used a pink bat from his bat company, and he said he hoped his bat company understood.
"It's unfortunate that we can't use whatever we want," Ransom said. "I like to honor my mom, my wife, my grandma, breast cancer survivors everywhere and want to be able to do that and be able to wear the stuff I have to wear as part of my contract. I can't really do that. It's frustrating in a way, but it is what it is."
Some of the Cubs' coaches wore pink shoes, and nearly all of the players wore pink wristbands to raise awareness for breast cancer.
Outfielder Julio Borbon sent his mother greetings via Twitter: "Happy Mothers Day!!! Feliz Dia De Las Madres! Enjoy it and ask for whatever you want! It's your day! #MommasBoy"
Happy Mothers Day!!! Feliz Dia De Las Madres! Enjoy it and ask for whatever you want! It's your day! #MommasBoy

- Julio Borbón (@JulioBorbon20) May 12, 2013
Some of the Cubs' top prospects also wished their mothers well on Twitter. Shawon Dunston Jr. said: "My mom is awesome. Love the support and motivation she gives me everyday. I am a momma's boy!! Love you mom. Big year coming up."
Dan Vogelbach, who is playing for Class A Kane County, said via Twitter: "Happy Mother's Day to the best mom in the world. Wouldn't be where I'm at today without you. Wish I could be with you today. #mamasboy."
Carrie Muskat is a reporter for MLB.com. She writes a blog, Muskat Ramblings, and you can follow her on Twitter @CarrieMuskat. This story was not subject to the approval of Major League Baseball or its clubs.