Cubs looking to eliminate defensive lapses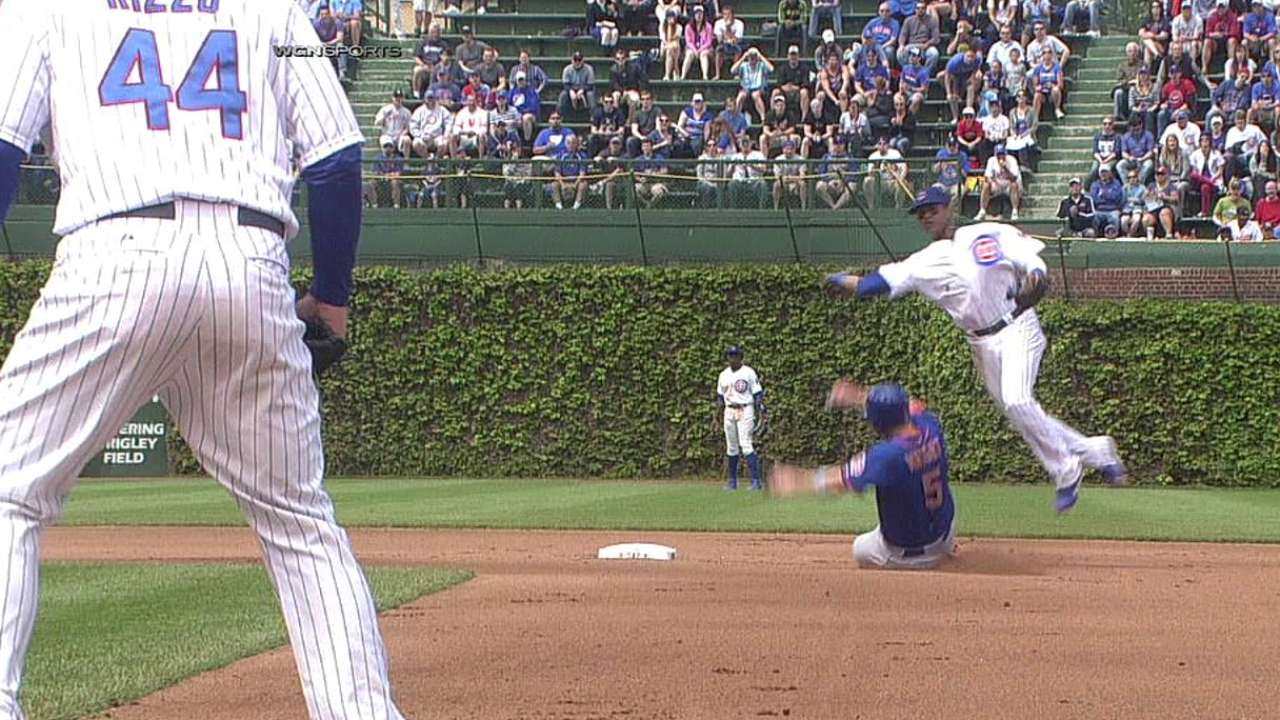 CHICAGO -- The Cubs made another error in Saturday's 8-2 win over the Mets at Wrigley Field, upping their season total to 34, the second-most in the Major Leagues.
Saturday's miscue -- when shortstop Starlin Castro booted a routine double-play grounder in the top of the second -- followed a two-error performance in Friday's loss to New York.
One of Friday's mistakes was a simple lack of miscommunication, when first baseman Anthony Rizzo and catcher Welington Castillo ran into one another on a ninth-inning popup in foul territory.
Fortunately for the Cubs, the miscue -- charged to Rizzo -- didn't change the outcome of the game. But players and fans got a reminder on Friday night about how silly mistakes can directly affect the game's outcome, when the Astros lost to the Pirates. Houston's second baseman and left fielder ran into each other while going for a popup with two outs and the bases loaded in the bottom of the ninth inning, leading to a walk-off win for Pittsburgh.
"Those are things that, you saw last night in the Pirates' game, it's unfortunate sometimes things happen," Cubs manager Dale Sveum said. "We did call the other ball when [left-hander Travis Wood] was pitching, and it was a ball you shouldn't have called and yesterday we had one. Luckily, that one didn't hurt us, but it cost our pitcher a few more pitches.
"Those are the things you worry about. But you have to call the ball so somebody knows. You have to call it, and call it loud."
While the Cubs overall are struggling -- their 34 errors have led to 20 unearned runs, fifth-most in the Majors -- second baseman Darwin Barney continues to do his thing. The 2012 Rawlings Gold Glove Award winner was out early on Saturday taking grounders.
"Gold Glovers I've been around in the big leagues that have already won their Gold Gloves stick to their routine and seem to still work harder than anybody else," Sveum said.
Cash Kruth is a reporter for MLB.com. Follow him on Twitter at @cashkruth. This story was not subject to the approval of Major League Baseball or its clubs.