Cubs' May RBI leader(s): the pitching staff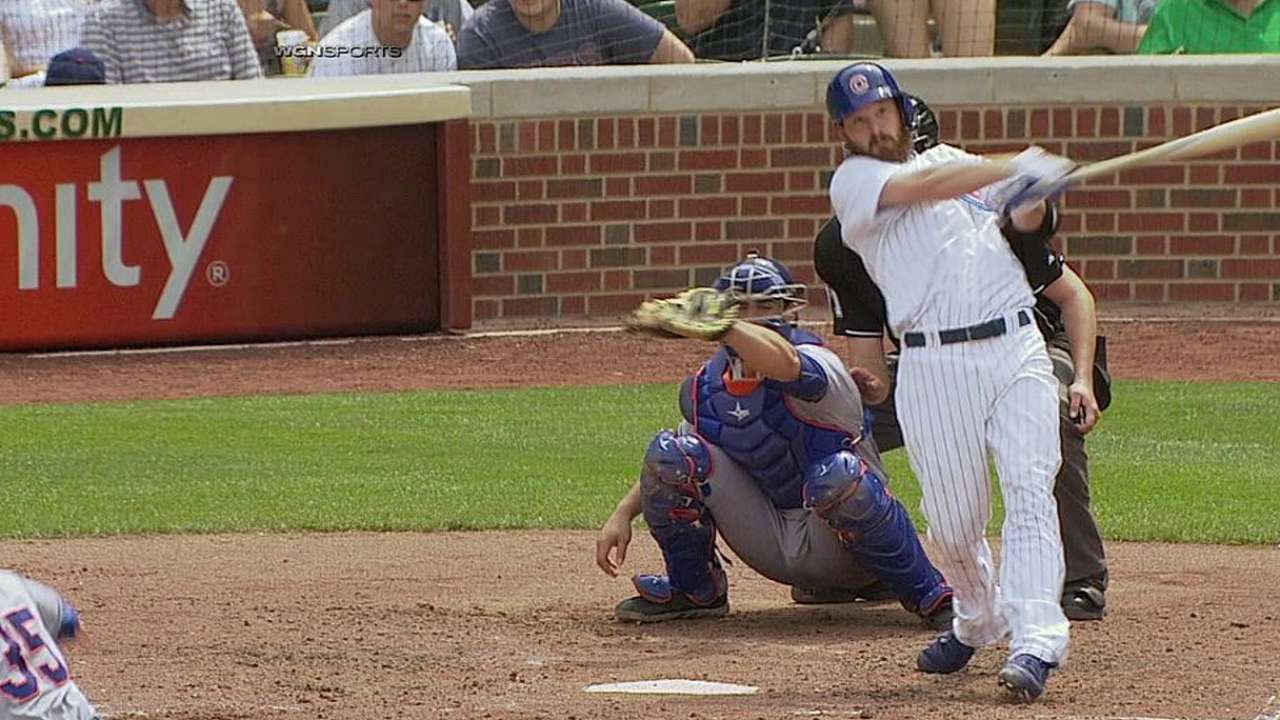 PITTSBURGH -- It is not a good sign when the players with the most RBIs for the month are a team's pitchers, but that is the case with the Cubs.
Cubs pitchers combined for 13 RBIs in May and were batting .316 (12-for-38) with two home runs for the month entering Wednesday's game against the Pirates. Outfielder Alfonso Soriano had also driven in 13 runs in May with three home runs.
Only Anthony Rizzo and Nate Schierholtz had reached double-digits in RBIs with 10 each for the month.
In 2011, Cubs pitchers collected five RBIs for the season. Last year, they drove in 11. These pitchers take hitting seriously, studying video as much as the hitters do.
Who is the best hitter among the pitchers? Manager Dale Sveum did not hesitate to pick Travis Wood.
"He's the most consistent and always has been," Sveum said of the left-hander, who had three RBIs and hit a home run Sunday. "He's a great athlete. [Jeff] Samardzija is a good athlete, too, but Woody is a little more savvier and faster to be able to use him in situations."
The hitting has not hurt their pitching. Cubs starters have a 2.00 ERA in 27 quality starts, though they have won only 11 of those games.
Matt Garza hit a two-run double Tuesday, and Cubs pitchers drove in two runs in each of the last three games for the first time since June 11-13, 1921, against Boston. According to STATS Inc., pitcher Pete Alexander had two RBIs on June 11, Lefty Tyler and Hippo Vaughn had one RBI apiece on June 12, and Lefty York had two RBIs on June 13.
Garza was 2-for-30 with zero RBIs last season with the Cubs. He is way ahead of last year's pace.
"With these other five, six guys, I was like, 'I can't give this up, [I have to] keep working, keep working,'" Garza said. "There was a lot of time in the cage and lot of time on some programs we have. I want to be a complete player. That's what my job entitles."
The last time Cubs pitchers totaled 13 RBIs in a month was September 1971, when they collected 14. Chicago also is one of two clubs this season with two home runs from its pitchers, joining Milwaukee. The Cubs' pitchers lead Major League pitching staffs with six doubles.
Carrie Muskat is a reporter for MLB.com. She writes a blog, Muskat Ramblings, and you can follow her on Twitter @CarrieMuskat. This story was not subject to the approval of Major League Baseball or its clubs.