Sveum: Rizzo can't let pitchers dictate his approach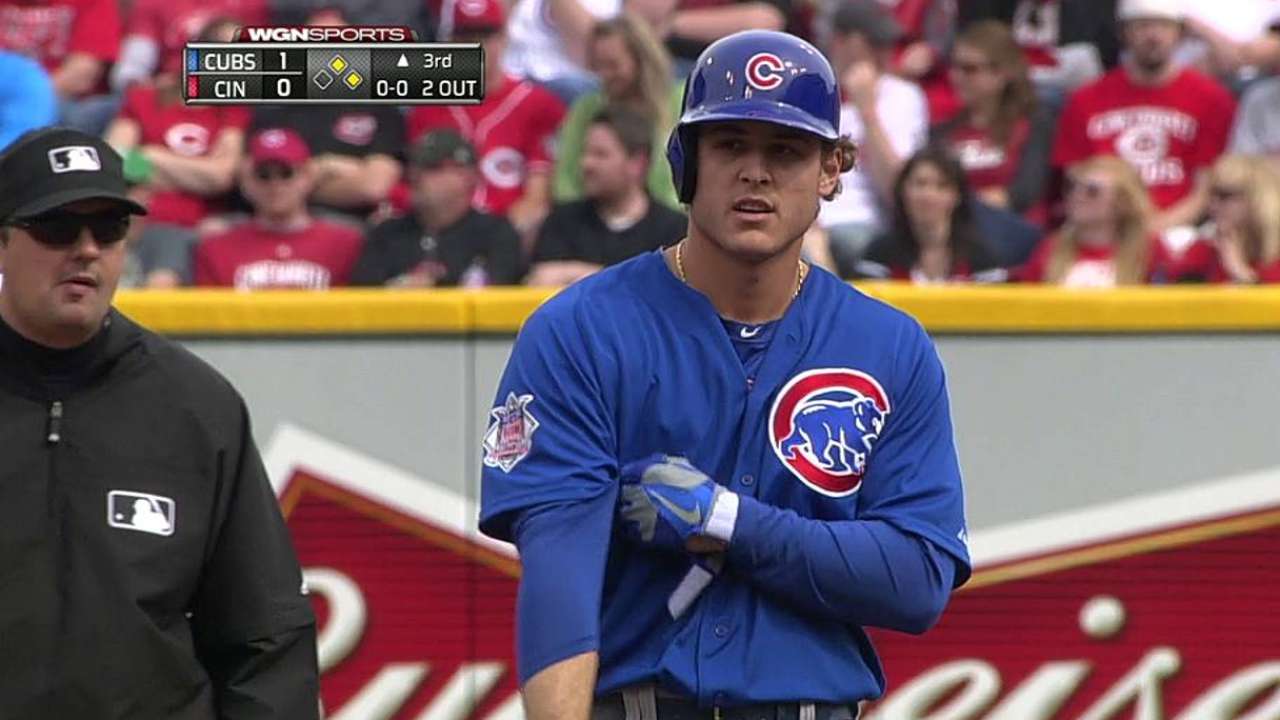 CINCINNATI -- Manager Dale Sveum considered giving Anthony Rizzo a day off Saturday. The Cubs' first baseman entered the game in an 0-for-23 skid.
"Not yet," Sveum said. "Obviously, it's a thought, but I don't think we're quite there yet."
Good thing Sveum didn't. Rizzo drew a walk in the first inning, then delivered an RBI double in the third, singled in the fifth, and doubled in the eighth. His average jumped from .249 to .261 in the Cubs' 5-2 loss to the Reds.
On Friday, Rizzo showed his frustration in the seventh after he flew out to right to end the inning, stranding a runner at first. He slammed his helmet to the ground.
"It's frustrating because it was a 3-0 pitch, and I felt they were good takes, and I felt good in the box, and I get that 3-0 pitch, and I hit it off the end of the bat," Rizzo said. "That was the frustrating part -- 3-0, I want to barrel that up. Whether I hit it out or not, I want to barrel it up."
Sveum doesn't think the problem is pitchers adjusting to Rizzo.
"I think it's too much of [him] adjusting to the pitchers, instead of just getting a good pitch to hit and being ready to hit it all the time," Sveum said. "Sometimes we get scouting reports, and [you think], 'I know what this guy is going to try to do,' and sometimes you get caught worrying about it, and the next organization is pitching you completely different. The bottom line is dictating the at-bat yourself."
Sveum mentioned Rizzo's swing had too much movement lately.
"Everything spirals when you try to do too much," Rizzo said. "That's what I always say is try not to do too much, which is hard to do. It's part of a season. This is one of the worst [streaks] I've ever gone through. You have to keep working and keep battling.
"It's the beauty of this game," he said. "There's nothing you can do except keep going."
So far, Rizzo has appeared to be a streaky hitter.
"I think young guys will be that way, especially someone with his personality who thinks himself out of so many at-bats," Sveum said. "You watch the consistent, really good hitters, and they're not letting the pitcher dictate the at-bat. That comes with some maturity, too."
Entering Saturday's game, Rizzo was batting .143 since signing a seven-year, $41 million contract extension. Is that the problem?
"You think this game would be a lot easier when you get that financial security, but your instincts stay the same and you still get mad when you get outs, because everyone in here is a competitor, whether you're making $10 an hour or $5 an hour," Rizzo said. "You get mad when you lose. You get mad when you fail."
If Rizzo did sit, who would bat third for the Cubs?
"[Scott] Feldman," Sveum said laughing.
In case you missed it, Feldman, one of the Cubs' starting pitchers, hit his first career home run on Friday.
Carrie Muskat is a reporter for MLB.com. She writes a blog, Muskat Ramblings, and you can follow her on Twitter @CarrieMuskat. This story was not subject to the approval of Major League Baseball or its clubs.