Sveum plans to alter lineup against White Sox lefties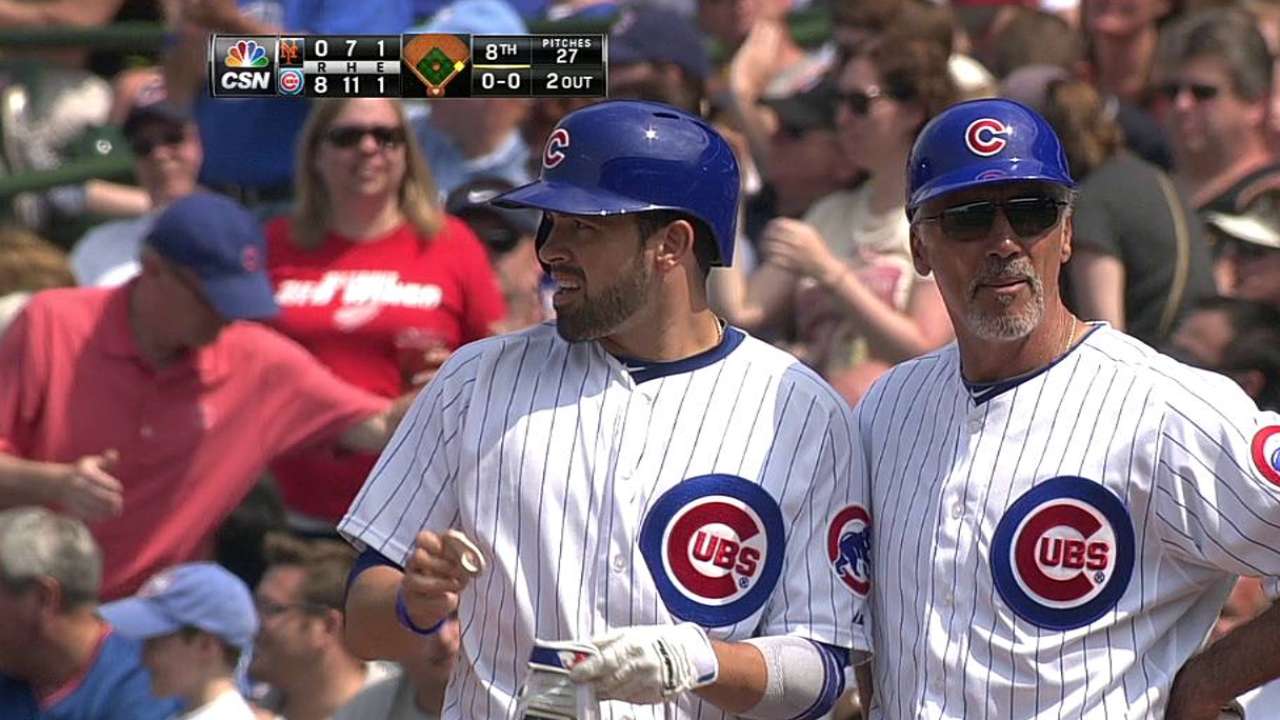 CINCINNATI -- Cubs outfielder David DeJesus is expected to get a rare start Wednesday against White Sox lefty John Danks. Manager Dale Sveum has stuck to a platoon against southpaw pitchers, although it hasn't been as successful as he'd like. Chicago is 4-10 against left-handed starters.
"I'll keep the same approach," said DeJesus, a career .254 hitter vs. left-handed pitchers compared to .293 vs. right-handers.
DeJesus is one of the few batters in the Cubs' lineup who is patient at the plate and works the count. That's a topic that was discussed at a recent team meeting.
"The team came together, and we had a little meeting about our approaches at the plate," DeJesus said. "We just have to stay with [the approach] and trust it. If one at-bat goes bad, don't just throw it away -- just keep going. It's going to work in your favor. Just keep trusting it."
The season hasn't gone the way the Cubs expected, and the players talked about that, too.
"We're saying, 'It's a long year, we have plenty of games left, but we have to keep battling and can't give up just because we have a couple bad outcomes,'" DeJesus said. "We can't throw away what we've worked on since Spring Training.
"You have to go up there and have the same approach every at-bat," he said. "You can't just go up there swinging. We have to keep working and keep understanding."
Danks is one of three left-handers the Cubs will face in the four-game Interleague series against the White Sox, in which the teams will play Monday and Tuesday at U.S. Cellular Field and Wednesday and Thursday at Wrigley. Scott Hairston will be the designated hitter Monday and Dioner Navarro on Tuesday for the Cubs.
"They have three completely different type left-handers pitching against us," Sveum said of Jose Quintana, Chris Sale and John Danks.
The Cubs vs. White Sox series has been a six-game, home-and-road series in the past, and can become a bit of a circus-like atmosphere. Sveum doesn't like the new format.
"I've always liked circuses," he said. "It's such a strange circumstance to play four games, in obviously the same city but in two different parks. There's no other way to do it now, and there's nothing you can do about it, but it's kind of funny how it comes that way with the crosstown rivals."
Carrie Muskat is a reporter for MLB.com. She writes a blog, Muskat Ramblings, and you can follow her on Twitter @CarrieMuskat. This story was not subject to the approval of Major League Baseball or its clubs.