Sveum well aware Cubs are better than record reflects
After sluggish start to season, club's bullpen, defense turning it around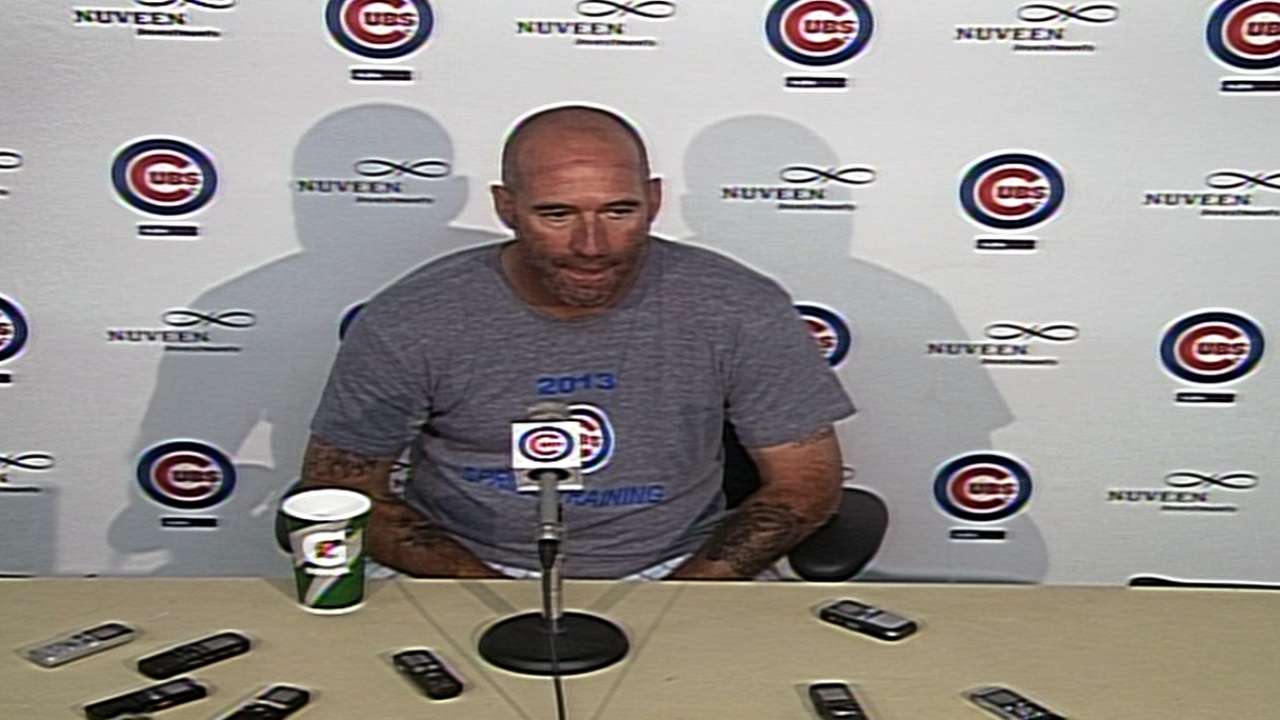 CHICAGO -- Manager Dale Sveum doesn't have to look at the numbers or do the math to know the Cubs should have a better record than their 22-30 mark entering Friday's series opener against the D-backs.
Their starters have the lowest average against in the National League and their ERA ranks fifth in the Senior Circuit. The bullpen, for all its struggles, has a 1.17 ERA in its last eight games.
And the Cubs have a plus-six run differential, outscoring their opponents, 214-208.
"We've been in pretty much every single game of the year," said Sveum, whose club has seen 83 percent of its games decided by four runs or fewer. "We've had a couple blowouts, so it's a very odd record for the run differential, that's for sure."
So that 22-30 doesn't make a whole lot of sense. Something more along the lines of a 27-25 mark does, which is the Cubs' pythagorean winning percentage -- an estimate of a team's winning percentage based on its runs scored and allowed that was developed by noted sabermetrician Bill James.
Or, if you're less sabermetrically inclined, you can just use the eye test.
"I don't have to look at any of that, I just know by the way we've played," Sveum said of having a better record. "Early on, we gave so many games away that it was tough to recover from that. … Guys [recently] have been doing a good job in the bullpen, so you start winning more games that way instead of giving them away."
Along with pitching better out of the bullpen, the Cubs also have been playing better defense. Although Chicago has committed 40 errors -- tied for the second most in the Majors -- 21 of those have been by pitchers or catchers.
"There were some very poor things going on early in the season, and I think after the first two weeks, getting [second baseman Darwin] Barney back every single day is obviously going to shore up your defense," Sveum said. "But everything else has been clicking a lot better."
Cash Kruth is a reporter for MLB.com. Follow him on Twitter at @cashkruth. This story was not subject to the approval of Major League Baseball or its clubs.